Devin: What is your superpower?
Eric: My real superpower is that I can spot patterns.
---
"Tragically beautiful" is how one person described Eric Hatch's "Glaciers in Retreat" artistic photography show now touring the country.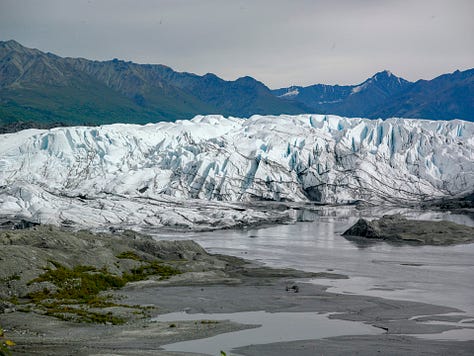 The images above are a sample of the beautiful but tragic images that document shrinking glaciers.
Eric is also the author of an entertaining new memoir, You Wouldn't Believe It Anyhow.
---
AI Podcast Summary
The guest on the show is Eric Hatch, a photographer and environmental activist.

Eric has documented glaciers in retreat through his photography and is currently on a nationwide tour with his show.

He hopes to inspire action on climate change through his artistic photos that evoke an emotional response.

Eric discusses his process of accessing glaciers, either by hiking or flying over them.

The next showing of his photography show will be in Hanover, New Hampshire, followed by the Evendale Ohio Cultural Center.

Eric also has a memoir titled You Wouldn't Believe It Anyhow, which shares stories from his rich and complicated life.

He talks about a story in the book where his mother shared a secret with him about his birth, which he didn't find particularly profound.

Eric's superpower is his ability to spot patterns quickly, which allows him to anticipate trends and make predictions.

He offers tips for improving composition in photography, such as looking for angles and curves and considering the entire frame.

Eric's glacier photos can be found on glaciersinretreat.com, and his memoir can be purchased on Amazon.com.
---
How to Develop Seeing Patterns As a Superpower
Eric sees his ability to shoot a photo as both literal and metaphorical evidence of his ability to see patterns as a superpower.
"As a photographer, I'm not restricted to doing glaciers and glacial melt," he says. "What I try to do with my pictures is recreate the feeling that I had when I saw the scene. And my eyesight is absolutely terrible. Look at these things," he says, holding his glasses. "You can tell they're goggles. Which means that I see patterns and shapes much better than I see detail."
Eric offers some advice for seeing patterns in photography.
"What you look for is angles and curves," he says. "What you don't want is straight lines. You don't want stuff that's bullseye composition, dead center in the frame. There are some old-fashioned rules, like the rule of thirds, that are helpful. Not everything has to be composed that way. But it's a good starting point."
Of course, the rule of thirds is to divide your frame like a tic-tac-toe square so you can put the subject at one of the four intersections.
"The other advice I would give would be to look at the entire frame and look at the background because what you don't want is to have a tree growing out of Aunt Millie's forehead," Eric says. "Because we are trained, we look at what's important to us. The camera doesn't; the camera sees what's there, period. Full stop. So what you have to do is try as a photographer to see the way the camera sees. Look at the whole frame."
Take a moment to consider the advice metaphorically, too. Consider seeing the patterns in your life that aren't straight lines and the full context in which we live. If you do so, you may be able to make seeing patterns a skill that could become a superpower that enables you to do more good in the world.
---
Guest-Provided Profile
Eric K. Hatch, Ph.D. (he/him):
Owner, Hatch Photo Artistry LLC
About Hatch Photo Artistry LLC: Fine art photography with an emphasis on socially relevant subject matter. The goal is beautiful, moving, and relevant.
Website: glaciersinretreat.com
Company Facebook Page: Facebook.com/hatchphotoartistry
Biographical Information: I have pursued six careers. I have been a writer, a teacher, a corporate communication sky, a consultant and organizational change in development, and finally, a photographer merging into an artist.
Twitter Handle: @erichatch
Linkedin: linkedin.com/in/hatchphotoartistry/
---
On July 19, 2023, we'll hold the first-ever SuperCrowdHour with an extraordinary panel I'll moderate, discussing "The Power of the Purpose Round." The panel will include Parker Clay CEO Ian Bentley, DealMaker CEO Rebecca Kacaba and Renew VC founder Mark Hubbard. You're entitled to a 50 percent discount as a Superpowers for Good reader! Join us for just $5 when you use the discount code SUPERCROWD. Register here.
---
Let's talk. As you likely know, I'm raising money for The Super Crowd, Inc., a public benefit corporation (TSCI). This is a for-profit capital raise where you share in the upside. If you're interested, you can grab time on my calendar here. I'd love to tell you more about the offering.