Discover more from Superpowers for Good
Leadership Lessons From—And For—the World's Great Changemakers
Over 3,000 subscribers
You Have No Idea How Much This Pine Resin Is Going To Change A Whole Community
Download the podcast via Apple Podcasts, Google Play or Spotify.
One of the most remarkable social enterprises I've encountered in recent years is Ejido Verde, in Michoacan, Mexico, now run by CEO Shaun Paul. By reestablishing pine forest where they were once universal, Ejido Verde will grow a pine resin industry with the potential to employ thousands of people, lifting them into the middle class.
Ejido Verde is helping indigenous people to cultivate and care for trees for a decade before they begin to produce resin. Once they begin to produce, Ejido Verde will accept repayment in the form of raw resin–just 10 percent of the production. Ejido Verde also guarantee the purchase of the remaining resin at market prices.
Pine resin is a big business globally, totaling about $10 billion USD. The resin is used in all sorts of products, including colas.
After twenty years, the indigenous people will have the option to begin logging their trees or to continue harvesting resin–for up to 60 more years until the trees die naturally. Carbon credits are expected to supplement the income for the farmers.
One notable observation. A few people who had emigrated to the United States have now returned to their homes to work in the pine resin industry.
Interview with Shaun Paul, the CEO of Ejido Verde.
The following is the pre-interview with Shaun Paul. Be sure to watch the recorded interview above.
For-profit/Nonprofit: For-profit
Revenue model:
Background – Ejido Verde's innovative business model centers on four pillars:
Community Lending – Empowering indigenous communities is a key proponent of the Ejido Verde business plan. Ejido Verde offers zero-interest loans of 4000 USD per hectare to ejidos. The loans provide superior seedlings, technical assistance, and land-use maintenance and pay for local workers to monitor the plantations.

Community Building – By forging reciprocal, community relationships, Ejido Verde ensures new healthy forests and cost efficiency. This approach creates a non-exploitative environment that helps build local governance as well as intergenerational wealth and cash flow.

Commercial Agroforestry Plantation Design – Ejido Verde's adaptive reforestation model is designed to maximize long-term resin yields without harming the trees while improving forest genetics and other aspects of the ecosystem.

Guaranteed Demand – The global market outlook for pine resin remains strong. With the decline in raw resin output, Pinosa is currently operating at only 30% of capacity. Ejido Verde guarantees a consistent, high-quality supply of raw resin for Pinosa, allowing it to reach full size and capture existing market opportunities.
Ejido Verde's revenue model has three main revenue sources:
Resin Repayment of Loan

After the trees start producing resin in year 10, the ejidos pay back the loan with 10% of the harvested resin until they reach a cap of 3,500 kilograms of resin per hectare. The ejidos will repay the capital investment in years 11-20.

Buyer's Commission Purchase Agreement

The pine chemical industry pays Ejido Verde a buyer's commission of 12% over the market price for the resin supply. It can finance this through savings at the distillery due to the economies of scale from processing at closer to installed capacity than the current under-utilization of assets permit.

Government Subsidies

One-time payments are made to Ejido Verde per reforested hectare of land.
Secondary Revenue Sources
By 2023, Ejido Verde expects the growth of secondary revenue sources, which include the following:
Natural Forests – Capturing resin from tapping mature natural forests not currently in production.

Intercropping & Animal Grazing – Selling agricultural products grown among the pine trees, intentionally designed into each commercial agroforestry plantation with consideration for free-range livestock.

Carbon Credits – CO2 captured by pine resin trees may be sold in global carbon credit markets.
Scale:
Current Impact Numbers and Where We Are Going… Current impacts in 2018 included:
3,148 hectares of plantations under management

32,248 tons of sequestered CO2

480 family farms

722 commercial agroforestry plantations

240 full-time, year-to-date jobs earning 3.5 times more than the minimum livable wage

11 rural and indigenous communities with strengthened environmental and social governance // Impact by 2030:

12,000 hectares of plantations under management

Millions of tons of sequestered CO2

Over 2,000 family farms

Thousands of individual commercial agroforestry plantations

6,000 full-time jobs earning four times above the minimum livable wage, propelling families into the middle class
What is the problem you solve and how do you solve it?
The Ejido Verde Problem & Opportunity
The pine chemical industry is a 10 billion USD global industry in which Mexico is one of the top five producers of oleoresin and gum rosin. Historically, China has dominated the markets, once accounting for 70% of global exports of gum rosin. However, deforestation, lack of replanting, overly aggressive pine tree tapping, and increased labor costs have reduced China's role in this market to that of a net importer.
Mexico has also experienced the effects of deforestation in a dramatic loss of annual production and is in a prime position to capitalize on the opportunity to fill the gap and lead the industry. However, a smarter, more sustainable and socially equitable strategy is needed to expand and create a viable and profitable supply chain.
Ejido Verde's Solution
Ejido Verde is the newest addition to Pinosa Group, Mexico's largest pine chemicals company. With a 90-year legacy as a family-owned business, Pinosa Group represents 50% of the Mexican pine resin market.
Pinosa Group launched Ejido Verde in 2009 as an experimental social reforestation initiative and formalized the business in 2016. As a mission-driven, for-profit company, Ejido Verde's regenerative agroforestry model provides environmentally beneficial solutions, as well as creating transformative wealth for indigenous, autonomous, land-owning communities (known as ejidos).
Ejido Verde's aim is to create a high-quality, consistent, tapped oleoresin supply for guaranteed buyers Pinosa and Resinas Sintéticas. This non-exploitative economic relationship sets new standards by directly partnering with rural and indigenous resin tapping communities. Ejido Verde also aims to influence the global pine chemical industry, which includes 800,000 tappers, to adopt a more sustainable business practices over the next 20 years.
With anchor investments from US and Mexican leading pine resin industry companies, debt financing from a multilateral bank and Kiva, a crowdfunding platform, Ejido Verde has received a total investment of 10.5M USD since 2009 and planted over 3,000 hectares on 480 family farms in collaboration with 11 ejidos.
Ejido Verde is seeking an additional 20M USD in outside investment toward its goal of establishing 12,000 hectares of plantations and restoring degraded lands with native resin-producing pine trees by 2022.
By 2029, the full 35M USD will be fully invested. Ejido Verde is projected to generate 140M USD total positive cash flow by the year 2039 while purchasing over 1 billion USD of resin directly from the local communities over the first 20 years alone. This cash flow can propel 12,000 rural and indigenous families into the middle class and elevate the Mexican pine resin industry to lead the global market.
Report on Ejido Verde by Impact Alpha.
More about Ejido Verde:
Facebook: facebook.com/ejidoverdemx
Website: ejidoverde.com
Ejido Verde is a triple-bottom-line, sustainable pine resin company positioned to become a lead supplier in the $10 billion global pine chemicals market arising from an intergenerational heritage trade relationship between Mexican industry and forest communities. Ejido Verde restores degraded lands with an adaptive reforestation model to maximize long-term pine resin yields without harming trees. Backed by thousands of investors from 77 countries, Ejido Verde provides communities with zero-interest loans to plant and maintain new forests. Ejido Verde is now invested in 11 rural and indigenous communities in Michoacan, and growing its community lending portfolio. By forging relationships based on reciprocity, Ejido Verde ensures communities grow healthy forests to produce transformative wealth and holistic well-being.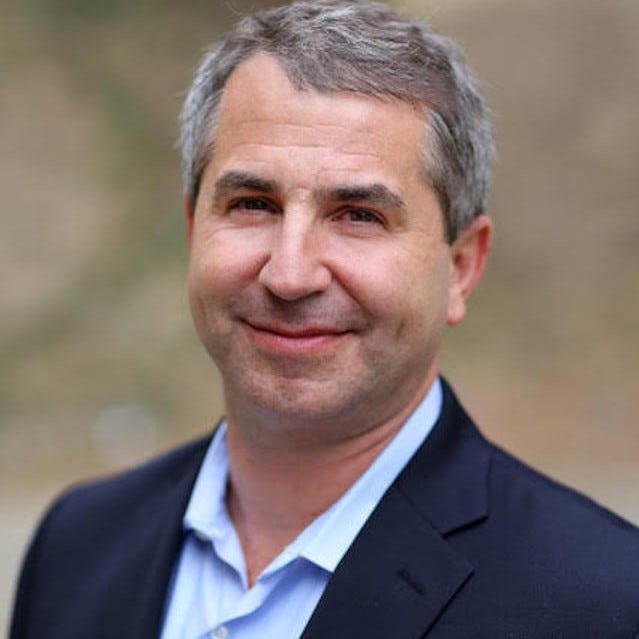 Shaun Paul. Photo Credit: Ejido Verde
Shaun Paul's bio:
Twitter: @spaul0
Linkedin: linkedin.com/in/shaunpaul
Pioneer in Social Impact Organizations & International Social Finance
Seasoned Fundraiser, Visionary Multi-Sector Collaborator
Expert: Regenerative Finance & Biocultural Diversity
Shaun Paul's 30 years of professional and entrepreneurial experience in private finance, philanthropy, and international rural development includes leading and supporting the creation and growth of dozens of innovative for-profit and non-profit companies catalyzing well-being for people and the planet.
He currently serves as the Chief Executive Officer of Ejido Verde, a Mexican forestry company formed through a partnership of the Mexican pine chemicals industry and indigenous communities in Michoacan to reforest 26,000 acres for pine resin extraction, an area the size of two Manhattans. His duties include growing a 300-person workforce to create 12,000 high paying jobs restoring and protecting forests, along with structuring and securing $35 million of investments in crowdfunding, equity and debt from individuals, private companies, US foundations and multilateral agencies.
In 2012, he partnered with Good Capital to establish an impact venture fund, Reinventure Capital, where he serves as a General Partner. Reinventure Capital matches capital with technology innovations to invest in growth companies led by women and people of color. In 1992 at the age of 28, Shaun Paul co-founded and for 20 years led the non-profit organization, EcoLogic Development Fund, to empower rural and Indigenous Peoples to restore and protect tropical ecosystems by providing grants and technical assistance to grassroots organizations integrating community-led development and conservation. In 2006, he founded Pico Bonito Forests LLC to restore tropical habitats in Honduras through reforestation commercially. Beginning in 1999, Shaun guided the launch and seven-year incubation of Root Capital that has now provided more than $1.1 billion in loans benefiting 637 small and growing businesses in Latin America and Africa.
Shaun's fundraising assured the design and execution of plans securing over $80 million from a range of individual and institutional donors, and impact investors deploying capital mobilization strategies for crowdfunding, annual giving, major gifts, government contracts, foundation grants, corporate royalties and commercial structured finance. Shaun has worked on every continent with donors, investors, entrepreneurs, non-profit organizations and social purpose companies to scale catalytic strategies addressing wicked problems. This work has relied on his forging blended finance strategies, business acumen and social mission, as well as orchestrating international multi-stakeholder partnerships that have included UN agencies, government, multinational companies and civil society organizations.
Shaun is a Research Fellow at the Global Development and Environment Institute at Tufts University to innovate measuring the social impact of private investments, an advisor to the Mentor Capital Network, a nominator for the Goldman Environmental Prize and designated as a Next Generation Leadership Fellow by the Rockefeller Foundation. He has served as a board member of Accelerating Appalachia to grow early-stage nature-based companies, International Funders for Indigenous Peoples, and Creative Action Institute. Shaun received his bachelor's degree in International Development from the School of International Service at American University, and a master's degree in Development Economics from the University of Michigan. He is fluent in Spanish and English.
---
Are you part of the good crowd? Join GoodCrowd.school, school for changemakers today.
The post You Have No Idea How Much This Pine Resin Is Going To Change A Whole Community appeared first on Your Mark On The World.