Discover more from Superpowers for Good
Leadership Lessons From—And For—the World's Great Changemakers
Over 3,000 subscribers
Win Raises Over $2.8m For Homeless Mothers And Their Children At Annual 'Way To Win' Gala
VIPs Including Ric Clark, Brendan Gallagher and Arthur A. Klein, MD Come Together to Support Efforts to End Homelessness in New York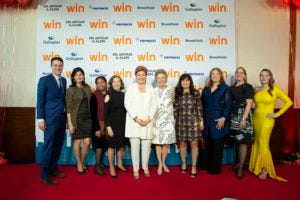 Press Release – New York, NY – Win celebrated its 23rd Annual Way to Win Dinner on Wednesday, May 8th with hundreds of New York City's most influential philanthropists at Pier Sixty at Chelsea Piers. The event raised more than $2.8 million to help the thousands of mothers, children, and families who call Win home break the cycle of homelessness.
The funds raised at this year's gala will support critical programs and services for the 4,600 homeless women and children who sleep in Win's ten New York City-based shelters every night. Families with children represent seventy percent of New York City's homeless population and every night in New York City, over 23,000 children go to bed with their families in homeless shelters. But few New Yorkers recognize the acute impact of homelessness on families: a new poll released by Win and HarrisX showed that a majority of New Yorkers (62 percent) inaccurately believe that the city's homeless are primarily single adults. The poll also revealed that New Yorkers strongly agree (92 percent) that more needs to be done to combat the city's homelessness crisis.
"We are so appreciative of the overwhelming support for Win's mission to help women and children break the cycle of homelessness," said Christine C. Quinn, President & CEO of Win. "Our work will not be complete until New York City takes bold and courageous action to end the dual crises of affordable housing and homelessness that disproportionately impact low-income families. Win is dedicated to building a better future for the thousands of homeless families across our city, and with the outpouring of support from the individuals who attended last night and countless others, we will."
Wednesday night's celebration honored Ric Clark, Chairman of Brookfield Property Group; Brendan Gallagher, Area President of Gallagher; and Arthur A. Klein, MD and President of Mount Sinai Health Network, for their continued support of Win and homeless women and children. Guests included Francine A. LeFrak, Kayce Freed Jennings, Chris Coffey and Regina Moscow.
"Brookfield is proud to support WIN, one of New York City's most impactful organizations under the strong and inspiring leadership of Christine Quinn," said Ric Clark, Chairman of Brookfield Property Group. "We are so grateful for all that WIN does for homeless women and children in our city, and we are very touched that the organization has chosen to honor the Brookfield Women's Network for its work to support our local communities."
"The work that WIN does every day to support and provide shelter to New York City's homeless women and children is humbling to those of us in the financial sector. We are both grateful and awe inspired to be a small part of what Christine and her staff are doing here in the City. We cherish Gallagher's partnership with WIN and are honored to be affiliated with this wonderful organization," said Brendan Gallagher, Area President of Gallagher.
"All of us in the medical profession humbly understand that we cannot begin to address medical needs without addressing the pressing social needs in our communities. The Mount Sinai Health System is proud of and grateful for WIN and their courageous President and CEO, Christine Quinn. We are honored to support this dedicated organization as it continues to transform the lives of homeless women and their children," said Arthur A. Klein, MD, President of the Mount Sinai Health Network.
Sponsors included Sponsors included Mount Sinai Health Network, Brookfield Property Group, Gallagher Insurance, PepsiCo, First Data, AMTrust, Citi, Facebook, LOFT, Hearst, Movado, Bloomberg Philanthropies, The Francine A. LeFrak Foundation, Goldman Sachs, Proskauer, American Eagle, and TD Bank.
---
Are you part of the good crowd? Join GoodCrowd.school, school for changemakers today.
The post Win Raises Over $2.8m For Homeless Mothers And Their Children At Annual 'Way To Win' Gala appeared first on GoodCrowd.info.