Discover more from Superpowers for Good
Leadership Lessons From—And For—the World's Great Changemakers
Over 4,000 subscribers
Undaunted Entrepreneur Helps Teens Learn Financial Literacy
Download the podcast via Apple Podcasts, Google Play or Spotify.
Mohammed Faisal has not been thwarted by the random accident that nearly killed him in January. He passionately continues his work, using his struggle to regain his life as an inspiration for others.
Mohammed is the founder of The Money Hub, which works with kids in New York City high schools to help them learn basic and important financial literacy skills. He saw his home life transformed by his parents' purchase of a home when he was young. He wants everyone to start out on a path to financial security.
Interview with Mohammed Faisal, the Chief Executive Officer of The Money Hub.
The following is the pre-interview with Mohammed Faisal. Be sure to watch the recorded interview above.
For-profit/Nonprofit: 501(c)3 Nonprofit
Revenue model: Grants, Donations, self-funding, government grants, fee charged to organizations that bring us in for service never the people we serve.
Scale: Since 2016 we've conducted 80 workshops, serving 1200 students across NYC. 90% of our participants learned about finance for the first time. 95% have had a misconception corrected.
What is the problem you solve and how do you solve it?
Financial iliteracy, taken advantage of by predatory practices, we solve these by teaching kids at early and influential age using simplified language and tying financial goals around their dreams and using gamified contents. Underbanking leading to use of check cashing places leading to spending more money in fees. We teach kids on properly using a bank account to their advantages and building a saving accounts. So they don't get an account and accrue fees and overdraft fees. Similarly we teach them about the value of credit scores and the function of a credit card to build your credit score. What comprises a credit score and how to keep building it up. And that starts with having a credit score so we look to get accounts opened for them and build and maintain credit score above 700. Built an entrepreneurial mindset in young people so they can apply it to building their dreams and increasing their income potential.
More about The Money Hub:
Twitter: @moneyhubnyc
Facebook: Facebook.com/moneyhubnyc
Website: Moneyhubnyc.org
A social innovation startup that creates technology and curriculum to teach teenagers and young adults financial literacy.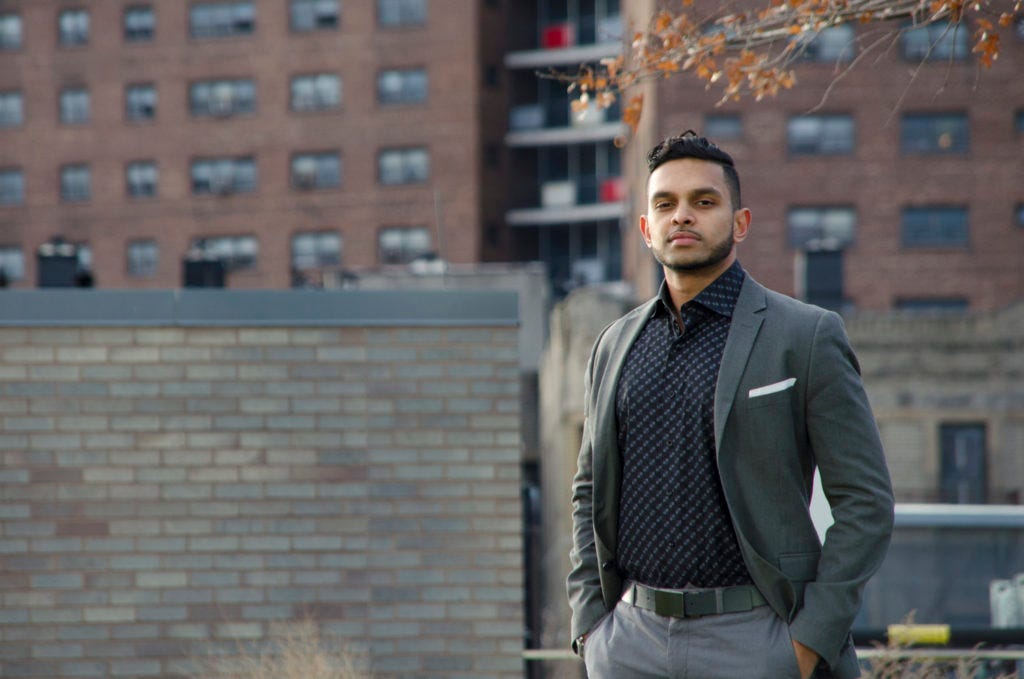 Mohammed Faisal. Photo Credit: Natalie Alcide
Mohammed Faisal's bio:
Twitter: @mo_faisall
Linkedin: LinkedIn.com/in/Mohammed-Faisal-9681428b/
Instagram: @mo_faisall
A Bengali- American son of immigrants living in New York City. I graduated in 2016 from City College of New York with a degree in Economics. After graduation I followed by desire to improve communities across the United States and my entrepreneurial spirit and Co-founded and became the CEO of The Money Hub where our mission is to teach teens and young adults financial literacy.
---
Are you part of the good crowd? Join GoodCrowd.school, school for changemakers today.
The post Undaunted Entrepreneur Helps Teens Learn Financial Literacy appeared first on Your Mark On The World.