Discover more from Superpowers for Good
Leadership Lessons From—And For—the World's Great Changemakers
Over 4,000 subscribers
Two SF Bay Area Women Meet on a Jungle Hike in Singapore and Reinvent Themselves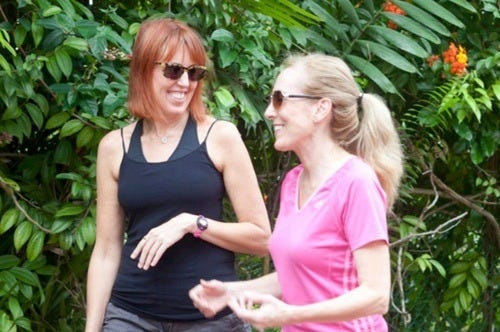 Singapore and San Francisco – December 18, 2013 – This past Friday, two very different enterprises launched: one could revolutionize kids' video games and the other aspires to end child sex trafficking. Besides potentially impacting future generations of children around the world, what they also have in common are two equally passionate women, who a little over a year ago met on a hike in the jungles of Singapore while searching for their "next."
Expatriate Americans living in Singapore, these two SF Bay Area Californians were ripe to find that elusive next, but not quite sure how.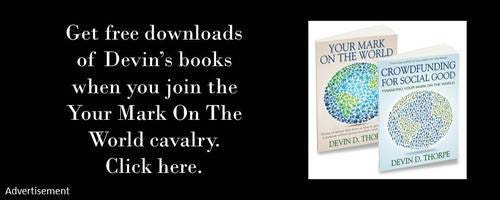 Three months prior to their meeting, Michelle Waite who had moved to Singapore from San Francisco in 2011, had decided to take a sabbatical from her 20-year career as a Global Marketing and Business Development Manager. After some soul searching, she concluded that she would start her own company more aligned with her passion for global connectedness and tolerance. But, having worked for a larger established company for most of her career, the idea was daunting, Carol Whittaker, who had just moved to Singapore 6 weeks prior, was experiencing a state of flux, in part due to her recent move, in part having dropped her son at college that same year, and in part from her desire to explore opportunities outside of the work that she did during her 25+ year career in corporate training and leadership development.
During that fateful trek in the jungle, organized by a mutual friend, Michelle and Carol met and shared their stories and aspirations. It was then that Carol shared an idea that would soon be implemented by the two of them. A reinvention group was born, eventually called simply, the Re-Group. Little did they know the effect it would have on both of their trajectories.
Gathering a group of like-minded people, Carol and Michelle, along with other group members, have been facilitating weekly discussions for over a year now which use a blend of Lean-In exercises, the Artist's Way process, guest speakers (on topics like social media and entrepreneurship), and assessment tools (MBTI and life mapping). The goal of Re-Group is for each member to find their "next," whatever that might be–their next passion, purpose, identity or métier. Both Michelle and Carol credit the group for where they have landed a year later.
Michelle Finds Her "Next" by Co-founding a Gaming Company with a Social Cause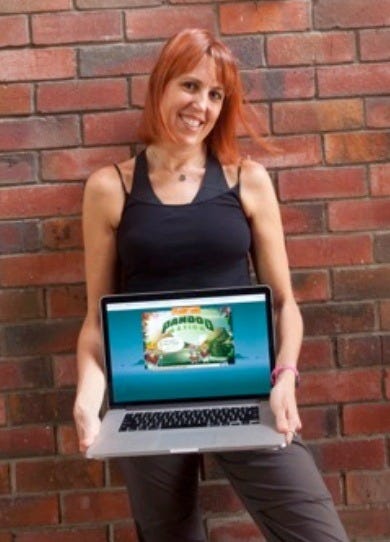 Michelle Waite shows off the Pandoo Nation launch page
Through another member of the group, Michelle was introduced to a successful serial entrepreneur for mentorship and advice in her own start-up pursuits. When she learned of his idea for a new business, an on-line game for kids with social benefit, she was intrigued. The underlying ethos of the idea was completely in line with her own, more recently understood and articulated,thinking on business and social good. So much so that she decided to make a significant angel investment and become part owner and CMO for the start up company, ShiftRunner. This past Friday, ShiftRunner launched their Indiegogo campaign to raise funds to help complete the game for March 2014, while also providing a venue for pre-launch marketing.
"I can not stress enough the importance of the Re-Group, in this journey," explains Michelle. "It feels like I have my own personal army of champions who support, encourage and provide valuable input for helping me pursue my passion. It is hard to put in words the sheer joy that I felt seeing their faces and sharing in the celebration of my company's campaign launch party this past Friday. I know that I would not have been there, were it not for them."
Carol Finds Her "Next" in Ending Child Sex Trafficking
Carol Whittaker explains EmancipAction's strategy
Coincidentally, on that very same Friday last week, Carol, as the recently appointed Director of Communications for EmancipAction, launched a website, video and donation portal for that organization – a non-profit start-up that aims to end child sex trafficking.
Her involvement with the organization began months earlier when, after approaching the founder to see where she might be able to help in a cause that was close to her heart, she was asked to produce a video for them. Film, as the Re-Group knew already, was one of Carol's passions. Just prior, through the encouragement of the group, she had finished a short film class. So, she jumped at the opportunity. Eventually, this led to her new role with the company and her part in launching the new website and video.
"Every step of the way the Re-Group was instrumental," Carol explains.
"From helping me articulate that a driving value for me was empowering women, to encouraging me and helping me make a film. But more than anything, they pushed me, supported me and had confidence in me."Both Carol and Michelle continue to work hard with their newfound passions in business and philanthropy. But, no matter how busy their lives may become because of it, a 2-hour window on Wednesday afternoons will always be reserved for Re-Group.
Established in 2013, Singapore-based ShiftRunner Pte. Ltd. is an entertainment and social awareness company. Its principal activities include the creation of Pandoo Nation, an innovative online virtual world for kids ages 8-12, and Pandoo Foundation, its not-for-profit sister organization that funds and leads outreach efforts in Southeast Asia, including micro-lending programs. The founders of ShiftRunner believe kids can be mobilized through game play to act on behalf of others in need, particularly children in developing countries. ShiftRunner created Pandoo Foundation as a bridge to realize its social ambitions. ShiftRunner most recently embarked on a crowd funding campaign through Indiegogo which is active from December 13 through January 19. You can access the campaign and learn more about the project at http://igg.me/at/pandoonation
EmancipAction is an international, non-profit organization working to end child sex trafficking around the world. The aim is to bring freedom, healing and justice to hundreds of thousands of children who have been sexually abused and exploited, while building up the system to break down the business of sex slavery. They strategically plan to build a model that can be used throughout the world, based on global best practices, that would disrupt the profitable business of sex trafficking and bring healing, education, job training and the successful reintegration to society to its victims. To learn more about EmancipAction and the efforts to end child sex slavery around the globe, see: www.EmancipAction.org
The post Two SF Bay Area Women Meet on a Jungle Hike in Singapore and Reinvent Themselves appeared first on Your Mark On The World.