Discover more from Superpowers for Good
Leadership Lessons From—And For—the World's Great Changemakers
Over 3,000 subscribers
This Organization Helps Women Transition From Prostitute To Seamstress
CaringCrowd.org, by Johnson & Johnson Global Public Health, is a sponsor of the Your Mark on the World Center and GoodCrowd.info.
Download the podcast via Apple Podcasts, Google Play or Spotify.
Candice Whitely joined Sewing New Futures four years ago when she visited New Delhi and saw the work the nonprofit was doing there to help women make a transition from prostitute to seamstress.
In the community of Najafgarh in the suburbs of Delhi, the residue of India's infamous caste system condemns women to marry young and into sex work to feed their families and pay their own bride price.
Sewing New Futures helps women develop an alternative career path, not only for themeselves but for their daughters as well, saving them from a tragic fate most cannot even imagine.
Preliminary Interview with Candice Whitely, a director of Sewing New Futures.
The following is a brief pre-interview that provides context for the recorded interview you may watch or listen to at the top of this article. Candice Whitely is a board member and volunteer for Sewing New Futures.
Crowdfunding page: https://www.caringcrowd.org/give-healthcare-women-and-girls-forced-prostitution
What is the purpose of your crowdfunding campaign?
Use of crowdfunding via CaringCrowd covered mental health support through therapy sessions, nutritional support and education programs to the children of sex workers, and program to bolster access to prenatal care.
More about Sewing New Futures:
Twitter: @caringcrowd
Facebook: facebook.com/sewingnewfutures
Instagram: @sewingnewfutures
Website: sewingnewfutures.com
We work within a community in Najafgarh, on the outskirts of New Delhi. Due to the community's caste status, the people living here are unable to participate in traditional jobs. To survive, families marry off their daughters at puberty. Once married, women and girls are forced into sex work to sustain themselves and their families. Without education or options, these women spend their lives as prostitutes – even paying bride price to their own family.
The Perna community wants to change, but it's difficult to evolve without knowing another way. Sewing New Futures works with women and children to provide paid training and mentorship as they learn about sewing, appliqué, textiles. With these skills, women gain a sustainable income while also completing their education.
Sewing New Futures is a 501(c)(3) nonprofit organization, and every purchase you make has a purpose. The money earned goes toward career training, education, medical care, and social services. Most importantly, sales of these goods benefit the women who are brave enough to disregard their cultural norms and refuse a life of prostitution.
Candice Whitely is the director of Sewing New Futures.
Sewing New Futures supports crowdfunding or fundraising for.
For-profit or Nonprofit: 501(c)3 Nonprofit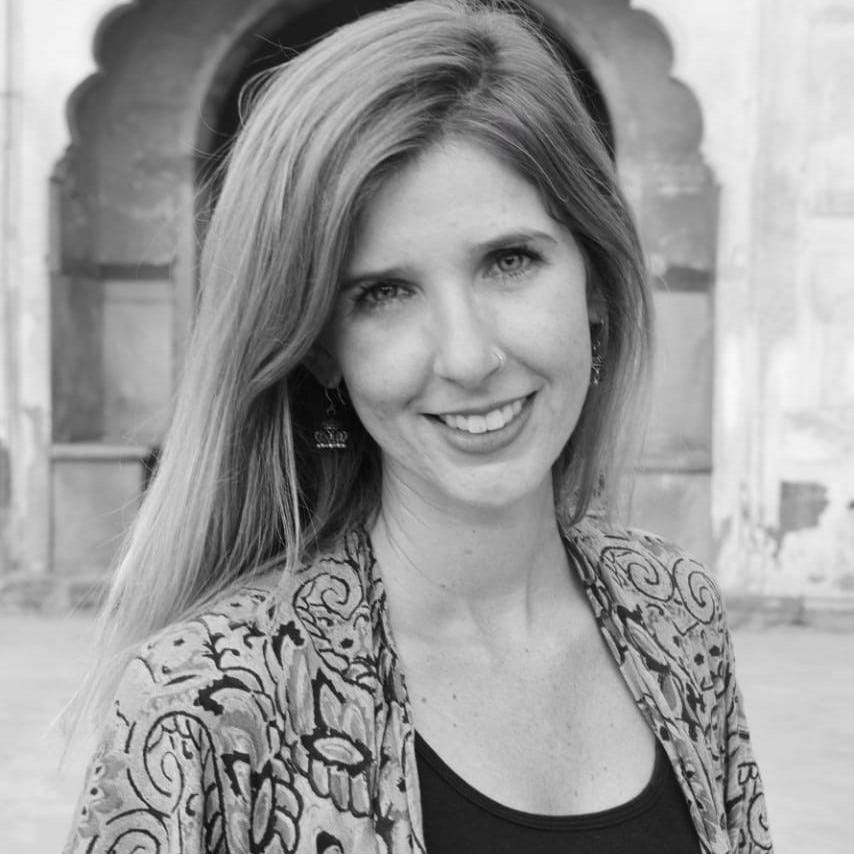 Candice Whitely. Photo credit: Priya Thyagaraj
Candice Whitely's bio:
Linkedin: linkedin.com/in/candice-whitely-122752148/
Candice Whitely is a director with Sewing New Futures, a non-profit women's empowerment organization focused on human trafficking prevention, economic development, and access to healthcare based in India. She is an adjunct lecturer at the University of Southern California, Department of Nursing. Candice has worked with Doctors Without Borders (MSF), AIDS Health Foundation, Indian Health Service, and the Department of Navy. She received both her BSN and MSN at Columbia University and her BA in Religious studies at Palm Beach Atlantic University. Candice is currently completing a Master of Public Health at University of South Florida.
---
Are you part of the good crowd? Join GoodCrowd.school, school for changemakers today.
The post This Organization Helps Women Transition From Prostitute To Seamstress appeared first on GoodCrowd.info.