Discover more from Superpowers for Good
Leadership Lessons From—And For—the World's Great Changemakers
Over 3,000 subscribers
This Nonprofit Provides Medicine For Millions In The Developing World
Download the podcast via Apple Podcasts, Google Play or Spotify.
MAP International is a nonprofit that accepts mostly in-kind donations of drugs from pharmaceutical companies and delivers them to people in developing countries who cannot afford them. Each year, the organization receives about $500 million in donated pharmaceuticals.
Cash donations from foundations and individuals provide the funding for logistics to move the drugs to where they are most needed with the result that millions of people are receiving life-saving drugs they otherwise could not afford.
President and CEO, Steve Stirling, leads the organization. He is the author of The Crutch of Success: From Polio to Purpose, Bringing Health & Hope to the World. Yesterday, the Global Polio Eradication Initiative marked its annual World Polio Day, celebrating the progress toward eradication of polio. The GPEI is led by Rotary International; Steve is a member of his local Rotary club.
Interview with Steven Stirling, the President & CEO of MAP International.
The following is the pre-interview with Steven Stirling. Be sure to watch the recorded interview above.
For-profit/Nonprofit: 501(c)3 Nonprofit
Revenue model: MAP International receives medicines and medical supplies as gift-in-kind (GIK) donations from leading pharmaceutical companies. MAP raises funds from individuals, foundations, companies and churches which enables the organization to acquire, receive, store, ship and report back to the pharma companies and donors on the impact their donations have made. Each year MAP helps provide medicines to +10M people around the world working with partners on the ground.
Scale: MAP International receives each year $500M of medicines and medical supplies as GIK donations. We then raise approximately $10M which enables us to help +10M people around the world get access to life saving medicines.
What is the problem you solve and how do you solve it?
The WHO estimates there are 2B people in the world who don't have access to life saving medicines. MAP International, working with partners, currently help provide life saving medicines to +10M people around the world each year. Our goal is to double our impact by 2025 and help +20M people each year around the world.
More about MAP International:
Twitter: @MapINTL
Facebook: @MapINTL
Website: www.map.org
MAP International helps provide life saving medicines to millions of people around the world regardless of race, ethnicity, gender or religious beliefs.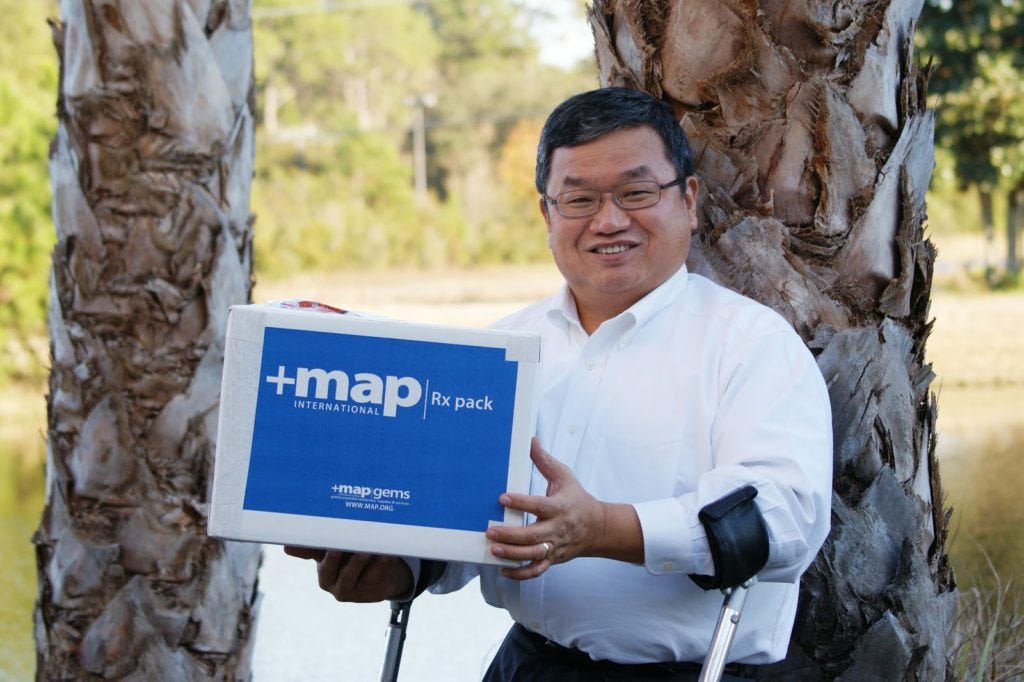 Steven Stirling. Photo Credit: Katie Pace
Steven Stirling's bio:
Twitter: @StevenStirling
Linkedin: linkedin.com/in/sgstirlinginseattle
Steve Stirling is President and CEO of MAP International. Steve assumed the role in mid 2014 after holding leadership positions in major corporations and nonprofit organizations including, most recently, Executive Vice-President/Chief Administrative Officer of ChildFund International, a leading international child focused development NGO. Stirling held senior level positions with: Heifer International (EVP of Marketing & Resource Development), Univera Life Sciences (VP of Marketing and Communications), ChildHelp (SVP of Marketing and Resource Development) and for five years, Stirling served as the Vice President of Marketing Operations and Executive Director, Major Donor Fund-raising for World Vision U.S.
Stirling earned his bachelor's degree in Agricultural Economics at Cornell University and his MBA in Marketing and Finance at Northwestern University (Kellogg Graduate School of Management), during which time he also studied international business in Paris, France.
Stirling worked for over-the-counter pharmaceutical companies: J&J (Tylenol); American Home Products (Advil) and Bristol-Myers-Squibb/Mead Johnson Nutritionals as Director of Marketing (Boost Nutritional Drink). Stirling also worked as vice president of marketing and sales for ConAgra Functional Foods (Culturelle Probiotics) overseeing marketing, sales, logistics, productions, product development and customer service, and as vice president of marketing and acquisition/retention marketing for Ameritrade, Inc. There, he was responsible for all areas of marketing including advertising, direct response, Internet and promotions, and customer marketing.
Steve and his wife Sook Hee have two grown children.
The post This Nonprofit Provides Medicine For Millions In The Developing World appeared first on Your Mark On The World.