Discover more from Superpowers for Good
Leadership Lessons From—And For—the World's Great Changemakers
Over 4,000 subscribers
This Nonprofit Has Mastered The Art Of Doing A Lot With A Little
Download the podcast via Apple Podcasts, Google Play or Spotify.
Eden I&R is an indispensable part of the Alameda County community in the East Bay area of Northern California.
Eden I&R does a lot with a little. This small nonprofit with an annual budget of just over $2 million, handles over 60,000 contacts annual, helps 350 HIV/AIDS clients find housing and other services, maintains a database of 73,000 rental units and a list of 3,100 services available from other agencies.
Alison DeJung, a veteran with 22 years of experience, took the helm of Eden I&R in 2017 and is working to expand its funding and services.
Dayton Thorpe, my son, recently joined the Board of Eden I&R.
Interview with Alison DeJung, the Executive Director of Eden I&R.
The following is the pre-interview with Alison DeJung. Be sure to watch the recorded interview above.
For-profit/Nonprofit: 501(c)3 Nonprofit
Revenue model:
Eden I&R receives just over 2/3 of its funding from government sources–all 14 cities in Alameda County and several county departments. Most of the remainder comes from foundations and corporations. The agency receives less than 1% of its funding from individual donors but we are trying to dramatically grow our individual donor base over the next couple of years. Finally, we receive a small portion of funding from fee for service such as creating specialized resource directories and online portals for clients and providing subscriptions to our housing database.
Scale:
In FY 18/19, Eden I&R raised just over $2 million and spent nearly all of it on our program operations. 211 handled over 61,000 contacts (calls and two-way text messages) and provided nearly 93,000 health, housing and human service referrals. The AIDS Housing & Information Program served over 350 unduplicated clients living with HIV/AIDS obtain housing and supportive services. The Housing Department updated the 73,000+ rental units in the housing database and added close to 3,000 new units. The Information Management Department updated the 3,100+ programs in our Services Database. The Disaster Preparedness Coordinator delivered 34 disaster preparedness trainings. Staff attended 70 outreach events and community fairs throughout the county to promote 211 and Eden I&R's programs. Eden I&R currently has 32 employees, not all of whom are full-time.
What is the problem you solve and how do you solve it?
Eden I&R is often the entree to the safety net for our clients; the first step they take in figuring out how to navigate the complex and ever changing maze of community-based and government services. Some clients are not fluent in English, some grapple with mental health issues and a host of other challenges. By continually updating our two rich databases of social service information and housing units and keeping apprised of the various programs (and any changes) that can assist our clients, Eden I&R's staff is well equipped to conduct an intake and provide the most relevant and comprehensive referrals to resources that can assist, sometimes conducting three-way calls and doing other sorts of advocacy on behalf of clients as needed.
More about Eden I&R:
Twitter: @eir_211Alameda
Facebook: facebook.com/211AlamedaCounty
Website: www.edenir.org
Housing Directory: achousingchoices.org
Eden I&R (Information & Referral) was incorporated as a nonprofit 501(c)(3) agency in January 1976 in response to a community need for a service that would assist people in obtaining information about, as well as gaining access to, community resources. Our skilled information management and referral specialists provide a critical information bridge between vulnerable individuals and families and critical health, housing, human service, and disaster resources. Eden I&R envisions a community empowered with information and connected to resources, so that all people obtain health, happiness, hope, and improved livelihoods.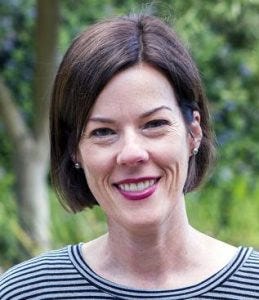 Alison DeJung. Photo Credit: Jason Goldheim
Alison DeJung's bio:
Linkedin: linkedin.com/in/alison-dejung-b11bb12
Instagram: @alisondejung
Alison DeJung has been with Eden I&R's since 2012. The board appointed Alison to the Executive Director role in January 2017. As the Executive Director, Alison provides leadership and overall management for the agency's programs, policies, personnel, board development, community relations, and the $2.3 million annual operating budget.
Alison has more than 22 years of experience in the nonprofit sector. Her breadth of skills includes fundraising, financial analysis, strategic planning, grantmaking, and program implementation. During Alison's career, she has nurtured strong working relationships with program directors, government department heads, elected officials, media representatives, funders, and other stakeholders.
Prior to working at Eden I&R, Alison spent the bulk of her career in philanthropy. She held positions at the Stuart Foundation; The Women's Foundation of California; the Richard and Rhoda Goldman Fund; the Marin Arts Council; and The California Wellness Foundation.
Alison holds a BA in Political Science from the University of California at Davis, and a Master of Nonprofit Administration from University of San Francisco.
---
The post This Nonprofit Has Mastered The Art Of Doing A Lot With A Little appeared first on Your Mark On The World.