Discover more from Superpowers for Good
Leadership Lessons From—And For—the World's Great Changemakers
Over 3,000 subscribers
This Mom Has Raised $175 Million To Fight Cancer In Honor Of Her Daughter
Download the podcast via Apple Podcasts, Google Play or Spotify.
Alex Scott never remembered a time she didn't have cancer, having been diagnosed before her first birthday. She died at age eight. During her lifetime, Alex led efforts to raise over $1 million to fight childhood cancer.
Her mother, Liz Scott, has continued the effort inspired by her daughter. The organization she inspired has now raised $175 million to fight cancer, about $25 million this year.
As we approach the end of the run of the Your Mark on the World Show, I invited Liz to return to the show to provide an update as her inspiring story remains one of my favorites.
Interview with Liz Scott, the Co-Executive Director of Alex's Lemonade Stand Foundation.
The following is the pre-interview with Liz Scott. Be sure to watch the recorded interview above.
For-profit/Nonprofit: 501(c)3 Nonprofit
Revenue model:
ALSF generates revenue through supporter donations, partnerships with local and national businesses and by hosting special events.
Scale:
ALSF now has more than 50 employees and generates about $25 million annually
What is the problem you solve and how do you solve it?
ALSF's goal is to find a cure for cancer. In the meantime, ALSF is funding research to help provide better, less toxic treatments to children with cancer.
More about Alex's Lemonade Stand Foundation:
Twitter: @alexslemonade
Facebook: facebook.com/alexslemonade
Linkedin: linkedin.com/company/alex's-lemonade-stand-foundation/
Website: www.alexslemonade.org
Alex's Lemonade Stand Foundation (ALSF) is changing the lives of children with cancer by funding impactful research, raising awareness, supporting families and empowering everyone to help cure childhood cancer. Founder Alexandra "Alex" Scott (1996-2004) was diagnosed with neuroblastoma just before her first birthday. When she was going through treatment at the age of 4, she decided she wanted to host a lemonade stand to raise money for other children fighting cancer. Word spread, and that first front-yard stand raised $2,000. Inspired even more, Alex thought that if everyone hosted a lemonade stand, together they could raise $1 million. Shortly before she passed away at the age of 8, she found out the $1 million mark was reached. Her parents, Liz and Jay Scott, decided to continue the efforts by making ALSF a non-profit. Today, ALSF is a leading national non-profit and has raised more than $175 million for childhood cancer research and funded more than 1,000 grants at 135 institutions in the U.S. and Canada.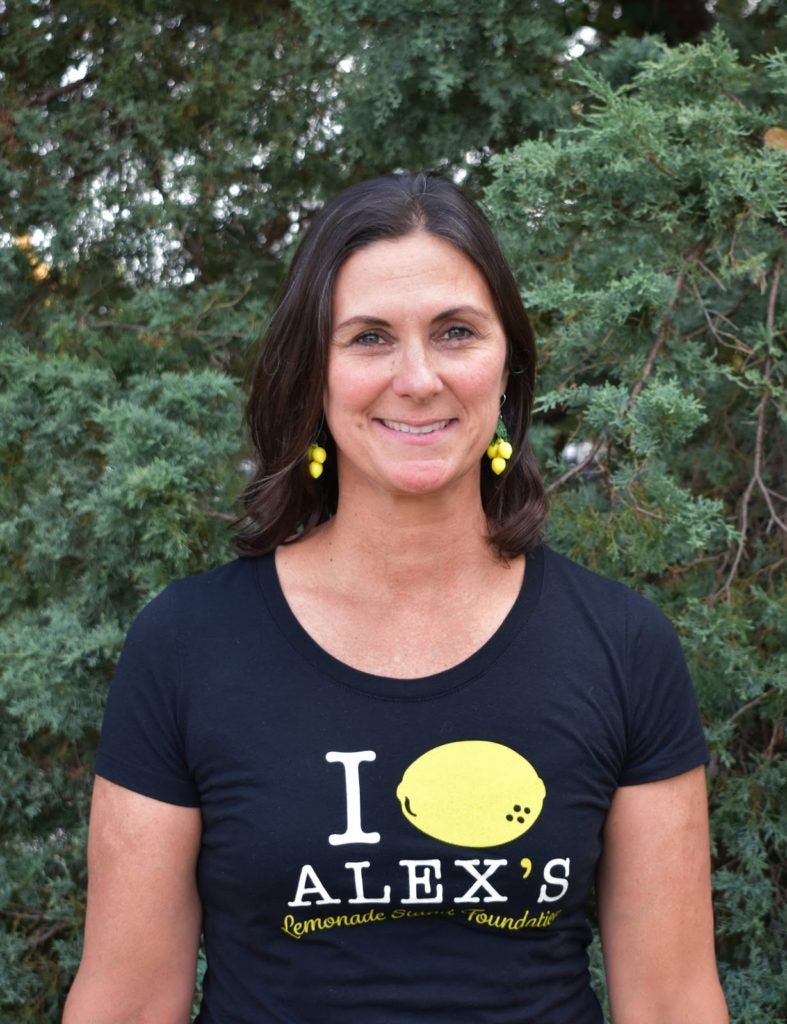 Liz Scott. Photo Credit: ALSF
Liz Scott's bio:
Liz Scott is the Co-Executive Director of Alex's Lemonade Stand Foundation, but she is most proud of her title of "Mom" to three sons, Patrick, Eddie, and Joey, and daughter Alex. ALSF emerged from the front yard lemonade stand of Liz's daughter, Alexandra "Alex" Scott (1996-2004). In 2000, 4-year-old Alex announced that she wanted to hold a lemonade stand to raise money to help find a cure for other children with cancer. In her lifetime, Alex would raise over $1 million before she passed away in 2004 at the age of 8. Since then, Liz and her husband Jay have worked alongside thousands of supporters across the country to carry on her legacy of hope. To date, ALSF has raised more than $175 million toward fulfilling Alex's dream of finding a cure, funding over 1,000 pediatric cancer research projects nationally. In addition to serving as the Co-Executive Director of ALSF, Liz also serves on the National Cancer Institute Pediatric Solid Tumor Steering Committee as well as the Editorial Advisory Board of Cancer Today.
---
The post This Mom Has Raised $175 Million To Fight Cancer In Honor Of Her Daughter appeared first on Your Mark On The World.