Discover more from Superpowers for Good
Leadership Lessons From—And For—the World's Great Changemakers
Over 3,000 subscribers
This Founder's Story Will Inspire You
This post was originally produced for Forbes.
Download the podcast via Apple Podcasts, Google Play or Spotify.
In 2008, Aussie Daniel Flynn came across two facts: children were dying (some still are) due to waterborne illnesses and the world market for bottled water was about $50 billion (now it is about $140 billion). In that juxtaposition, he saw a solution. The idea for Thankyou Water was born.
Working with his buddy Jared Burns and his then girlfriend now wife Justine Flynn, as first-year university students, they launched a consumer brand that features 55 different products and is sold in 5,500 locations across Australia and more recently New Zealand, dropping "water" from the brand to become "Thankyou." The plan was to give 100% of profits to nonprofits working to eradicate extreme poverty. In 2015, the company set up a charitable trust which now owns the business. All dividends flow to the trust to be distributed ultimate to charities.
But I've skipped the good parts.
At the outset, the team found a bottler that agreed to produce their product without charging anything upfront.
"I remember we pitched to the largest distributor of beverages in the country. They work for brands like Lipton Iced Tea and Red Bull. And we're in the meeting sharing the vision we had, change the world, you know, one bottle at a time," Flynn says. "And on the spot in our first sales pitch, the director says, 'I love it. I'm going to order 50,000 units from you guys.' And then he said, 'How quick can you get it to me?'"
After a pause, unprepared for the question, Flynn says, "Well, give us about three weeks."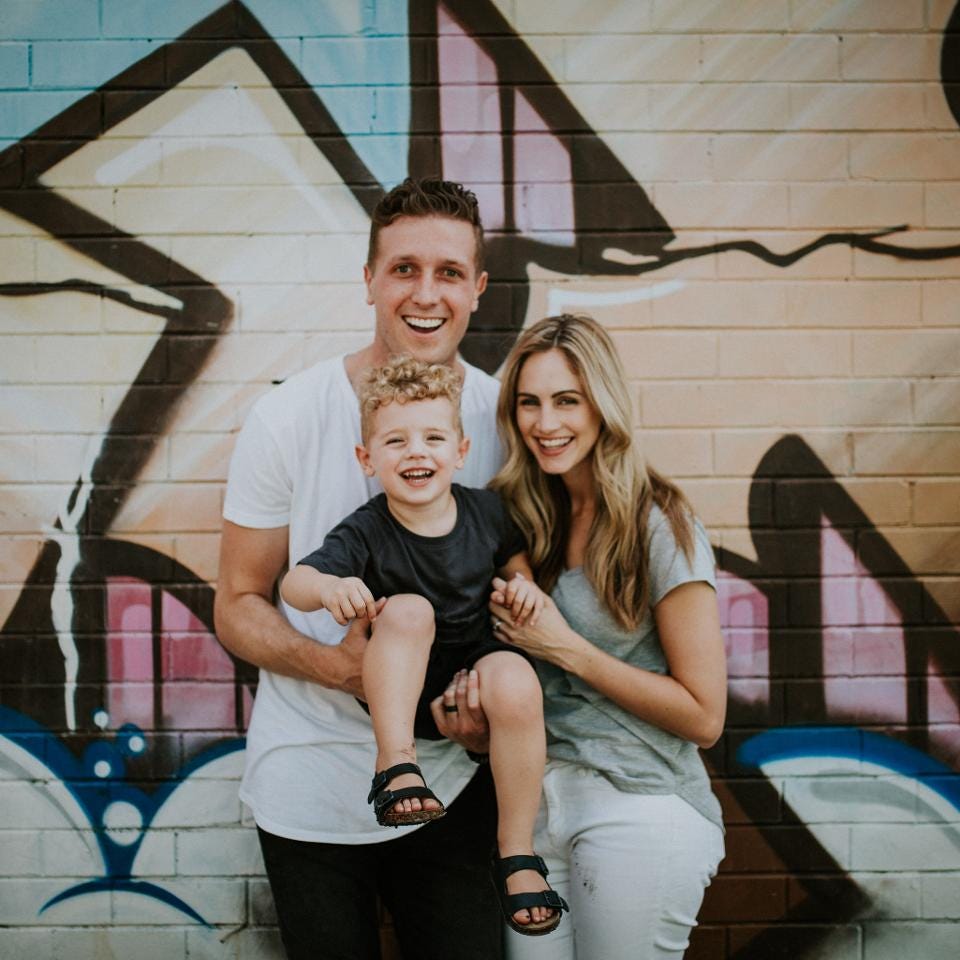 Daniel and Justine Flynn with son Jedediah CREDIT: THANKYOU
"I mean, we were first-year university students. We had no concept of manufacturing lead times," he adds.
"It sort of sums up Thankyou," Flynn says. "We really haven't known what we were doing. And yet people have come around this idea."
The social media marketing and the authentic connection with consumers has been key to success.
To get 7-Eleven to stock Thankyou Water, the Flynns produced a video on YouTube asking for their fans to visit the 7-Eleven Australia Facebook page to promise to buy Thankyou water if it would stock it.
It worked. "In two weeks, we had consumers singing and dancing and rapping. We had media covering this story. And then 7-Eleven said yes," Flynn says. Their water quickly became the third bestselling brand at the convenience store chain and even worked its way into the top spot for a while.
Even with that success, Australia's two primary grocery chains, Coles and Woolworths, declined to stock any products.
Time to repeat the social media magic.
"One Wednesday morning, we launched a video. The video was called the Coles and Woolworths campaign," he says. "We said two weeks from today, we're meeting with them and we need you to come in the room with us."
"And it was crazy. I mean, media kind of blew up because we're now pinning the two biggest supermarkets kind of against each other," Flynn shares with fresh amazement as he retells the story.
"Our heart wasn't to be cheeky," he says. "It was just simply we need them to see the power of this brand and its people. It's the consumer."
"It was then we flew helicopters, one in Melbourne, one in Sydney," he says referring to the locations of the grocers' respective headquarters locations. "So, during the campaign, these helicopters flew with these huge signs. 'Dear Coles, Dear Woolworths, thank you for changing the world [If you say yes].'"
"Long story short, five hours after the meeting at Coles and three hours after Woolworths, they both said yes," Flynn effuses.
Among the things the founders had failed to consider was that a company really can't pay out 100% of profits. Even if a company retains some profits for operating capital it is unlikely to accumulate enough capital to fund growth. Of course, it gets worse. If a company has pledged its profits to charity it can't attract investment capital—or even borrow much.
The team found an innovative way to address the pinch.
Flynn wrote a book, called Chapter One: You Have the Power to Change Stuff. Time for another video. The company then offered the book for sale in a crowdfunding campaign, giving people the option to pay whatever they choose. A few people did, perhaps testing the system, buy the book for pennies but one person paid $50,000!
"I also said I'm on going to stay in this warehouse and I going to pack books until we raise $1.2 million—and some people were like you're going to be in there forever. And I literally remember packing books day in, day out," he says.
"But within two hours of the launch, we made three hundred and sixty thousand dollars. And within one month, we didn't hit our AUS$1.2 million target. We hit AUS$1.44 million. I mean, it was, it was amazing." The book continues to sell, and Flynn reports it has now raised AUS$2.5 million.
He is coy about plans to enter the U.S. market, but it is clearly on his mind. That may require another book.
Over the last decade, Thankyou has donated more than AUS$7 million to charities working to eradicate extreme poverty.
Now that is a founder's story.
Follow me on Twitter or LinkedIn. Check out my website.
---
The post This Founder's Story Will Inspire You appeared first on Your Mark On The World.