Discover more from Superpowers for Good
Leadership Lessons From—And For—the World's Great Changemakers
Over 3,000 subscribers
The 34th Annual Chefs' Tribute To Citymeals On Wheels Raises Nearly $800,000
Renowned Chefs and Purveyors Gather to Celebrate Their Unique Culinary Collaborations and Support Homebound Elderly New Yorkers
Press Release – (Tuesday, June 11, 2019 – New York, NY) – Last night, June 10, 2019, 47 chefs came together for The 34th Annual Chefs' Tribute to Citymeals on Wheels, The Butcher, The Baker, The Cocktail Shaker: Celebrating Culinary Collaborations. 100% of funds raised will support the preparation and delivery of meals for homebound elderly New Yorkers by Citymeals – the city's only nonprofit providing home-delivered meals to the frail aged in all five boroughs. This year's event raised nearly $800,000 to deliver over 108,000 meals.
From Seattle to Brooklyn, San Juan to Montevideo, renowned culinary talents gathered to share their best dishes at tasting stations throughout Rockefeller Center. Each chef selected a favorite artisanal purveyor to showcase the partnerships that enable them to make their menus unique.
Beth Shapiro, Executive Director of Citymeals on Wheels, reflected, "We cannot thank enough all of the chefs, farmers, butchers, fish mongers, foragers, mixologists and other artisans and who helped make tonight so delicious and special. We thank them for extending their generosity to Citymeals and the thousands of older New Yorkers who need our support." Shapiro added: "Our culinary friends have made Chefs' Tribute what it is for the last thirty-four years – an unforgettable night under the stars."
Since its founding in 1981, Citymeals on Wheels has delivered nearly 60 million meals throughout the five boroughs. Each year, the organization prepares and delivers over 2 million weekend, holiday and emergency meals for over 18,000 homebound elderly New Yorkers. For our vulnerable neighbors, a Citymeals' deliverer may be the only person they see on a regular basis.
The event, hosted by Patina Restaurant Group at Rockefeller Center, was attended by 900 guests – business leaders, culinary insiders, foodies, and young professionals – who enjoyed an 11-piece band, a folk artist playing the musical saw and other acts throughout the night, provided by Noah Bless Music.
Some of the evening's stellar dishes included: Moules à la Belge from Chefs Daniel Boulud and Dieter Samijn; Blue Moon Ceviche with Tama's Foraged Flavors & Lindsey's Sourdough Crackers from Chef Marc Forgione; Beef Tartare with Marcona Almond Gremolata & Spanish Anchovy from Chef Angie Mar; Bietola & Burrata with Warm Walnut Vinaigrette & Crispy Shallots from Chef Karen Akunowicz; Hamachi Crudo with Citrus Olivada from Chefs Michael White and Cesar Guadarrama; 60 Day Cabernet-Aged Beef Tartare with Cherry from Chef Chris Cosentino; Pheasant Boudin Blanc with Crushed Zucchini from Chef Thomas Boemer; Sheep's Milk Ricotta Tortellini with Morel Mushrooms, Spring Vegetables & Pecorino Toscano from Chef Alfred Portale; and Uruguayan Rustic Carpaccio with Fried Capers, Dijon, Sprouts & Grana Padano from Chef Lucía Soria.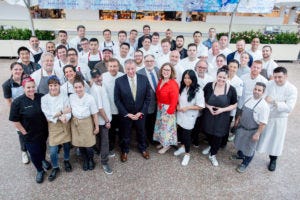 Co-Founders of the event, Chefs Jonathan Waxman (Jams, New York) and Larry Forgione (Restaurant Davide in New York, New York) participated, alongside notable chefs from across the country including: Alfred Portale (Gotham Bar & Grill, New York), Angie Mar (The Beatrice Inn, New York), Anthony Andiario (Andiario, West Chester, PA), Carolina Perego (Citarella Gourmet Markets, New York), Charlie Palmer and Christopher Engel (Aureole, New York), Chris Cosentino (Cockscomb, San Francisco), Christina N. Towers (Café Centro, New York), Daniel Boulud and Dieter Samijn (Bar Boulud, New York), David Buico and Antonio Prontelli (Rock Center Café, New York), Francis Guzmán (Vianda, San Juan), Jared Braithwaite (Colonie, Brooklyn), Jarett Appell and Silvana Vivoli (Stella 34, New York and Vivoli Gelateria, Florence, Italy), Jesse Schumann and Kit Schumann (Sea Wolf Bakers, Seattle), Joachim Splichal (Patina Restaurant Group, Los Angeles), Joe Gurrera (Citarella Gourmet Markets, New York), Jonah Miller (Huertas, New York), Karen Akunowicz (Fox & the Knife, Boston), Kate Williams (Lady of the House, Detroit), Kevin Fink (Emmer & Rye, Austin), Louis Bayla and Kevin Woods (Little Park, New York), Lucía Soria (Jacinto Restaurant, Montevideo, Uruguay), Marc Forgione (Restaurant Marc Forgione, New York), Matt Hoyle (Nobu Fifty Seven, New York), Mathew Woolf (Rainbow Room, New York), Michael Gabriel (The Sea Grill, New York), Michael Gallina (Vicia, St. Louis), Michael White and Cesar Guadarrama (Ristorante Morini, New York), Michelle Silberman (Snackadabra: Food Magic, Philadelphia), Morgan Jarrett (Yellow Magnolia Café, Brooklyn), Priscilla Yeh (STATE Grill, New York), Richard Capizzi and Shea Gallante (Lincoln Ristorante, New York), Thomas Boemer (In Bloom, St. Paul), Yuhi Fujinaga and Masaharu Morimoto (Morimoto Asia, Lake Buena Vista, Florida), and Zak Pelaccio and Kevin Pomplun (Fish & Game and BackBar, Hudson, New York).
With the help of Beverage Chairs Audrey Saunders (Owner, Pegu Club) and Daniel Johnnes (Wine Director, The Dinex Group), fine wines and artisanal cocktails were poured by leading sommeliers and mixologists to accompany the lavish tasting.
The evening's Grand Host was Nick Valenti, CEO of Patina Restaurant Group, and the event was co-chaired by Sabrina and Byron Athans, Beverly and Dan Bartfeld, Alison Lohrfink Blood, Joseph M. Cohen, Laura and John Pomerantz, and Randi and Dennis Riese.
Event guests included Board Co-President Robert S. Grimes, as well as Derek Blasberg and Nick Brown, Samantha Boardman, M.D., Randy Fishman, Colleen Goggins, Yusi Gurrera, Suri Kasirer and Bruce Teitelbaum, Liz Neumark, Drew Nieporent, Lisa Rosenblum, Danielle and Randy Smith, Galia and Axel Stawski, Kathleen Turner, Teri Volpert, and Dasha Zhukova.
Event sponsors included Citymeals' Official Airline American Airlines, Official Water FIJI Water and First Republic Bank. Beverage sponsors included Belvedere Vodka, Courvoisier Cognac, Plantation Rum, Seedlip Drinks and Sipsmith Gin.
---
Are you part of the good crowd? Join GoodCrowd.school, school for changemakers today.
The post The 34th Annual Chefs' Tribute To Citymeals On Wheels Raises Nearly $800,000 appeared first on GoodCrowd.info.