Discover more from Superpowers for Good
Leadership Lessons From—And For—the World's Great Changemakers
Over 3,000 subscribers
Thank You So Much!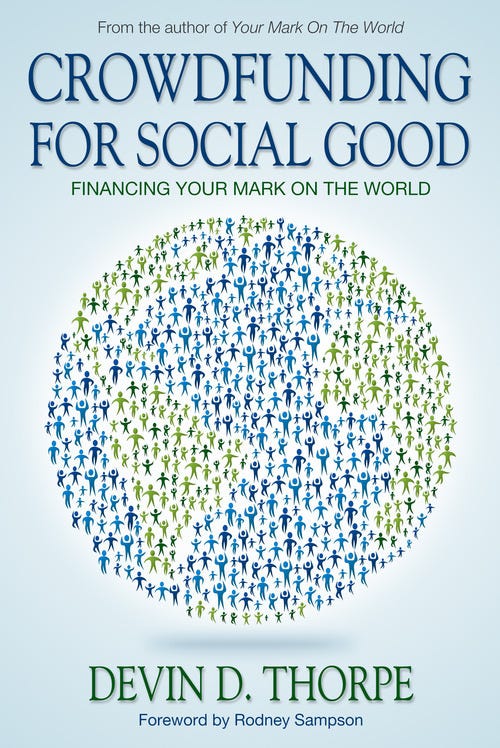 In order to fund the publication and promotion of Crowdfunding for Social Good, Financing Your Mark on the World, as seems only fitting, I did a crowdfunding campaign on StartSomeGood.com. Over 50 people supported the campaign helping me to raise over $3,000 to help me get this book into the hands of real change agents who will use its principles to leave a mark on the world.
The following people generously supported my campaign at the financial levels indicated:
$499 and up:
Jason Best
Crowdfund Capital Advisors
http://crowdfundcapitaladvisors.com
Raising money isn't easy. But crowdfunding makes it easier than ever before. Success with Crowdfunding has created an educational series that is your key to crowdfunding success. Visit SuccessWithCrowdfunding.com.
Anonymous
$299 and up:
Joy Schoffler
Leverage PR
The Leverage PR team is unbeaten in the crowdfunding space; no one knows the people, products and platforms better. –Devin Thorpe
Doug Ellenoff
Ellenoff Grossman and Schole
Recognized as a thought leader and expert on the legalities of the JOBS Act, he's been a key representative and advocate for crowdfunding.
Sydney Armani
CrowdFundBeat
Crowdfundbeat.com is an online source of news, information and resources for crowdfunding.
John Child
The Brainchild Company
Marketing to the Core: The 4 key concepts that will create results for your small business marketing efforts.
$99 and up:
David Bradford
HireVue
HireVue is a way to interview on demand! Simply email a link to questions and empower candidates to record responses via webcam.
Chris Camillo
Author, Laughing at Wall Street
http://laughingatwallstreet.com
In 2007, in the midst of the worst financial crisis since the Great Depression, Chris invested $20,000, and grew it to just over $2 million.
$49 and up:
Anonymous
Rick and Alta Davis
The Cystic Fibrosis Foundation
Andy Kristian Agaba
Hiinga
Donald Rands
The Cystic Fibrosis Foundation
Jane Wolfe
Mardi Gras Throws for Education
Pearl Wright
Choice Humanitarian
$19 and up
Anonymous
Bridgett Thorpe
David M.
John Holt
Utah Microenterprise Loan Fund
Victoria Mita
FundMyTravel
Paul Joseph
Caring Voice Coalition, Inc.
Abe Carter
Alex Budak
Start Some Good
Bill Aho
Cheryl Snapp Conner
Snapp Conner PR
Dave Boyce
Fundly
David Sheffield
Miles of Gratitude
Dyanne Christensen
Evan Malter
J. Todd Anderson
Boy Scouts of America
Kevin Jessop
Anonymous
Tomorrow's Luminary Foundation
Mikey Leung
Rose Spinelli
Animal Protection
Stephen Scott
Steve Grizzell
Girl Scouts of Utah
Nicole Pitzer
Stone by Stone Moving Mountains in Haiti, Inc.
Tom Dawkins
Start Some Good
Wayne Moorehead
$4 and up
Sandy Darlington
Suzanne Rajkumar
Anonymous
Todd Leishman
Devan Thorne
Caroline Udall
Raymond Sweger
Andrew Gardiner
Asha Aravindakshan
Dayton
Franci Eisenberg
Gail Thorpe
Greg Gunn
Kushaan Shah
Leonardo Hudson
M.Cole Jones
The post Thank You So Much! appeared first on Your Mark On The World.