Discover more from Superpowers for Good
Leadership Lessons From—And For—the World's Great Changemakers
Over 3,000 subscribers
Stripes® Convenience Stores Raise More Than $720,000 for MD Anderson Children's Cancer Hospital
Press Release – (Irving, Texas) December 3, 2019 – To celebrate Childhood Cancer Awareness Month in September, Stripes Stores team members and customers joined together with The University of Texas MD Anderson Cancer Center to support cancer research, education, and hospital programs for children and youth with cancer.This year,their combined efforts raised more than $720,000 through their annual store campaign, Stripes Stores Celebrates Tomorrows. Between September 3rd and October 7th, the Stripes in-store campaign raised funds, $1 at a time, in its Texas and Louisiana locations.
"On behalf of our team members and generous customers, we are honored to present MD Anderson Children's Cancer Hospital with a check for $720,654 on Giving Tuesday. These funds were collected in our stores during our September in-store campaign, celebrating Childhood Cancer Awareness Month," stated Brad Williams, Senior Vice President, 7-Eleven, Inc. (Stripes Stores). "These funds will continue to support MD Anderson's Children's Cancer Hospital with breakthrough cancer research and programs for children and adolescents diagnosed with cancer.
Since 2014, Stripes stores have raised funds for MD Anderson Children's Cancer Hospital, donating nearly $6 million.This year's funds will support new immune therapies for certain types of pediatric cancers, week-long camps that enable kids to be kids despite their cancer diagnosis, as well as the Pediatric Education and Creative Arts Program,which features an accredited K-12 on-site school.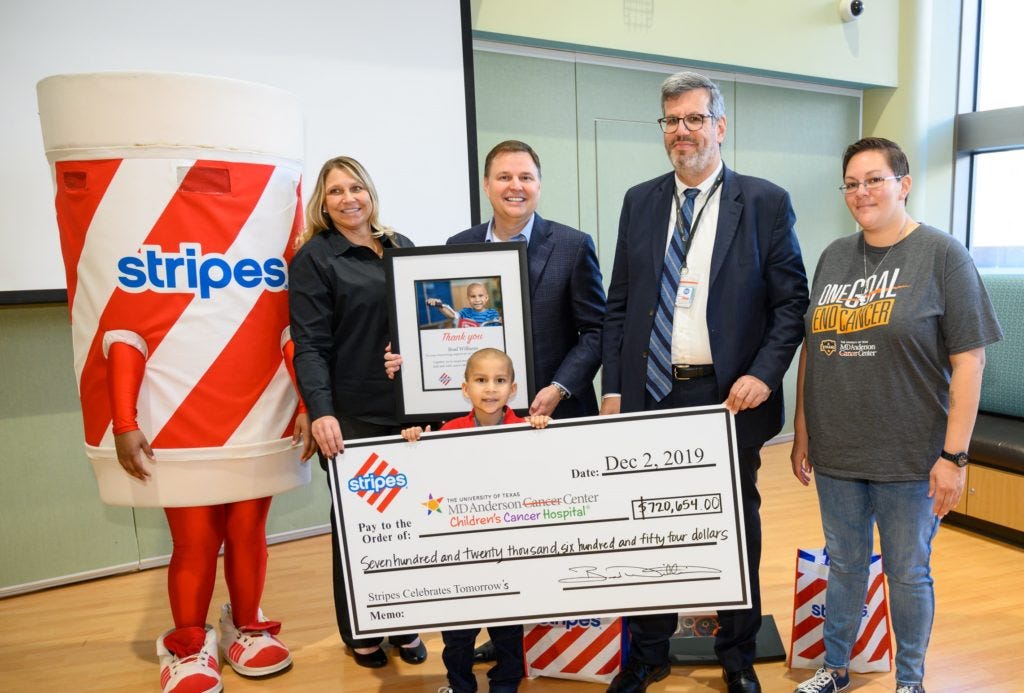 Left to Right: Piper Scott, 7-Eleven, Inc., (Stripes) Field Marketing Associate; Brad Williams, Senior Vice President 7-Eleven, Inc. (Stripes), Richard Gorlick, M.D., Division Head and Chair of Pediatrics at MD Anderson; Leanne Delgado (parent), Eli Delgado (center), Stripes Campaign Patient Ambassador
In previous years, funds have supported important initiatives including: expanded research in immunotherapy; pediatric sarcoma and brain tumor research; and prevention programs focused on promoting sun safety, physical activity and healthy food choices.
"Our young cancer patients are inspired by the generous customers and employees who participated in this campaign," said Richard Gorlick, M.D., division head and chair of Pediatrics at MD Anderson. "Their continued support will have a positive impact on our patients and their families in many ways. We are proud to partner with them to support important patient programs."
About Stripes® Convenience Stores
Stripes® Convenience Stores operates more than 525 convenience stores in Texas and Louisiana. Fresh hot food offerings are available in over 450 of its stores, primarily under the proprietary Laredo Taco Company® brand. Stripes is owned by 7-Eleven, Inc. ("7-Eleven"), the largest chain in the convenience-retailing industry. Based in Irving, Texas, 7-Eleven operates, franchises and/or licenses more than 67,000 stores in 17 countries, including 11,800 in North America. For more information about Stripes Convenience Stores visit www.stripesstores.com
About MD Anderson
The University of Texas MD Anderson Cancer Center in Houston ranks as one of the world's most respected centers focused on cancer patient care, research, education and prevention. The institution's sole mission is to end cancer for patients and their families around the world. MD Anderson is one of only 50 comprehensive cancer centers designated by the National Cancer Institute (NCI). MD Anderson is ranked No.1 for cancer care in U.S. News & World Report's "Best Hospitals" survey. It has ranked as one of the nation's top two hospitals for cancer care since the survey began in 1990, and has ranked first 15times in the last 18 years. MD Anderson receives a cancer center support grant from the NCI of the National Institutes of Health (P30 CA016672).
---
The post Stripes® Convenience Stores Raise More Than $720,000 for MD Anderson Children's Cancer Hospital appeared first on GoodCrowd.info.