Discover more from Superpowers for Good
Leadership Lessons From—And For—the World's Great Changemakers
Over 3,000 subscribers
Socks that Start Businesses
Guest post by Mitch Taylor.
In life, it is sometimes the smallest things that make the biggest difference. It is those small "aha!" moments that completely alter your perspective, and change the course of your life. If you've spent time traveling, you know that these moments come in abundance once you've stepped out of your comfort zone.
It was on a trip to Colombia that Jeff House laid the foundation for one these epiphanic moments. He was struck by the generosity of the people, who by North American standards, had very little to give. They earned a living that barely allowed them to make ends meet; yet they were willing to open their homes and share what ever they had.
At the time Jeff was working with Opportunity International, and was experiencing the difference that their micro-financing programs were making in these peoples lives. In the majority of cases these loans meant the difference between the recipients being able to sustain a business and earn a living, or going into absolute poverty.
When Jeff returned home he teamed up with Diana Charabin, a successful young entrepreneur, and an ambassador of all things entrepreneurial. They were both passionate about supporting individuals who were starting and operating businesses, both locally and abroad. Moreover, they were both really into bold creative socks… Aha!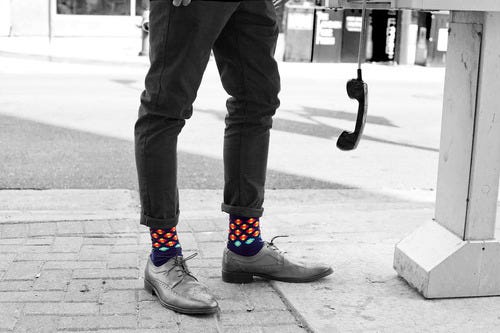 By identifying the immerging market and need for colorful radically designed socks, and combing that with their passion for entrepreneurship, Jeff and Diana founded Cole and Parker. They offer a collection of socks intentionally designed to inspire entrepreneurs. What makes their product even more special is that the socks themselves actually start businesses!

Cole and Parker partnered with Kiva, one of the worlds largest non-profit micro-finance organizations. Cole and Parker's 1-for-many business model designates proceeds from each pair of socks sold to be loaned to an entrepreneur in need through Kiva. Once that loan is repaid, it is then re-invested to fund another Kiva micro-loan. This creates a revolving door effect in which one pair of socks has the ability to fund multiple businesses over time.
In their first quarter of business Cole and Parker was able to lend over $10,000, funding over 50 entrepreneurs in need, landing them in the top 1% of Kiva lenders. It is Jeff and Diana's hope that with time and growth their socks will have a massive impact on entrepreneurs who require financial assistance.
Head over to their shop, and become part of that impact!
The post Socks that Start Businesses appeared first on Your Mark On The World.