Discover more from Superpowers for Good
Leadership Lessons From—And For—the World's Great Changemakers
Over 4,000 subscribers
Skateboards Used To Foster Young Leaders In Lebanon
This is a guest post from Devon Smiley.
Beneath the bombed out shell that hides the "Paris of the Middle East", thousands fear that tomorrow won't come and many believe that the only hope for Lebanon is in the youth.
The Operation Change team saw this need to invest in the future leaders of Lebanon and hoped to provide a place where the youth of this community could build their confidence and escape the stress and danger of their current environment. For many local youths, skateboarding is just that escape.
Steven Sawalich, the Senior Director of Global Media and Philanthropy of Starkey Hearing Technologies, along with volunteers joined local activists in Lebanon to build a skate park and come to the aid of a community center at risk of being torn down for good.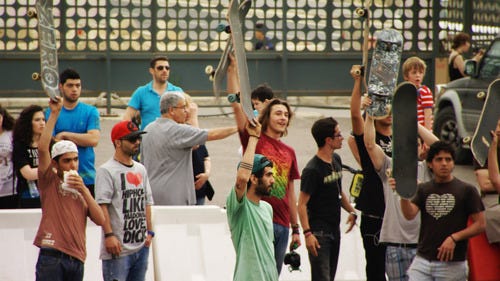 Tonight's episode (Monday, July 21) features Maya, a local woman of the community, who fears that there is nothing to be done to save the community she has lived in her whole life. Upon seeing the restored community center, Maya exclaims, "There is still goodness in this world and for that I am grateful. The dream is coming true."
Operation Change is a 10 part television docu-series airing on OWN (Oprah Winfrey Network) that provides an intimate view of the challenges people in developing countries across the world face as well as the inspiring efforts being made by volunteers, philanthropists and celebrities to address them. Operation Change is all about empowering people to empower themselves. In each episode, the team does just that. The countries featured include Colombia, Ethiopia, Haiti, India, Israel & Palestine, Lebanon, Malaysia, Papua New Guinea, South Africa, and Tanzania.
Tune in to OWN every Monday 10/9 Central to see how Operation Change is making in impact in some of the most tumultuous regions of the world. To learn more about Operation Change or view past episodes, please visit the official website here. In addition, viewers can immerse themselves in featured countries while experiencing social good projects and regional culture via the interactive online web platform. Each week, a viewer can also win a trip for two to join the Operation Change team and its partners in the field to help make an impact in a featured country.
The post Skateboards Used To Foster Young Leaders In Lebanon appeared first on Your Mark On The World.