Discover more from Superpowers for Good
Leadership Lessons From—And For—the World's Great Changemakers
Over 3,000 subscribers
Savii Helps Clients Save Money and Save the World At the Same Time
Guest post by Cordelia Manis of the Savii Group.
When Gina Manis-Anderson took her corporate cost cutting skills to form Savii Group, she knew she wanted to do more than just help companies increase their financial capital. She wanted to use her experience to help companies realize the importance of increasing their human and social capital as well. And she believes strongly that social capital is the key.
"A company's philanthropic culture is a formidable differentiator in the marketplace. Positive social capital improves recruiting and retention of key talent, and helps to attract customers who make buying decisions in a socially responsible manner," says Manis-Anderson. "Plus, it's just the right thing to do for non-profits who face such steep challenges in fundraising in the current economic climate." Research shows that non-profits are increasingly operating in crisis mode, with little or no budget for program expansion or emergencies. Manis-Anderson's commitment to non-profit organizations inspired her to find a solution.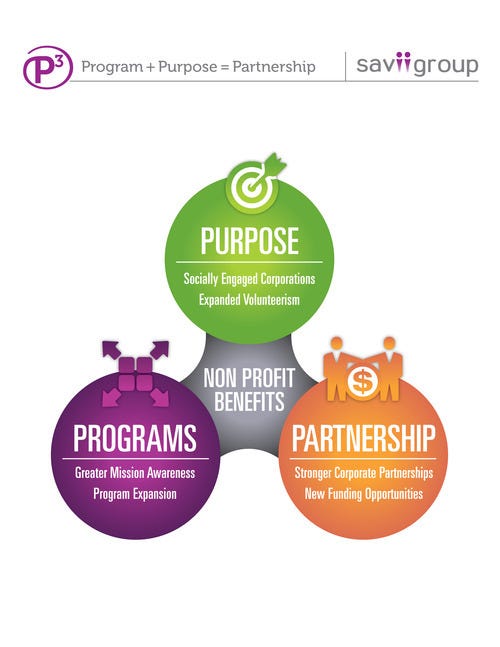 Relying on the innovation that made her a leader in expense management, she created the Partnership Pledge Program (P3) to bridge the gap that exists between non-profits and corporate donors. Formulated for both corporations and non-profits, the P3 strategy engages Savii Group's expertise in freeing up capital companies didn't know they had. This capital can be applied toward Corporate Social Responsibility (CSR) to increase the corporate value of for-profits and create sustainable donations for non-profit organizations.
Here's how it works:
Utilizing an experienced team of Subject Matter Experts (SME's), Savii Group provides a company with enhanced data, better benchmarks, and negotiating strategies to identify real savings and optimization in over 30 expense categories including; IT, Telecom, Employee Benefits, Payroll, Documents Management, Merchant Processing, CAM Audits, and Freight.

Savii Group finds money and frees up hidden capital in a company's overhead and expenses.

Savii Group's SME's are only compensated when savings are found – they take a percentage of the realized savings when new agreements with the vendors and suppliers are implemented.

On every project, Savii Group and their SME's each donate a portion of their fees to the company's favorite cause and invites the company to also pledge a percentage of their new found savings – resulting in three potential new sources of sustainable funding for non-profits.
"Savii Group's new P3 program makes it painless for corporations to become involved with non-profits and enables them to reclaim capital to grow their corporate social responsibility programs with a focused approach," says Manis-Anderson, "All while creating sustainable, new revenue for the non-profits that need it so badly."
Manis-Anderson is proud of the commitment Savii Group has made: they've set a million dollar goal for their Big Give program. With the pledges they have in the pipelines, they are confident it won't be long until they reach that goal.
To learn more about how Savii Group's P3 strategy can help your business visit www.saviigroup.com or call 760-456-9266.
The post Savii Helps Clients Save Money and Save the World At the Same Time appeared first on Your Mark On The World.