Discover more from Superpowers for Good
Leadership Lessons From—And For—the World's Great Changemakers
Over 3,000 subscribers
Red Nose Day's First-Ever 'Nose Bowl' Livestream Fundraiser Brings Jack Black, Retta, Clark Gregg, Jennifer Grey and Popular Influencers Together May 18 to Raise Money for Children in Need
Viewers of First Annual Nose Bowl Event Can Get in on the Fun, Donating to Help Choose and Change the Outcome of Lively Competitions
Press Release – New York, May 15, 2019 (GLOBE NEWSWIRE) — Red Nose Day, the annual campaign to help end child poverty, is kicking off its first annual 'Nose Bowl' fundraiser on Saturday, May 18 at 12 p.m. PT/3 p.m. ET. Livestreamed from Los Angeles, the Nose Bowl will be a star-studded event that gives everyone a chance to participate in real-time – wherever they are.
Celebrities, including popular film star Jack Black ("Jumanji"), Retta ("Good Girls," "Parks and Recreation"), Clark Gregg ("Marvel's Agents of Shield," "The Avengers") and actress Jennifer Grey, will be joining top influencers Imane "Pokimane" Anys, Rachell "Valkyrae" Hofstetter, Jacksepticeye (real name: Seán McLoughlin) and more for the event co-hosted by Alanah Pearce and Hayli "HayliNic" Baez. They will all come together with viewers to have fun, raise money and change lives through livestreamed competitions that take gameplay to a whole new level of excitement and engagement.
Whether the celebrities and influencers are doing karaoke battles or facing-off in a game of wits, viewers of the livestream won't just be sitting on the sidelines watching. They'll be actively involved in the games, empowered through their own donations to change the course of competitions and outcome of each game. Fans will even have the chance to join Jack Black and Retta in one of ten karaoke battles via Twitch Sings, with the actors personally choosing song submissions from fans for the duets. Celebrity guests and digital stars will also join teams participating in a Jackbox Games competition of robot rap battles in Mad Verse City, and a battle of wits and wackiness in Quiplash 2, both of which allow up to 10,000 viewers to vote and participate.
Watch the Nose Bowl livestream across Red Nose Day's Twitch, YouTube, Mixer and Facebook channels (@RedNoseDayUSA). Viewers who donate will also have the chance to be rewarded for their generosity, with incentives including Xbox consoles, Xbox Game Pass tokens and branded swag, as well as access to free movie tickets from Fandango. Special MVP awards will also be given to outstanding livestream donors. For more information about the Nose Bowl livestream and how to participate, go to RedNoseDay.org/NoseBowl.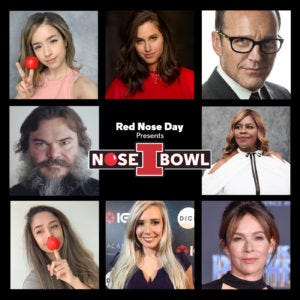 The Nose Bowl is part of a large-scale, public fundraising effort ahead of Red Nose Day on Thursday, May 23, bringing together millions of Americans to have fun and make a difference for children in need across the U.S. and around the world. Red Nose Day will be celebrated with a three-hour block of primetime television programming on NBC at 8/7c. The campaign's official Red Noses are available exclusively at Walgreens stores nationally.
"Our first ever Nose Bowl livestream fundraiser is a great example of how we are looking to tap into the streaming and gaming communities to engage new supporters," said Janet Scardino, CEO of Comic Relief USA, the nonprofit behind Red Nose Day. "We are so grateful to the incredible talent and influencers who are taking part, and hope Americans across the country will join them to have some fun while raising money that will truly change and save children's lives."
The Nose Bowl livestream marks the culmination of a series of individual livestream fundraisers featuring some of the world's biggest digital stars. Jacksepticeye launched the campaign in April, raising over $100,000 for Red Nose Day in nine hours. That was followed by fundraising streams from Twitch stars Pokimane and Valkyrae, and multiple members of professional esports organization FlyQuest.
In addition to receiving the support of some of the world's most influential streamers, Red Nose Day is also inviting fans to join their favorite digital stars in hosting their own livestream fundraiser. Supporters can get started by visiting RedNoseDay.org/Livestream.
Red Nose Day has partnered with peer-to-peer fundraising platform Tiltify to drive explosive engagement and donations for this series of events and the Nose Bowl. Purpose-built for live-streaming since 2015, Tiltify is the most effective platform on the market for livestream fundraising campaigns and the only fundraising platform with direct integration with the Twitch platform, allowing streamers to embed Tiltify's interactive features like milestones, incentives and real-time contribution tallies into their stream pages.
Red Nose Day has raised nearly $150 million since launching in America in 2015, positively impacting over 16 million children. Money raised supports programs in all 50 states, Puerto Rico and some of the most underserved communities internationally to ensure children who are living in poverty are safe, healthy and educated.
---
Are you part of the good crowd? Join GoodCrowd.school, school for changemakers today.
The post Red Nose Day's First-Ever 'Nose Bowl' Livestream Fundraiser Brings Jack Black, Retta, Clark Gregg, Jennifer Grey and Popular Influencers Together May 18 to Raise Money for Children in Need appeared first on GoodCrowd.info.