Discover more from Superpowers for Good
Leadership Lessons From—And For—the World's Great Changemakers
Over 3,000 subscribers
Tuesday July 03, 2012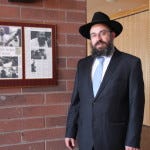 Rabbi Benny Zippel leads Chabad Lubavitch of Utah, an orthodox synagog in Salt Lake City, Utah. He is most well known in the community for his outreach program, Project HEART–Hebrew Education for At Risk Teens.
His story is amazing; I'm just pulling together the final threads for a chapter in Your Mark On The World (which should be available before the end of the month) about the Rabbi.
Born in Italy, he attended the Rabbinical College of America in Morristown, New Jersey and has been in the United States ever since.
He came to Utah in 1992 and quickly found his niche. He received a call from an anxious father from Los Angeles who told the Rabbi that his son was in a residential treatment center in Provo, Utah. The father asked the Rabbi to visit his son, which he agreed to do.
When the rabbi met with the young man, he casually asked if there were any other Jewish kids in the center. The young man indicated that there were about a dozen. The Rabbi began visiting with all of them each week.
He learned that Utah has an unusual law regarding treatment centers for troubled teens; the law allows for the facilities to be locked down. The teens are captive. Most states allow teens in similar facilities to leave when they choose. As a result, hard-core cases from around the country come to Utah.
The Rabbi has worked with hundreds of youth at residential treatment centers around Utah.
Tami Harris, the Chaplain at the Heritage Schools in Provo, says that he "helps them feel God's love again. He awakens in them something special." She adds, "It's wonderful to see them go from hopeless to hopeful."
The Salt Lake Tribune wrote a great story about him last year.
I am excited to get this story finished!
The post appeared first on Your Mark On The World.