Discover more from Superpowers for Good
Leadership Lessons From—And For—the World's Great Changemakers
Over 3,000 subscribers
Project Picnic: How to Engage Your Employees to Create a Meaningful CSR Activity
Guest post by Laura McCafferty. Follow Nestlé Waters North America on Twitter.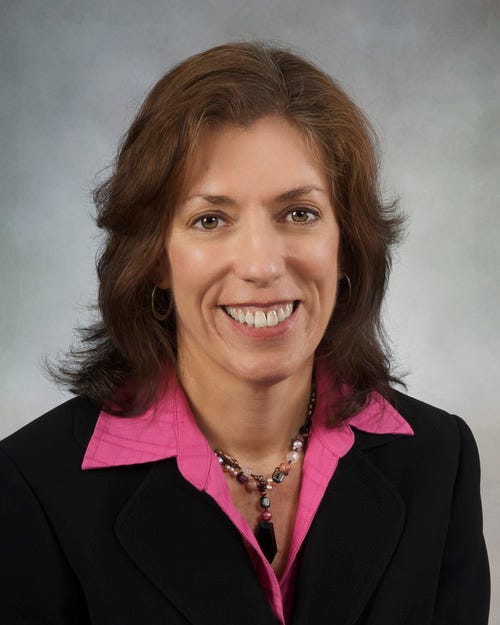 As we head into the holiday season, those of us at Nestlé Waters North America (NWNA) have been reflecting on the ways we have given back this year. NWNA is committed to encouraging volunteerism, and it's important to us that our employees spend time giving back to the community around us.
In September, we started to discuss how NWNA could celebrate National Volunteer Month, but at first, we weren't sure how. We decided to turn to our employees for inspiration and to find out what they cared about most. One employee suggested a volunteer initiative to beautify and restore the communities around the Stamford area that were damaged by Hurricane Sandy. Noticeably absent from these communities were picnic tables that had been lost or destroyed. The team of volunteer coordinators suggested that we build picnic tables out of recycled plastic bottles. Given NWNA's goal of achieving a 60 percent recycling rate for PET plastic bottles in the U.S. by 2018, we immediately took to this idea. The result: Project Picnic.
On October 3, NWNA organized a collaborative community event, along with project partners Cougles Recycling Inc. and Keep America Beautiful, to engage local non-profit organizations that could benefit from new picnic tables. Volunteers were broken up into teams led by safety leaders and worked side by side with recipients to create the six-foot long picnic tables. NWNA CEO Tim Brown and then Mayor of Stamford, Michael Pavia, were on hand to help and spent time speaking with volunteers. At the end of the day, Project Picnic volunteers built 111 bright blue picnic tables using 15,000 lbs. of recycled material made from 120,000 HDPE plastic bottles provided by event partner Cougles Recycling, Inc. The tables were then donated to over 20 participating local parks and non-profit organizations.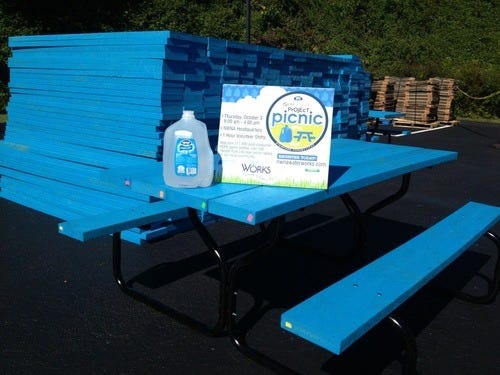 "Keep America Beautiful came out in full force to build picnic tables for the Stamford community," said Peter O'Keefe, manager, Keep America Beautiful. "There was a great vibe as many employees and nonprofits came together for a great cause."
"Our team enjoyed working side-by-side with Nestlé Waters staff and other community organizations in support of Project Picnic," said Brenda Smith, Human Resources Manager, Stepping Stones Museum for Children. "We had fun building three tables, one of which we were able to take back with us to share with staff in our outdoor break area. Many thanks to Nestlé Waters for not only caring about the environment, but for supporting local non-profit organizations like Stepping Stones Museum for Children."
Recipients of the picnic tables included the City of Stamford Parks and Beaches, Bartlett Arboretum, Boys & Girls Club of Stamford, the Connecticut Humane Society, DOMUS, Gray Farms Nursery School, Hole in the Wall Gang Camp, Inspirica, Kids Helping Kids, Sound Waters, Stamford Animal Shelter, Stamford Museum & Nature Center, and Stepping Stones Museum.
NWNA employees from around the country teamed up to create picnic tables for their own communities. Our NWNA team in Raynham donated their tables to a local Boys and Girls Club, and our team in Carlisle, Ohio donated their tables to a local elementary school. Our team in Pasadena, Texas constructed tables and gave them to a neighborhood school serving limited-income children.
All in all, this was a wonderfully rewarding event. It was exciting to see the picnic tables go up around Stamford and know that we supported a cause that our employees truly cared for. We hope to continue this tradition of volunteering through the New Year and into 2014, and look forward to our next NWNA Volunteer Month project.
The post Project Picnic: How to Engage Your Employees to Create a Meaningful CSR Activity appeared first on Your Mark On The World.