Discover more from Superpowers for Good
Leadership Lessons From—And For—the World's Great Changemakers
Over 4,000 subscribers
President Clinton Presents Hult Prize To Indian Social Entrepreneurs
This post was originally produced for Forbes.
The Hult Prize, arguably the most prestigious student business competition of any sort, awards student social entrepreneurs with a $1 million prize from the Hult Family presented by President Bill Clinton at the the Clinton Global Initiative. The 2014 winner is Manish Ranjan of NanoHealth, a low cost health care provider for slum dwellers.
NanoHealth from the Indian School of Business is the first team from India to reach the finals so one can imagine how exciting it must have been for the team to win, beating teams from some of the world's finest universities.
On Thursday, October 23, 2014 at 10:00 AM Eastern time, Ranjan will join me here from India to talk about his experience with the Hult Prize and the work they are doing in India's slums. Tune in here then to watch the interview live.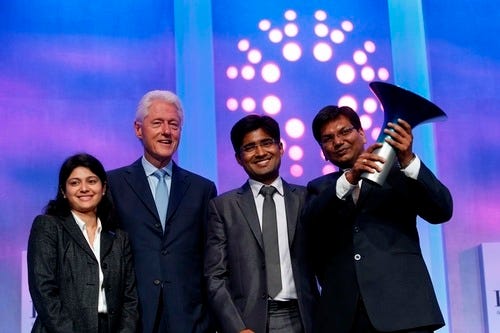 President Bill Clinton presents the Hult Prize to the NanoHealth team, Aditi Vaish, Manish Ranjan, and Dr Ashish Bondia.
More about NanoHealth:
NanoHealth is chronic disease specialist providing holistic services for chronic disease management at most affordable price at the doorstep slum-dwellers, who are the target customers. We at NanoHealth are convinced that intervention at any one point in the disease value chain is not enough to solve the problem of under-diagnosis, poor treatment and compliance. NanoHealth aims to create a network of health workers (called "Saathis" means "a friend") and hand them "Dox-in-Box," which can take vitals and risk-profile the patients for diabetes and hypertension. Saathi and Dox-in-Box also provides monitoring services after the disease is confirmed by a doctor in NanoHealth network. By adding Doctors & Pharmacies in its network, NanoHealth becomes one step shop for all services related to chronic disease management.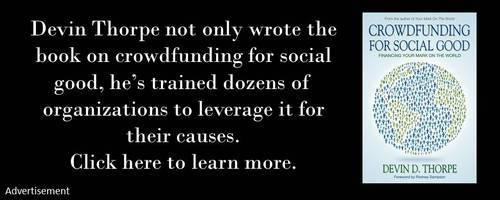 Ranjan's bio:
Manish was born and brought up in a small town of the poorest state of India. He studied Engineering for his undergraduate at Indian Institute of Technology, Mumbai, popularly known as IIT Bombay. Right after completing his undergraduate studies, Manish worked for i2 Technologies, which specialized in providing Supply Chain Solutions to large firms. After working with large Asian firms in China, Japan and India, designing their business processes and supply chains, Manish returned to India in the sales role. Moved by the apathy of Indian Healthcare sector, he joined Indian School of Business to study Healthcare Management. Realizing the impact Hult Prize was having on the people, who needed support the most he applied for Hult Prize-2014.
Remember to "join the cavalry" by subscribing to Devin's content here.
The post President Clinton Presents Hult Prize To Indian Social Entrepreneurs appeared first on Your Mark On The World.