Discover more from Superpowers for Good
Leadership Lessons From—And For—the World's Great Changemakers
Over 3,000 subscribers
Online Giving To Nonprofits Grew By Only 1% In 2018 – The Lowest Rate In 13 Years
2019 M+R Benchmarks Study measures online fundraising, advocacy, advertising, and social media for 135 leading nonprofits
Press Release – For the first time in more than a decade, online giving to nonprofits slowed to single digit growth, according to the 13th annual M+R Benchmarks Study. The study was researched and created by M+R, a communications agency that works with nonprofits and foundations to advance their causes online, in the media, and on the ground.
This year's study measures the online fundraising and advocacy results of 135 nonprofit participants, including the Sierra Club, Feeding America, Autism Speaks, American Museum of Natural History, Oxfam America, World Wildlife Fund, Innocence Project, and Planned Parenthood Federation of America.
Online revenue for nonprofits increased by just 1% last year. In 2017, this same group of nonprofits reported 23% growth. After years and years of steadily increasing online revenue, including record-breaking 2016 and 2017 gains for many nonprofits, that trendline flattened out. Looking at the past five years of data, M+R's research team noted that 2018 online giving is on track with the growth rate. A massive jump in online revenue in 2017 was a big bend in the curve. And then in 2018, we saw it bend right back.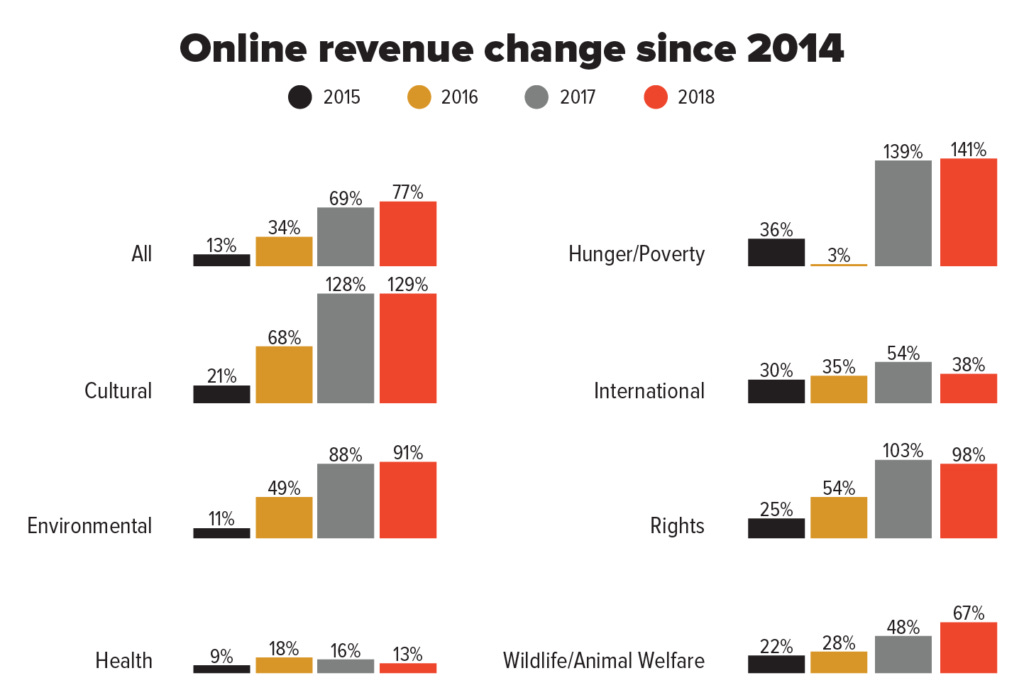 Will Valverde, M+R Creative Director and author of the Benchmarks Study: "One way of thinking about these long-term numbers is that 2018 growth happened a year early, showing up in 2017 and now revenue growth is back on track with long-term trends. If this is the case, it could be driven by the political reaction to the 2016 election. It could be a reflection of donor behavior in light of the new tax law. It could be caused by something else entirely, and most likely is the result of a combination of factors. But if it's the case, we would expect to see a return to double-digit growth in 2019. Time will tell."
Below are 6 other top takeaways from the 2019 M+R Benchmarks Study (will be updated at www.mrbenchmarks.com on April 25, 2019). The study is full of dozens more charts and specific takeaways by nonprofit sector (Cultural, Environmental, Health, Hunger/Poverty, International, Public Media, Rights, and Wildlife/Animal Welfare).
Fundraising: Revenue from one-time gifts decreased by 2%, while monthly giving revenue increased by 17%. Monthly giving accounted for 16% of all online revenue in 2018, up from 13% in 2017.

Advocacy: Advocacy email response rate declined by 15% in 2018, to 1.8%. Drops were reported for open rate (down 5% to 15%), click-through rate (down 16% to 2.4%), and page completion rate (down 7%, to 72%). The unsubscribe rate fell to 0.12%, which is 2% lower than in the previous year.

Email: Nonprofits sent an average of 59 email messages per subscriber in 2018. This marked an 8% increase in volume from 2017. The largest category of email messages was fundraising (25 emails per year per subscriber). International nonprofits sent the highest volume of email, with 104 messages per year per subscriber; 50 of those were fundraising messages.

Mobile & Desktop: Desktop users accounted for the majority of donation transactions and revenue. While just 44% of traffic, desktop users made 63% of all donations and contributed 71% of revenue. Mobile accounted for 21% of all revenue, a 15% increase from 2017.

Facebook: For every 1,000 email addresses, nonprofits had an average of 806 Facebook fans. But compared to Twitter (+26%) and Instagram (+34%) growth, nonprofits only saw a 6% growth in Facebook fans in 2018.

Facebook Fundraisers: For every $100 in direct online revenue, nonprofits raised $1.77 through Facebook fundraising tools. Nearly all of this revenue came from Facebook Fundraisers, the peer-to-peer platform. November was the most fruitful month for Facebook Fundraisers in 2018.
---
Are you part of the good crowd? Join GoodCrowd.school, school for changemakers today.
The post Online Giving To Nonprofits Grew By Only 1% In 2018 – The Lowest Rate In 13 Years appeared first on GoodCrowd.info.