Discover more from Superpowers for Good
Leadership Lessons From—And For—the World's Great Changemakers
Over 4,000 subscribers
One Bead, One Person, One Dollar Can Make A Difference
The consummate entrepreneur, Sara Wroblewski, is running the startup she launched in college out of her apartment. Unlike some entrepreneurs, Sara has a vision for her business that is a bit different than some.
Her startup is a nonprofit that focuses on enhancing education both domestically and in East Africa.
Sara describes her domestic program, "During the first three weeks of our program we teach leadership skills, halfway through we present students with a $1000 grant. We then spend the remainder of the program guiding students through the process of creating and pitching individual action plans indicating how they would want to spend this money to improve their own community. At the end of the program one action plan is chosen and that idea is set into motion using the grant money."
"We believe students should arrive at college, or any future career, already exposed to important leadership skills like public speaking and problem solving," she adds.
She continues her work in East Africa largely through partnerships.
On Thursday, December 18, 2014 at 7:00 PM Eastern, Sara will join me for a live discussion about her remarkable startup. Tune in here then to watch the interview live.
You can download an audio podcast here or subscribe via iTunes.
More about One Bead:
One Bead was originally started in a college dorm room as an organization that elevates education in East Africa through the sale of recycled glass beads. Now, with representatives across the globe and growing elementary school partnerships, One Bead is providing students with an invaluable opportunity to positively impact others. At the college, high school, and elementary level, One Bead is proving that one student, just like one bead, can be a catalyst for change.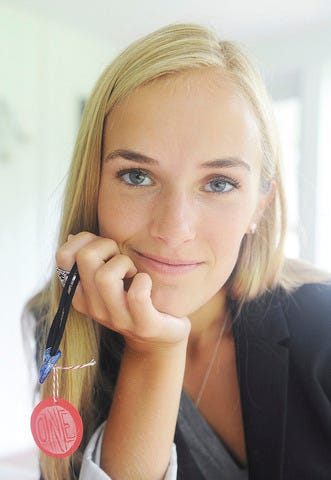 Sara's bio:
Sara Wroblewski is the Founder and CEO of One Bead. She won the first annual entrepreneurial "Pitch" competition hosted by Hobart and William Smith Colleges in 2012. Since then she has grown her organization exponentially. To date Sara has recruited a team of over sixty student representatives and raised over $100,000 through fundraising events, private donations, and product sales. She received her BA from HWS in May 2013 and shortly after produced two 30-second ads promoting One Bead that cycled in Times Square. More recently, Sara partnered with Teach for America corps. member, Caroline Dosky, to design a leadership curriculum for elementary school students modeled off of her business. Sara instructed this leadership program with over one hundred students this fall in Kenya and the United States. She previously worked as an administrative assistant in the Massachusetts General Hospital development office, but now runs One Bead full time out of her apartment in Boston.
Remember to "join the cavalry"by subscribing to our content here.
The post One Bead, One Person, One Dollar Can Make A Difference appeared first on Your Mark On The World.