Discover more from Superpowers for Good
Leadership Lessons From—And For—the World's Great Changemakers
Over 4,000 subscribers
Occupational Octaves Featured in New Documentary About Autism & the Power of the Piano
Revolutionary Method for Teaching Instruments to Children with Special Needs Running IndieGoGo Campaign
Press Release – LONG ISLAND, NY — When Max Watkins witnessed his severely Autistic cousin, Ruby, at the piano, he was astounded. Ruby can't sit still to do something as simple as eat a meal and there she was, playing classical piano music with a program named "Occupational Octaves Piano. Five years later, Max and his production company, The Coast Collective, have released the documentary "Occupational Octaves," about program creator Lee Stockner, the language of music he pioneered for special learners, and the stories of a few families whose lives have changed for the better because of it.
Lee's company, Music Lee Inclined Guy, Inc., announced it is raising funds through a rewards & donations based crowdfunding campaign on IndieGoGo to expand its current curriculum to include Occupational Octaves Drums, Occupational Octaves Guitar, and Occupational Octaves Bass. The company set out to raise $10,000 on IndieGoGo to finish development and publication the first run of these books. The new material is already being used in an unofficial format at The Occupational Octaves School of Music, in Great Neck, NY. Lee's work has been featured in Newsday and on Fox 5 NY.
PLEASE VISIT THE INDIEGOGO PAGE HERE: https://www.indiegogo.com/projects/autism-music/x/22126148#/
The documentary, "Occupational Octaves," tells the stories of Jason Wasserman and Brendan Yu, who are both diagnosed with Autism. Issues with communication, concentration and comprehension loom large for both boys, making common pathways of learning overwhelming. By adapting music education environments to fit each student's needs, plus using of the actual Occupational Octaves Piano curriculum, Lee has provided something that is largely Special-Needs-User-Friendly. "We were not quite sure if Jason could successfully play an instrument. We were concerned about him reading notes with traditional music. When we met Lee and we saw his approach, we were hopeful that it would work and from the beginning, we saw he really did love it and he took to it" says Jocelyn Wasserman, Jason's mom. "I think that the piano has given him the ability to see something in himself he otherwise wouldn't have realized. Jason doesn't always know what to do with himself and those times can be challenging. Knowing he can always go to the piano when he comes home is a really wonderful thing for him."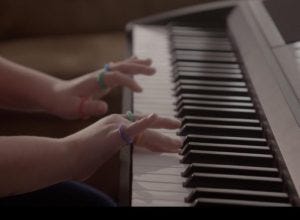 "The purpose of a new language of music is to make music accessible to as many people as possible. That's why we use colored rings on the fingers and colored letters in rhythmically designed boxes to communicate the exact same instructions as songs written using traditional music notation," says the method's creator. "Once my system was established, I tried to replicate the experience my piano teacher created for me – same notes, fingers, beats, scales, exercises and songs. When I see Jason and Brendan playing the same music I played at my own recitals growing up while wearing the colored rings, I know that everything has been done right."
Through their crowdfunding campaign, set to end on August 20, 2019, teachers, therapists, and parents can purchase the original Occupational Octaves Piano Books 1-3, pre-order copies of books 4-8, and pre-order the drum, guitar, and bass programs. Training packages, instrument packages, special individualized perks, and even a week long visit from Lee to a school/center are some of the other perks offered. Non-purchase donations are welcome and encouraged as well.
Lee has also made Occupational Octaves available through UnitusTI, an educational tech platform designed to provide high quality digital curriculum while easily organizing data for schools, hospitals, and organizations through their cloud-based system. "I see the future of special needs music education inside the classroom and therapy environment. With this new language of music that almost anyone with basic matching skills can use, we can use a mindful approach to enriching the lives of students while helping the jobs of administrators, educators, and parents function smoothly.
---
Are you part of the good crowd? Join GoodCrowd.school, school for changemakers today.
The post Occupational Octaves Featured in New Documentary About Autism & the Power of the Piano appeared first on GoodCrowd.info.