Discover more from Superpowers for Good
Leadership Lessons From—And For—the World's Great Changemakers
Over 3,000 subscribers
Nika Water Seeks To End Poverty One Bottle At A Time
Guest post from Nika Water.
Helping the world has never tasted so good. At least that is the truth with Nika Water (www.nikawater.org) – a social cause-driven, eco-responsible, premium bottled water company which donates 100% of its profits to clean water, education and sanitation projects in developing countries to help end poverty.
Since its launch in 2009, Nika has given more than $450,000 to projects in Kenya, Nicaragua, Uganda, Sri Lanka, Tanzania, Ethiopia, Brazil and Ecuador with one shared goal: to end poverty by providing assistance, opportunity and support. Nika's donations have assisted with improving and creating water wells, water catchment systems, plumbing, schools and trees in developing countries.
"Something as seemingly simple as easy-to-access, clean water is one of the biggest contributing factors to poverty in developing countries," explains Nika Water Vice President of Operations, Jordan Mellul. "If communities and villages in these areas had a safe water source, the children could spend their days in school, rather than walking for hours to an unsanitary water well and dragging gallons back in dirty jugs and containers every single day. Americans have the freedom to use (or waste) over 100 gallons of water daily, where a person living a life in poverty may use only five gallons. Something, or someone, has to give."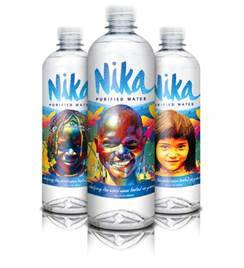 Nika (which means "to give" in Zulu) was established in 2009 by Jeff Church and Mike Stone, along with their respective families. The Churches and Stones shared a passion for making changes in the world and frequently took volunteer trips to different countries. However, it was one trip to Africa nearly five years ago that transformed, inspired and transfixed the families. Seeing first-hand how poverty and lack of resources can affect thousands of people, they realized they had no other choice but to come up with a solution to their suffering. Thus, Nika Water was born as one answer to a global crisis.
Nika Water is not just a company that donates money to charity projects worldwide, but they are also a fully sustainable, eco-friendly company. Through reforestation, Nika offsets their carbon footprint fully, leaving no lasting negative impression on the planet. For every four cases of Nika sold, a tree is planted that absorbs the same amount of CO2 that the production and lifespan those four cases created.
Nika also works with schools in the U.S. to increase awareness by paying fees for every plastic bottle recycled. This means that Nika does not add any new plastic into the environment without attempting taking the same amount out. Finally, all bottles are made from RPET – post-consumer recycled plastic. Lateral recycling means that the only bottles they use are made from other bottles.
Nika Water's mission is a grand one, but one in which anyone can participate. To make a difference, the sustainable beverage company encourages others to make their mark by opening a bottle of Nika Water and simply take a drink.
The post Nika Water Seeks To End Poverty One Bottle At A Time appeared first on Your Mark On The World.