Discover more from Superpowers for Good
Leadership Lessons From—And For—the World's Great Changemakers
Over 3,000 subscribers
NET Effects Traders: Changing Lives. One Bag at a Time.
This is a guest post from Ardice Farrow, the Founder and Director of Net Effects Traders.
At the age of 63 I looked back on my amazing life. A life full of adventure, love and deep satisfaction. I looked forward into those "golden years" – the last third of my life and wondered to myself "What do I want to do with these years? What do I want my final legacy to be?"
I knew I wanted to be having the time of my life, I wanted another grand adventure and I knew that I wanted to contribute to women and children. I wanted to "Retire on Purpose". I had no experience with nonprofits, social programs or teaching in the classroom but at the age of 63 there is little to lose and much to gain so I hopped on a plane to Cambodia after a short volunteer stint in Tanzania.
I did not expect to fall in love at this late stage in my life. But I did. Within weeks I was head over heels in love with Cambodia. Despite the wretched past of the Khmer Rouge and massive genocide and the generational poverty that grips most of the country the Cambodians are the most loving, generous, joy filled and funny folks I have ever met. I was further seduced by the warm tropical weather the drama and the romance of the torrid monsoon rains and the mighty moonlit Mekong River. I loved the food, the crazy traffic and I could wear flip flops every day.
I was soon hired by a large non-profit organization to create leadership programs for young adults, empowerment programs for impoverished moms and women working in small fair trade garment centers.
After two years of experiencing the power of Trade instead of Aid, trying to break the cycle of generational poverty, I had developed a huge affinity for the disenfranchised women of Cambodia. They had become my friends. I had sat in their humble homes – hundreds of make-shift shelters built on an old landfill with conditions that would appall most of us here in the West. I had shared the triumph of their children in school, the heartbreak of abusive husbands and not having enough food and helped those in the small garment centers build their confidence, self-respect and leadership skills.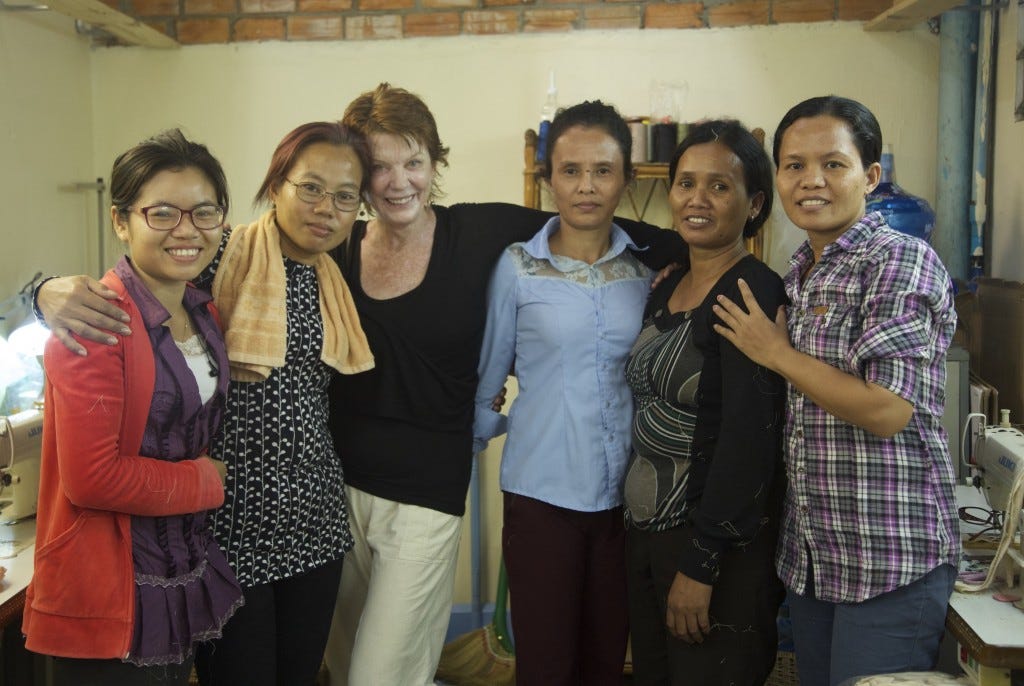 Empowered by their growing skills as artisans and good wages I saw these capable women become confident, as collecting a fair wage led to more financial freedom and allowed them to make good decisions for their families and continue to educate themselves. My adventure had turned a corner. I was now an advocate to end generational poverty and provide structures for partnership instead philanthropy. I asked myself 'What could I do to accelerate this process?'
And so Net Effects Traders was born. Net Effects Traders is a focused on creating fabulous fashion bags for western consumers made by artisans in Cambodia for whom I provide training and fair wage jobs. I also have the great good fortune of partnering with a Phnom Penh design and production team and a Cambodian business leader who had been training landmine and polio survivors, hearing impaired and impoverished mothers for over a decade.
These are incredibly wonderful and hardworking people would have been left to scavenge the streets at night for cans and bottles to sell just to feed their families or been found on a street corner, child in hand, begging for a few coins from passing cars.
Today the Net Effects collection features everything from wallet – clutch hybrids to durable beach totes and hip retro style messenger bags. We decided our colorful bags and totes should be "zero waste" made from repurposed industrial and agricultural netting found in Cambodia that would otherwise end up in the city dump. We also decided to give back further by donating portion of our proceeds to "Nothing But Nets", the international organization that is distributing mosquito nets to impoverished families around the globe.
I now have the pleasure of promoting the notion of "Shopping for Change" and speaking to the life-altering impact consumers can have simply by becoming more and more conscious about the companies they buy from. One does not need to hop on a plane and fly across the globe to make a difference. But I'm glad I did.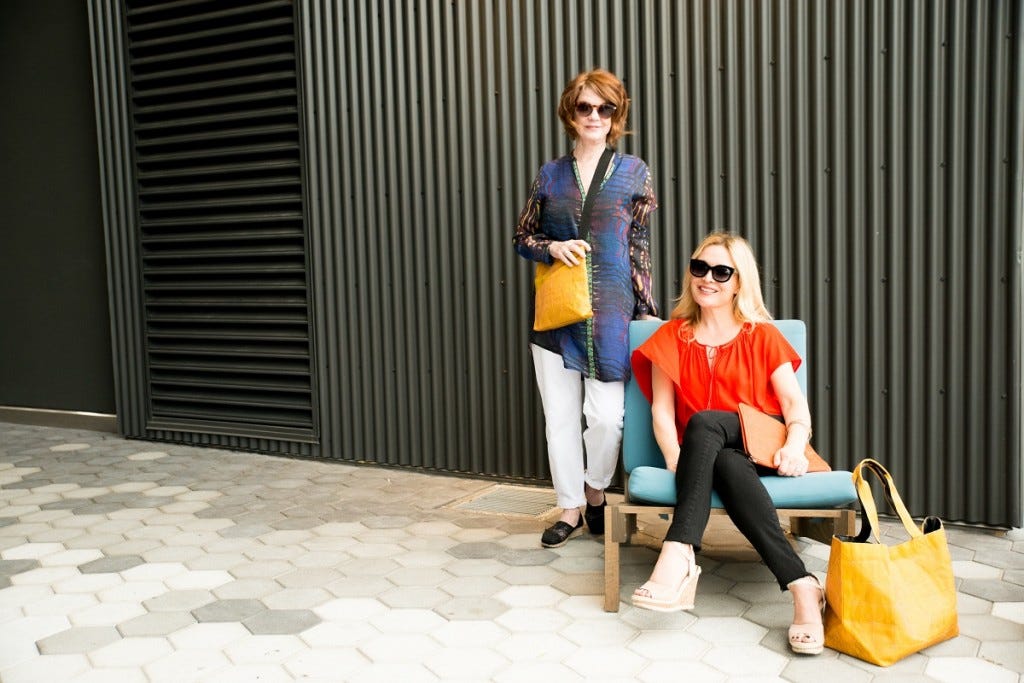 Ardice Farrow
About Ardice Farrow:
Ardice splits her time between Cambodia and Los Angeles, as Founder and Director of Net Effects Traders. Practicing Trade not Aid, Ardice advocates to impact and empower disenfranchised Cambodian women through training, fair wage jobs and great working conditions.
The post NET Effects Traders: Changing Lives. One Bag at a Time. appeared first on Your Mark On The World.