Discover more from Superpowers for Good
Leadership Lessons From—And For—the World's Great Changemakers
Over 3,000 subscribers
More Than 6,600 Hokies Step Forward To Give Over $2.8 Million On Giving Day
Press Release – March 21, 2019 — The call went out and Hokies joined forces around the globe to answer in resounding fashion.
VIDEO: https://video.vt.edu/media/1_vhfe6a3c
More than 6,600 people gave during Virginia Tech's Giving Day, which began at noon on March 19 and ran through noon on March 20. The joint effort far surpassed last year's participation total of 4,617 people, and topped this year's goal — 5,500 donors — by more than 20 percent.
"The power of Hokies coming together is unreal," said Heather Kopec, director of annual giving. "Virginia Tech alumni and supporters from around the world stepped up. The whole campus got involved. We deeply appreciate Hokies' commitment to Virginia Tech — and them showing that by giving back."
The landmark participation during the second-annual 24-hour fundraising campaign resulted in $2.8 million given across more than 500 areas throughout the university.
Just prior to Giving Day 2019 kicking off, Virginia Tech President Tim Sands challenged Hokies everywhere to embrace their opportunity to support the university during a time of incredible momentum.
"It's one day, but it's a really important message that we're sending and that is that we need everyone in," said Sands. "It's not a situation where we can sit on the sidelines and watch. It's not just philanthropy; it's about commitment; it's about being a part of a moment that is Virginia Tech."
Sands' message was heard loud and clear by Hokies around the world, who stepped up to be part of the moment.
"We got gifts from all 50 states and 11 countries," Kopec said.
Giving Day's effort included more than 340 ambassadors, who not only gave but encouraged others to join in, and nearly 120 matching or challenge gifts, roughly triple the 2018 total. Those gifts spanned 22 colleges and programs.
One such gift, to benefit the Washington-Alexandria Architecture Center, was spearheaded by Lee Quill '76 and the center's advisory board.
"We are extremely excited about the challenge's success," Quill said. "It's been very enjoyable to rally colleagues and classmates together for a greater cause."
All the way across the country, about 140 Hokies cheered together as they watched the late-night Giving Day totals roll in during the Office of Alumni Relations' Hokies in LA networking event, held at Netflix's Los Angeles headquarters.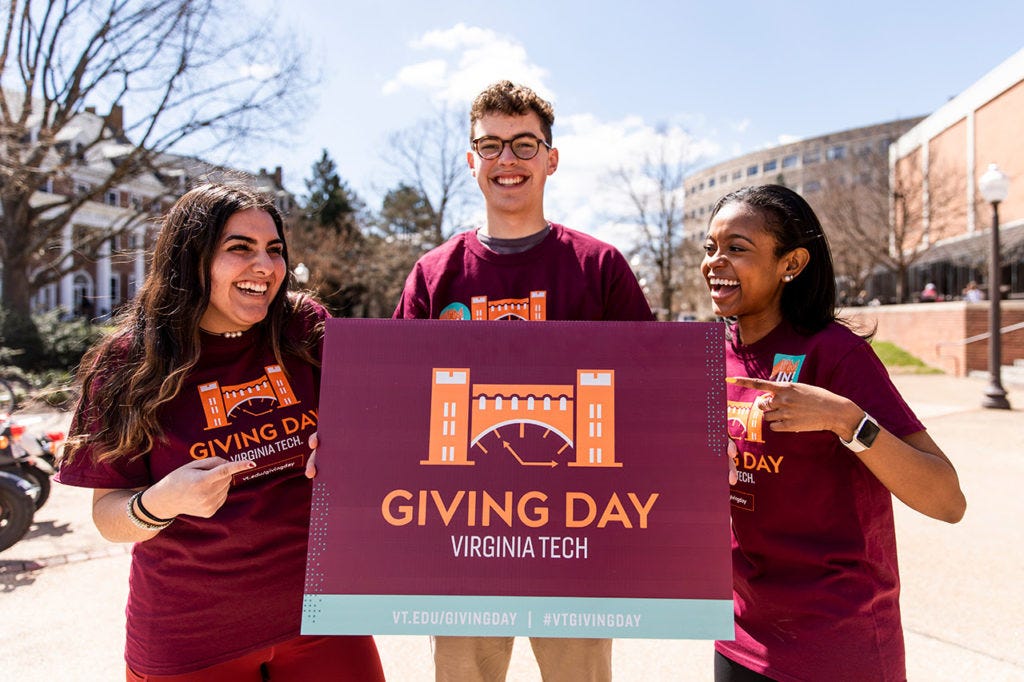 Virginia Tech's annual Giving Day for 2019 started at noon on March 19 and ended at noon on March 20.
"Giving Day is an exciting opportunity to support Virginia Tech," Matt Winston, senior associate vice president for alumni relations, told the group. "We've already broken records from last year."
In Blacksburg, countless students joined in. Many of them have benefitted from giving themselves and volunteered to help spread messages of both unity and gratitude.
Theresa Myers, a senior majoring in marketing, who chairs the iSupport student giving campaign, said her message to peers was simple.
"If we didn't have this outside support, maybe half of your friends wouldn't be able to attend such a great university," Myers said, referencing the fact that more than 50 percent of students receive some type of financial aid. "A small gift goes a long way, and with Giving Day and the Senior Class Gift, they can designate their gift to a specific area and immediately impact the areas that mean a lot to them."
Kalvin Yuan, a sophomore majoring in business, helped make thank you messages, which were then sent out in real time via social media.
"This is my way of contributing more than dollar amounts and a way to thank other people for their contributions," Yuan said. "It really feels like I'm part of a community, and it was cool to see how other people are a part of the community, too."
With new Giving Day benchmarks set, it's clear that giving back is an essential characteristic of Hokies — and that this annual tradition provides an ideal stage to display it.
---
Are you part of the good crowd? Join GoodCrowd.school, school for changemakers today.
The post More Than 6,600 Hokies Step Forward To Give Over $2.8 Million On Giving Day appeared first on GoodCrowd.info.