Discover more from Superpowers for Good
Leadership Lessons From—And For—the World's Great Changemakers
Over 4,000 subscribers
Mission Accomplished? No Way!
This is another in a series of reports from a Rotary expedition to Ethiopia toEnd Polio Now.
Today we wrapped up the Ethiopian NID with more immunizations. Most of our time was spent going house to house looking for children who had not yet been immunized. It was wonderful to find children whose left pinkies were already marked with purple ink, meaning that they had been immunized yesterday. We found dozens of kids to immunize today.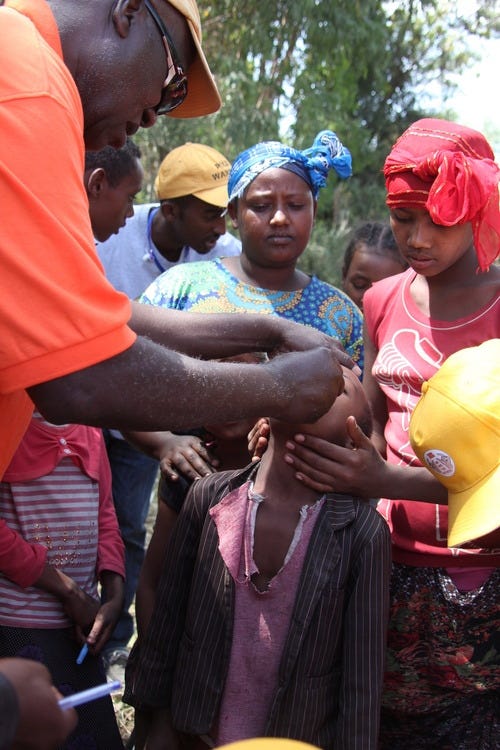 In contrast with house to house immunizations in New Delhi, where I participated in February, and people live literally on top of one another such that a morning of searching for and immunizing kids occupies no more than a full city block, we logged miles along a dusty highway in the outskirts of a town called Mojoo, itself a suburb of Nazret, little more than an hour outside of Addis Ababa.
The weary Rotarians are joyous about their work. Denny Wilford, one of the perennial stalwarts on the team, is himself a polio survivor. Battling polio and saving kids from it is personal to him. By extension, it is personal to everyone on the team.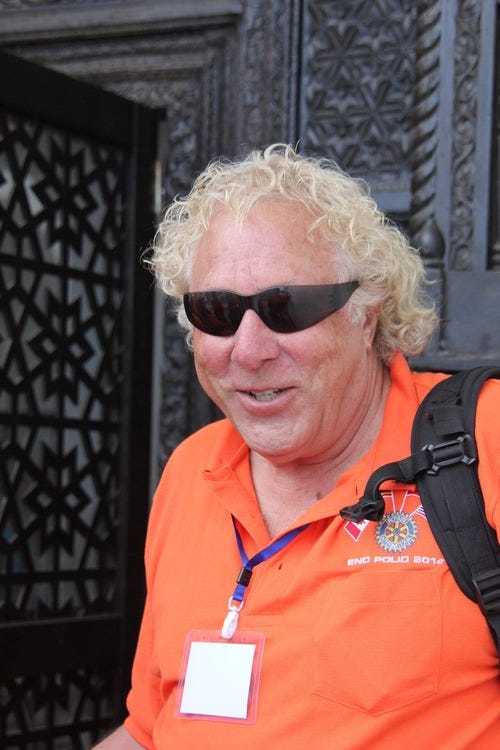 As we move slowly along the highway, the North American volunteers stand out and draw a small crowd. When we start sharing a few gifts—pens, raisins, post cards, baby toys and an occasional soccer ball—the crowd of families really starts to grow.
The phenomenon is actually pretty shocking. One moment you had a Bic pen to a child and within 60 seconds a dozen kids have swarmed looking for a pen. Many take a pen with one hand and then immediately raise the other to grab another pen.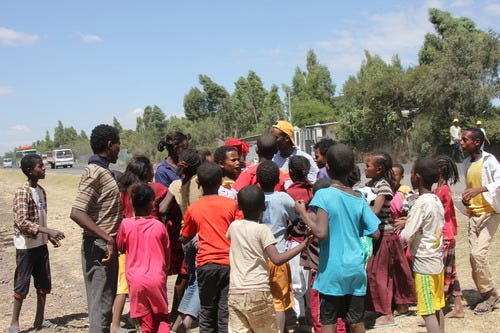 Raisins, it turned out, are a harder sell. The little yellow boxes of Newman's organic raisins were unfamiliar and the children were uncertain if they wanted them.
Soccer balls were a big hit. I didn't appreciate how valuable and unusual they were until our drivers began begging for the balls we were giving away to the children. Even with relatively good employment, buying a soccer ball and a pump was apparently out of the question.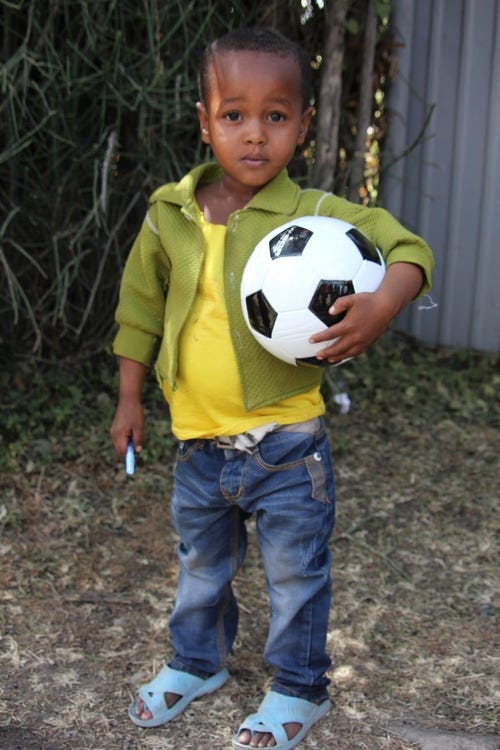 The trinkets and the foreigners work their magic. Families are drawn out and welcome the opportunity to get their toddlers vaccinated. Most of the older kids, that is the three and four year olds, are typically pretty good about complying with instructions and find that the drops don't taste so bad and certainly don't hurt. The littler ones, however, sometimes need stern or forceful help from mom to get their drops.
So, as the group begins the trek home, we all feel a certain mix of satisfaction and anxiety. One can't help but feel proud of the work having come so far from home both literally and figuratively to help, but that pride is tempered by the realization that close as we are to getting on top of this disease, there is a tremendous amount of work that needs to be done quickly.
It will not be enough to simply keep doing what we've been doing to eradicate polio. We must do it more thoroughly, more completely than ever before.
There are so few cases of polio in Africa this year that it is reasonable to believe that the continent will be polio free perhaps as soon as 2015—certification from the WHO follows the last documented case in a region by three years.
That said, Pakistan with more cases in 2015 than it has had in 15 years, now holds the world hostage to polio. A recently publish AP stories reports that the country will impose new penalties on leaders who prohibit children from receiving polio vaccinations. Don't be discouraged. The number of cases in neighboring India dropped from over 700 in 2009 to about 40 in 2010 with the final case in January 2011. There is no reason to believe that focusing the world's attention and resources on Pakistan over the next 14 months can't end polio there, too.
Then, and only then, can we say, "Mission accomplished."
The post Mission Accomplished? No Way! appeared first on Your Mark On The World.