Discover more from Superpowers for Good
Leadership Lessons From—And For—the World's Great Changemakers
Over 3,000 subscribers
London Tech Start-Up Turns eBike Conversion Idea Into $1,000,000 Sales
Press Release – London based tech-startup Swytch Technology announces today it has achieved over $1 million in sales just 30 days after launching the world's smallest and lightest eBike conversion kit, which reflects the growing demand for electric transport alternatives.
The Swytch Kit turns any bike into a state-of-the-art electric bike, for a fraction of the cost of a regular eBike. It consists of a lightweight motor wheel that replaces the original front wheel, and a compact power pack that fits to the handlebars. The total added weight is just 3kg, and the power pack fits into the palm of your hand, making this new system the smallest and lightest in the world. It provides 250W of power-assist for up to 50 km electric range, with a top speed of 15.5mph (EU) / 20mph (USA).
The Swytch kit is Universally compatible and works on ANY bike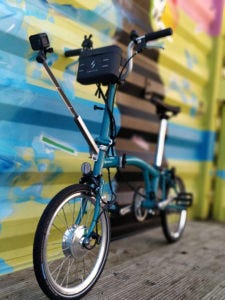 Swytch Technology's vision is to make transport more sustainable and accessible to everyone. Converting existings bikes to eBikes using a kit is significantly more environmentally friendly than building complete new eBikes; Swytch estimates the carbon footprint of building a brand new eBike is 300kg CO2e compared to just 40kg CO2e required to make one of their add-on electric bike kits.
The Swytch kit will be available in stores from April 2020 with retail prices starting at £650 / $799. However customers wanting to be the first to get their hands on one can pre-order with a 40% discount via product crowd-funding site INDIEGOGO.
Oliver Montague, CEO of Swytch Technology said; "It has been a really exciting launch month, we are passionate about developing sustainable transport solutions that are fun to use. What is really interesting is that eBike technology is appealing to people of all ages and cycling abilities. We have seen older people purchasing the kit to help them reconnect with a sport they no longer thought they could enjoy, as well as being extremely popular with commuters and your average bike fanatics. Electric Bike technology like ours is really disrupting the electric transport industry, people are loving the freedom of choice they have in what transport methods they want to use.
For more information about the Swytch Kit visit www.swytchbike.com
---
The post London Tech Start-Up Turns eBike Conversion Idea Into $1,000,000 Sales appeared first on GoodCrowd.info.