Discover more from Superpowers for Good
Leadership Lessons From—And For—the World's Great Changemakers
Over 4,000 subscribers
Loftii Enables You To Give Without Giving
You can download an audio podcast here or subscribe via iTunes.
What if there were a way that you could give without giving? That is, what if you could make a donation to charity without actually giving any of your own money? Many people have tried to create meaningful ways to accomplish this, especially since the internet became a ubiquitous part of our lives. Loftii is one of the latest entrants into this field.
Most people give to charity. In fact, most people give a lot. On average, about $3,000 per year per household. Many people would like to give even more. Loftii has created a way for you to give without giving by taking a slice of your online purchases from the merchants and giving that to charity. You pay nothing and your charity gets real cash. It's almost like magic.
Amy Larson, Chief Marketing Officer, explains, "Loftii is helping people who want to do more. Today's consumer is more active in their desire to make a positive impact on the world, however, they often lack the means. Loftii enables them to support their favorite cause regardless of their current financial situation."
Having tried it, I can attest that the process is really as easy as it sounds.
Amy says, "We enable people to select their cause, then have up to 10% of their online purchases through over 700 retailers donated to that cause. We make it simple through the use of our browser extension – just a click of a button to tell the retailer what charity to support."
Download the browser extension from Loftii's website here.
Amy admits that there are challenges to getting adoption. "We are a vitamin, not a Band-aid. People and charities are incredibly excited about what we are doing, but because it isn't an immediate need, it can be a challenge to get people to take immediate action."
Adoption, however, is key. The donations are relatively small, typically a few percentage points of a purchase. Because every shopper/donor gets to choose their own charity, the only way to amass significant donations will be to get enormous adoption–and it is the only way the company can survive in the long term.
The effort faces a key limitation. The system only works for online purchases. Amy notes, "Only about 8% of consumer spend is online and our current solution is limited to online only. This represents a significant opportunity to expand into retail stores so every dollar a consumer spends will help support their cause and make the world a better place."
Notwithstanding the challenges and limitations, Amy is enthusiastic about the future and Loftii's ability to help people make a difference. "We are on a mission of empowerment. Regardless of what cause people are passionate about – saving animals, cancer research, eradicating extreme poverty – we want to empower them to do more. We don't want to tell people what to believe in, rather, we want to empower them to support the causes they care most about," she concludes.
On Thursday, August 25, 2016 at 3:00 Eastern, Amy will join me here for a live discussion about Loftii's efforts to make giving automatic. Tune in here then to watch the interview live. Post questions in the comments below or tweet questions before the interview to @devindthorpe.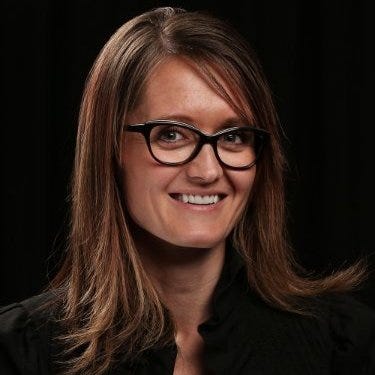 Amy Larson, courtesy of Loftii
More about Loftii:
Twitter: @beloftii

Loftii helps consumers donate to charity through their everyday online shopping without spending an extra dime. Consumers select their charity, install our browser extension, then shop with over 700 top retailers such as Target, Nordstrom, Groupon, and Marriott.
Amy's bio:
Amy has worked in marketing and ecommerce for over 15 years. She's been honored to receive the Internet Retailer Hot 100 four times and was named one of Utah Business Magazine's Women to Watch in 2013. This past year, she was also given the Most Influential Women in Optical award by Vision Monday. Amy has held management positions in several industries and across several brands. Most recently, Amy was the Vice President of Marketing & Ecommerce at Luxottica Retail North America. She graduated cum laude from Utah State University. When she's not working, she enjoys riding her baby-blue Harley and traveling with her family.
Never miss another interview! Join Devin here!
Devin is a journalist, author and corporate social responsibility speaker who calls himself a champion of social good. With a goal to help solve some of the world's biggest problems by 2045, he focuses on telling the stories of those who are leading the way! Learn more at DevinThorpe.com!
The post Loftii Enables You To Give Without Giving appeared first on Your Mark On The World.