Discover more from Superpowers for Good
Leadership Lessons From—And For—the World's Great Changemakers
Over 3,000 subscribers
Loafs Launches The Pacific Shoe to Stylishly Combat Climate Change
Fashion, comfort and sustainability harmonize in The Pacific, the Eco-conscious shoe for the changemaker on-the-go.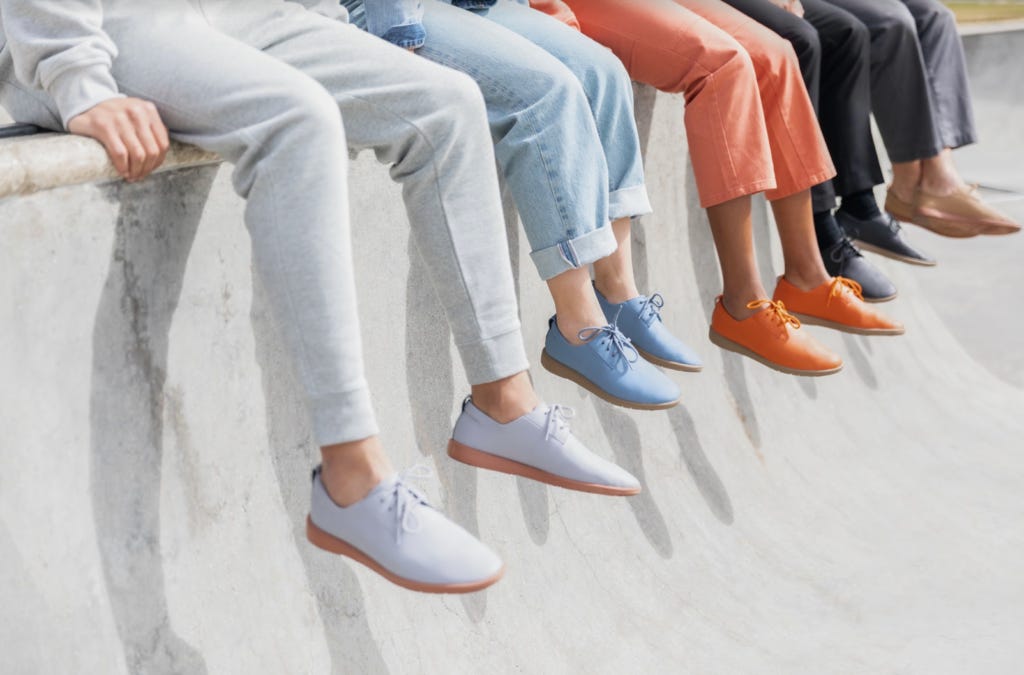 Press Release – New York, New York – Look good, feel good, do good. Today, all three are possible thanks to The Pacific, a new and stylish multi occasion shoe by Loafs LLC. This Eco-conscious footwear line is made entirely from recycled materials including algae-based foam, chrome-free recycled leather trimmings and tree-based linings.
Taking materials that would be otherwise destined for landfill and combining them with the first plant-based foam made from algae biomass, The Pacific is as sustainable as it is fashion-forward. It's the perfect all-day shoe with the comfort of a sneaker and the style of a dress shoe.
"People are well aware of how important it is to care for our planet, but don't always know how," said Aaron Roubitchek, creator of The Pacific. "The Pacific makes it easy to love the planet we walk on and look great doing it."
Emphasizing an Eco-conscious approach to shoemaking, The Pacific uses less toxic manufacturing processes than conventional footwear brands. Substitutions favoring sustainability include water-based assembly cement, chromium-free recycled leather, GRS-certified 100% recycled polyester, recycled foam, and organic cotton shoelaces without wax. The recycled leather alone is manufactured using 95% recycled water and decreases waste yield by 90% compared to standard leather manufacturing. Beyond the shoe itself, all packaging for The Pacific is made from 100% recycled paper and soybean ink printing.
Doing good for the environment has never been easier or looked better with The Pacific. Modeled after other philanthropic fashion brands, each pair purchased will directly help clean up the Great Pacific Garbage Patch. At the end of each year, the greater of 10% of profits or 1% of sales will go to The Ocean Cleanup Project, one of the most technically innovative and mass scale ocean cleanup efforts in scope.
The Pacific is currently available to pre-order on Kickstarter. It is available in black, tan, slate blue, nimbus grey, and desert orange to match anyone's personal style. Its lace-up design sports a sophisticated aesthetic that, when coupled with the foam runner's insole and rubber tread pods, provides all-day comfort for any activity. Starting at $89, pre-order by visiting pr.go2.fund/loafs.
About Loafs LLC
Loafs LLC is an Eco-conscious footwear brand that holds itself to an elevated standard of sustainability throughout every step of the process. From manufacturing to post purchase philanthropy, Loafs creates shoes that make customers look and feel good, and helps the earth too. As a company, Loafs aims to inspire their customers to combat climate change through small, everyday actions like choosing the clothes they wear, and being mindful about how they are made. Design, comfort and philanthropy are no longer mutually exclusive, as a percentage of every purchase is donated to The Ocean Cleanup's efforts to clean the Great Pacific Garbage Patch. For more information, visit www.loafs.com.
---
Are you part of the good crowd? Join GoodCrowd.school, school for changemakers today.
The post Loafs Launches The Pacific Shoe to Stylishly Combat Climate Change appeared first on GoodCrowd.info.