Discover more from Superpowers for Good
Leadership Lessons From—And For—the World's Great Changemakers
Over 3,000 subscribers
How A Harrowing Experience Inspired This Woman To Help Girls Go To School
CaringCrowd.org, by Johnson & Johnson Global Public Health, is a sponsor of the Your Mark on the World Center and GoodCrowd.info.
Download the podcast via Apple Podcasts, Google Play or Spotify.
As a girl, while living in Jamaica, Davinia James once faced an extraordinary experience on her way home from school with her brother. Held at gunpoint, her brother faced the young gunman and yelled for his sister to run.
Frozen by fear, she didn't move even as the gunman held his gun to her brother's chest.
"Run," he screamed. And she did.
Frantic, she screamed as she entered her home, "He's dead! He's dead!" Her mother "went into superwoman mode."
Following her mother, they ran back to find her brother still with the barrel of a gun in his chest. Their mother pulled the gun away from his chest and placed it on her, saying, "If you want him, you're going to have to go through me."
The gunman, ashamed or afraid of the consequences of killing a woman, walked away.
This experience fixed in Davinia's mind the importance of education to lift women, girls and communities out of the dual traps of poverty and violence.
She founded Pennies4Girls to fund education for girls.
Preliminary Interview with Davinia James-Stewart , the Founder of Pennies4Girls (raised money using caring crowd for Hope Dreams Initiative).
The following is a brief pre-interview that provides context for the recorded interview you may watch or listen to at the top of this article.
Davinia James-Stewart is a Founder for Pennies4Girls.
Her tips for crowdfunding or fundraising:
Tip 1: Your project's goal is valid. Don't second guess the goal for your project. You have nothing to lose.
Tip 2: Don't get discouraged if your project isn't successful the first time around. Regroup, re-evaluate and try it again. Keep in mind, the second time around you now have knowledge and expertise you didn't have before.
Tip 3: Don't be afraid to put yourself out there for your project. One's "no" isn't everyone's no. Allow "nos" to push you beyond your limits. Crowdfunding isn't easy and you can't expect people to understand what they haven't lived or experienced.
More about Pennies4Girls:
Twitter: @pennies4girls
Facebook: facebook.com/DaviniaJames/
Pennies4Girls is an initiative that use pennies to educate girls in developing countries. Why pennies? People are skeptical about donating. In addition, pennies aren't valued and It's sad/heartbreaking to say but this is how girls are being viewed in parts of the world. Pennies4Girls know girls have worth and they are valuable no matter their geographical location. Over the past 5 years, 1.5 million pennies have been collected and 300 girls sent to school in Sierre Leone, Peru, Egypt, Ethiopia, Nepal, Cambodia, Afghanistan India and Haiti. The main objective behind the passion in helping to give girls quality education is to show the world how we can use something so small and something considered having very little or no value in creating positive and impactful change.
To create more impact, Pennies4Girls has decided to collaborate with the Hope and Dreams Initiative in providing feminine care products and WASH libraries to girls in Nigeria. Doing this addresses one of the issues of girls being missing from classrooms because of their menstrual cycle. Periods are normal and a girl's education shouldn't have to suffer.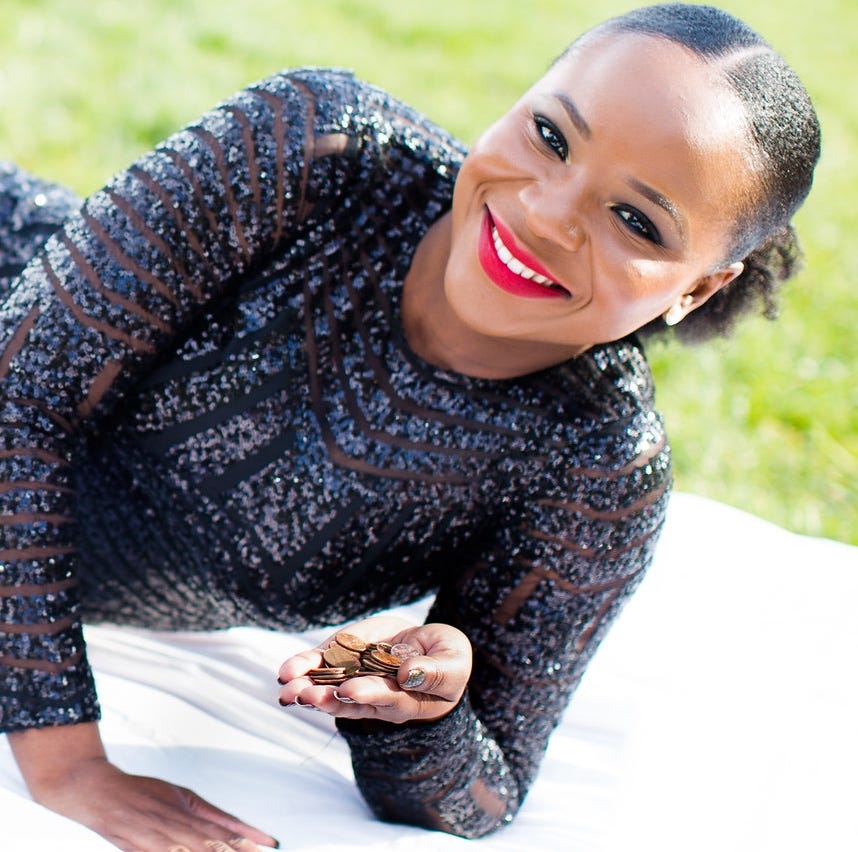 Davinia James-Stewart. Photo credit: Lyndon George.
Davinia James-Stewart 's bio:
Twitter: @daviniajames
Linkedin: linkedin.com/in/davinia-james/
Instagram: @pennies4girls
Davinia James' background stems from the beautiful island of Jamaica. She uses her story and passion to change the lives of girls in developing countries. Thus far, she has collected 2 million pennies and have sent 250 girls to school in Haiti, Cambodia, Nepal, Peru, Afghanistan, Egypt, Ethiopia, Sierre Leone, India and now Nigeria. Her latest project was a collaboration with non-profit Hope & Dreams Initiative to help provide pads for Nigerian girls who are missing from classrooms because of their period. James hopes for the future to expand on this project helping to build WASH libraries where students/communities are taught about water & safe sanitation practices. Davinia's goal is to educate all girls world because she knows the importance of education and the opportunities it can present for a life of freedom.
---
Are you part of the good crowd? Join GoodCrowd.school, school for changemakers today.
The post How A Harrowing Experience Inspired This Woman To Help Girls Go To School appeared first on GoodCrowd.info.