Discover more from Superpowers for Good
Leadership Lessons From—And For—the World's Great Changemakers
Over 4,000 subscribers
Guest Post: The Miracle Foundation
This is a guest post from Caroline Boudreaux of The Miracle Foundation.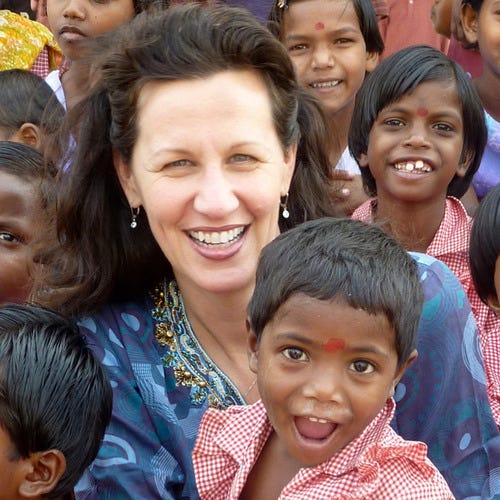 Caroline Boudreaux with Kids
It was supposed to be the adventure of a lifetime, the around-the-world trip that I set out on with a friend in 2000. I was an account executive at a TV station in Austin, Texas, making more money than I'd dreamed of and having everything I thought a person my age could want. But inside, I felt empty. I knew in my heart I had a purpose and that I wasn't fulfilling it. I was sure there had to be more to life – but I didn't have a clue what that might be.
So I took a sabbatical and planned to "chase summer" for a year around the world. But that trip ended up changing the entire course of my life. A few months into the trip we were in India, where quite by accident I found myself at an orphanage, surrounded by a hundred hungry, smiling, parentless children. I had never seen an orphaned child face to face before, and there were simply so many of them, desperate for attention.
At the end of the evening, one little girl named Sheebani came and put her head on my knee. When I picked her up, she pushed herself into me, desperately seeking a mother's comfort. I wondered how all of these children could be living like this. I was angry, hurt and embarrassed. Here I was, traveling around the world without a care, and these children were going to bed hungry and lonely every night.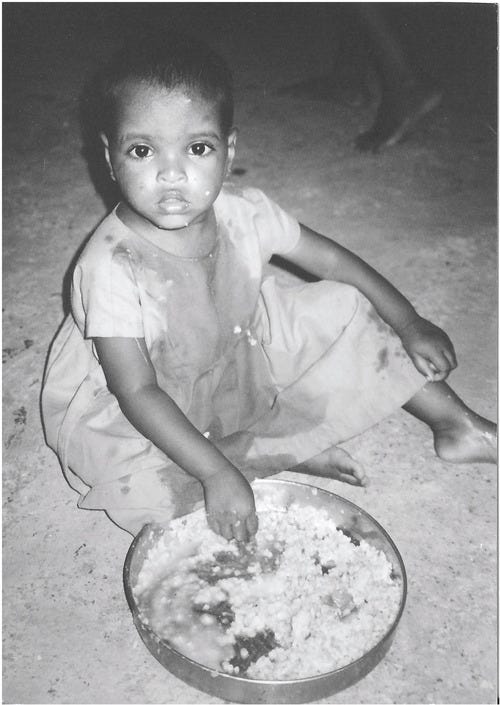 Sheebani
After I left India, Sheebani and the other kids continued to haunt me. I knew my life could not continue on the same. Somewhere along the way, they had given me my purpose in life.
That was more than a decade ago, and I thank God every day for that moment. Today the nonprofit that I founded shortly after that trip, The Miracle Foundation, supports hundreds of children in eight orphanages across India. Our unique model is put in place with partner orphanages to nurture and empower the children and their caregivers, strengthen their operations and transform institutional orphanages into nurturing homes where the children thrive.
Recently we have really been able to increase our impact through our partnership with Whole Planet Foundation of Whole Foods Market. More than 60 Whole Foods team members have visited orphanages in India with The Miracle Foundation. From there, an idea was born: feature the drawings that the children made on something tangible to sell in Whole Foods Market stores – a way to boost awareness for the orphans in India and benefit them at the same time.
What we came up with was one-of-a-kind holiday wrapping paper featuring hand-drawn art designed by the children. Whole Foods and The Miracle Foundation teamed up for the "Wrap Once, Give Twice" campaign, which donates $2 from each roll of paper back to The Miracle Foundation. With every purchase of the wrapping paper, lives are changed. Supporters can also have an even bigger impact through our Give a Miracle campaign, where people can purchase things like school books, food, and water purification systems and sports equipment for the orphanages as gifts for the holiday season.
With initiatives such as these and the amazing support we receive from our volunteers and donors, we know that we can stop the poverty cycle in India and revolutionize the way orphanages are run.
Ways to connect with The Miracle Foundation:
Website – http://www.miraclefoundation.org/
Facebook – https://www.facebook.com/TheMiracleFoundation.org
Twitter – https://twitter.com/MiracleOrphans
The post Guest Post: The Miracle Foundation appeared first on Your Mark On The World.