Discover more from Superpowers for Good
Leadership Lessons From—And For—the World's Great Changemakers
Over 4,000 subscribers
Great Contractors Available on Upwork
For the past five years, Chandan and Api Saha have been working to manage the content of the Your Mark on the World Center, posting to YourMarkOnTheWorld.com, MySocialGoodNews.com and GoodCrowd.info. Together, they have made the work we do possible.
Based in Dakha, Bangladesh, Api and Chandan work almost completely independently. They screen submissions for content to the sites and independently decide what should be posted to which site, usually posting it in less than 24 hours from the moment an email arrives with a press release.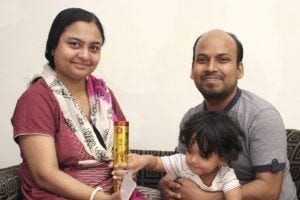 Api and Chandan Saha with their son
They also have been taking the stories I write for Forbes and repost them to YourMarkOnTheWorld.com or GoodCrowd.info, depending on the subject.
Api and Chandan, have also helped to manage our social media accounts, helping us to share the stories and interviews with over a million people over the past five years.
Most importantly, they have fully adopted and personally owned the mission of the Your Mark on the World Center to to help solve the world's biggest problems, extreme poverty, climate change and poor global public health. With every story they published, with every tweet they tweeted, with every Facebook post they share, they move the needle forward, closing the gap between the world we live in today and the world we envision.
The Your Mark on the World Center will be scaling back its operations in 2020, no longer posting regularly to our three websites and posting less on social media. This means we won't have work for these two great Upwork contractors. You can meet Api here and Chandan here.
Do me a favor, hire one or both of them. They're great!
The post Great Contractors Available on Upwork appeared first on Your Mark On The World.