Discover more from Superpowers for Good
Leadership Lessons From—And For—the World's Great Changemakers
Over 3,000 subscribers
Giving It Away–How Philanthropy Can Beat Paid Advertising
Guest post by Zack Liscio zack@changecause.com, CEO Changecause, @changecause.
For Arlington Free Clinic, a Virginia-based non-profit that provides free medical treatment, donor support is critical and depends upon connecting with the local community of individuals and businesses. Like most small non-profits, almost 100% of the clinic's funding originates within a few mile radius of their base of operations.
One of those donors is Commonwealth Joe, a Virginia coffee-roaster and distributor, new to the area and focused on defining a brand name in a crowded space. They source their coffee responsibly, care about their local impact, and are active members of the community. However, until recently, Commonwealth Joe did all of their giving in a traditional, offline fashion that didn't generate buzz for them or their preferred causes.
Our team designed Changecause with this problem of visibility in mind. Because of the social nature of giving through Changecause, we are able to connect Commonwealth Joe and Arlington Free Clinic to the local community they're both interested in reaching, while creating genuine exposure for both the sponsor and the cause. The process basically converts money that would have otherwise been spent on advertising into a non-profit donation.
Successfully pairing a business and non-profit for their mutual benefit is rooted in finding meaning in the overlap of both demographics and beliefs. This makes sense from a cause-marketing perspective; in order for the sponsorship to resonate with authenticity in the minds of donors, the pairing has to feel like the two organizations belong together. We often describe the "Thermonuclear Meltdown Situation" as Monsanto sponsoring an independent organic farmer's market. When executed correctly, however, the results of donation matching are inspiring. The donors to Arlington Free Clinic are socially conscious Arlingtonians who are supporting a local cause, which means they're also ideal customers for a socially conscious company selling a premium coffee locally and giving a portion of sales to worthy causes.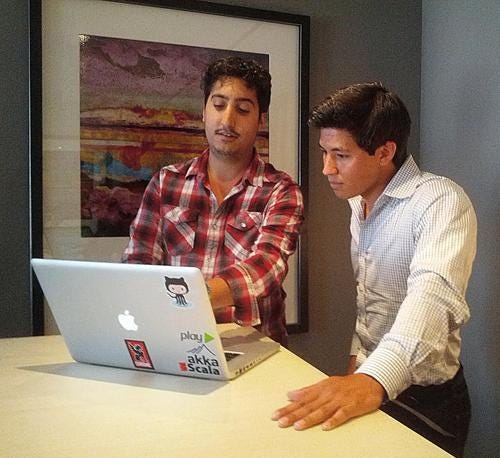 Changecause CTO teaches Commonwealth Joe co-founder Robert Peck how to create a campaign for Arlington Free Clinic.
When a donor gives to a non-profit through Changecause, we pair their donation with a matching gift from a sponsor who supports that organization. We then tell the story of that interaction through a Facebook or other social media post that says "I gave to Arlington Free Clinic and Commonwealth Joe matched my donation". By accompanying this with unique, engaging content about the non-profit, Changecause promotes the cause to that individual's social network, while also differentiating the sponsor as a brand who cares about and is actually involved in the community. The best part is that the community engagement these posts generate are on par with paid display advertising, but most of the money is going to a non-profit instead of internet advertising companies.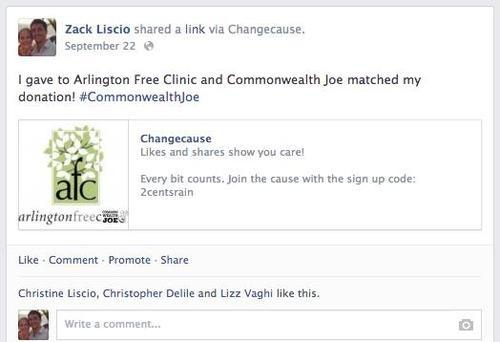 An example post published to Facebook as a result of my donation to Arlington Free Clinic, matched by Commonwealth Joe.
By eliminating the need to broker one-off cause-marketing relationships, brands and causes alike are able to free up resources and focus on their core missions. The real power of the Changecause platform is the ability to make personalized connections at scale and using technology to empower local communities. While finding a donor/sponsor match in real-time is a technically complex process, accomplishing it creates lasting value for all parties involved. When you imagine the possibilities of community-driven matching happening in every city across America, the impact is truly awe-inspiring.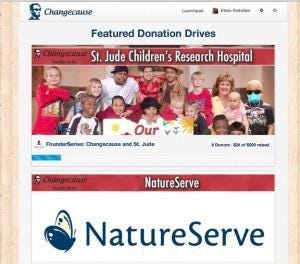 Changecause "Featured Donation Drives" which have guaranteed matches.
Changecause is currently in public beta. Become part of the movement now with the access code "2centsrain" on the signup page.
The post Giving It Away–How Philanthropy Can Beat Paid Advertising appeared first on Your Mark On The World.