Discover more from Superpowers for Good
Leadership Lessons From—And For—the World's Great Changemakers
Over 3,000 subscribers
Girlfluence Seeks To Serve And Influence Women
This post was originally produced for Forbes.
Dara Kaplan and her team have recently launched Girlfluence, a PR and branding agency focused on helping women reach and influence other women. The agency was created with a focus on giving back and supporting nonprofit organizations, beginning with a DC-based nonprofit called Spirit Club that serves adults with developmental challenges.
Much of the firm's work focuses on building brands for women on YouTube. The agency notes that a presence on YouTube is creating fame that rivals Hollywood today.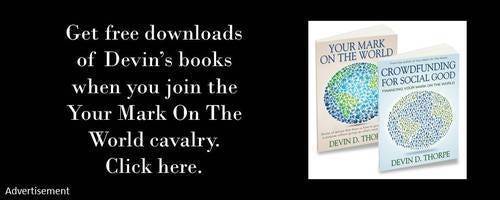 On Tuesday, December 30, 2014 at 2:00 Eastern, Kaplan will join me for a live discussion about Girfluence and it work to empower and influence women. Tune in here then to watch the interview live.
More about Girlfluence:
GIRLFLUENCE is the first communication and content firm and publisher to provide brand partners exclusive access to a curated demographic of connected women. Our media campaigns live alongside your brand's PR, communications and advertising initiatives to create high-value, targeted content compelling to influencers and media alike. We build holistic awareness strategies to produce metrics that mean business.

With strategic talent management of digital influencers, we expertly position your content creation to support an overall brand strategy. Branding a female point of view in the digital space requires an experienced and cohesive vision to drive traffic, inspire engagement and generate revenue. We combine marketing, branding and communication expertise in a holistic approach that enhances awareness and conversion online and off. Whether you're a corporate client or a start-up entrepreneur, we know how to help brands stand out in a crowded marketplace and connect with a voice that expresses their unique DNA.
Kaplan's bio:
Founder, Dara Kaplan knows that inspiration is everywhere, but it takes influence to make it last. Her wealth of real-world experience in fashion, beauty and luxury lifestyle brands has enriched her expertise in the digital world. She has worked in buying and branding for international lifestyle companies such as Donna Karan and Kiki de Montparnasse. From opening multimillion-dollar stores to kicking open the doors of new media, Dara went on to become an acclaimed beauty blogger, travel editor and culture writer, founding her own social media and digital PR firm at twenty-five years old. Her expertise lies in digital world from her authentically forged connections and experience gleaned from the boom of the blogger era as a veteran vlogger and influencer. Kaplan is uniquely positioned to use all facets of her experience to lead into the future of marketing. Her innate understanding of building her own brand and sustaining the vision of other brands has driven her high impact media initiatives for a range of elite companies, including Maserati, Tumi Luggage, Laura Mercier, Shiseido, Skype and the NFL. In addition to her bold brainstorming and business strategy, Dara is also a jewelry designer with a love of all things that sparkle and unabashedly obsessed with her dog.
Remember to "join the cavalry" by subscribing to Devin's content here.
The post Girlfluence Seeks To Serve And Influence Women appeared first on Your Mark On The World.