Discover more from Superpowers for Good
Leadership Lessons From—And For—the World's Great Changemakers
Over 3,000 subscribers
Finding Long Term Value in a Multichannel World
We now live our lives in an omnichannel manner; we consistently, and fluidly, move between online, offline, social, and direct means and resources to achieve our daily demands. In following suit with these evolving cultural norms and habits, fundraising programs are no longer relegated to direct, siloed channels, but now operate in an omnipresent environment where all channels influence and interact with one another. In addition to adapting to this multilayer approach, nonprofits now also have to battle fierce and growing competition for fundraising dollars. Donors today have more options to support a cause near and dear to their hearts because of the oncoming wave of nonprofit organizations entering the scene. With more choices and more technological resources to interact, donors are inundated with fundraising opportunities and nonprofits must continuously strive to differentiate their organization and their ask. Nonprofits no longer have the option of dabbling in multichannel campaigns – it is now a prerequisite. However, despite these increasing demands for omnipresent engagement, many organizations are asking their fundraising teams to "do more with less", to find ways to grow the program without the supporting budget to do so. To meet this challenge, nonprofits need to maximize the potential ROI for every fundraising initiative, channel and campaign.
Feeding America, the nation's leading domestic hunger relief charity, recently underwent changes that resulted in re-focused organizational initiatives around digital and multichannel strategies. Direct mail, while traditionally the most successful avenue for acquiring new donors, and also the most expensive avenue, was still providing the organization with a steady and unrestricted stream of revenue, however, new online donor metrics were performing better. Online donors responded to acquisitions and asks with higher average gifts than their offline counterparts. As Feeding America focused on looking ahead to align with donors' increasingly digital-first mindsets, they also had to accommodate the challenge of not abandoning core components of their audience who still prefer traditional DM. Feeding America looked to improve the long term value of ALL their programs. Investing and testing in multiple environments allowed Feeding America to more accurately determine where their higher value donors engaged and how best to facilitate continuous engagement. To implement the testing and deployment of long term value based campaigns, Feeding America turned to their fundraising partners including multichannel agency, Paradysz.
Paradysz, working in tandem with both Feeding America and their fundraising partner, Thompson Habib Denison, determined that improving ROI can start with acquiring higher value donors. LTV analysis showed that direct mail acquired donors that give more in acquisition, tend to stay on file longer and give more over the course of their lifecycle. From there, Paradysz developed a streamlined targeting acquisition solution to upgrade the value of new donors. Offer-to-audience test strategy focused on targeted ask array among high gift prospect segments to maximize their giving potential, and ultimately to improve the ROI on the direct mail acquisition efforts. This implementation resulted in a 40% lift in gross revenue from high value segments as well as a 64% lift in gift averages from marrying higher asks to higher value audiences.
Some organizations make the mistake of thinking that a donor's established giving value is at maximum capacity, but in reality, it's possible to extend the giving relationship beyond set giving amounts and enhance the long term value of the donor relationship. Additionally, adopting an acquisition strategy that targets prospects likely to contribute higher long term value can also be implemented to develop more significant and sustainable relationships. To distinguish and cultivate those donors correctly, organizations need to follow these three key steps:
Investing in donor analytics that answers the following questions:

Who are your best donors? How do you acquire them? What relationships are you cultivating with them?

Developing streamlined segmentation and targeting practices that build off the key findings from your donor analysis.

Testing new marketing techniques (offer, ask, channel, season cadence, etc.) to maximize the ROI from your segmentation and targeting practices.
Nonprofits should not be afraid to ask for what they want – higher gift values – but in asking for more, they need to consider who to ask, how to ask and how much to ask for. Implementing a sound long-term value plan through analytics, segmentation and continual testing gives organizations the insights they need to develop long term relationships with high value returns.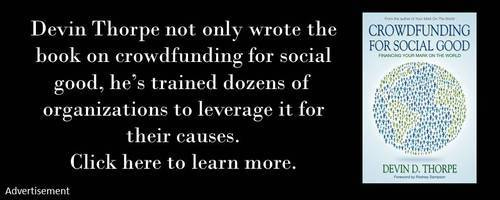 About Feeding America
Feeding America is the nationwide network of 200 food banks that leads the fight against hunger in the United States. Together, we provide food to more than 37 million people through 61,000 food pantries, soup kitchens and shelters in communities across America.
Feeding America also supports programs that improve food security among the people we serve; educates the public about the problem of hunger; and advocates for legislation that protects people from going hungry.
Individuals, charities, businesses and government all have a role in ending hunger. Donate. Volunteer. Advocate. Educate. Together we can solve hunger. Visit www.feedingamerica.org, find us on Facebook or follow us on Twitter.
About Paradysz and PM Digital
With its direct and digital businesses, Paradysz and PM Digital's core capabilities are based in a data-driven approach to understanding, targeting, acquiring, cultivating and optimizing customer value for its clients. Through comprehensive experience in multiple media channels, including search, social, display, email, direct mail, print and insert media, as well as strategic and creative web development capabilities, the company leverages proprietary research tools and an obsessive focus on performance to help clients make the most informed marketing decisions. With a client list that's a "Who's Who" of nonprofit and commercial organizations, Paradysz and PM Digital have continued to grow their reputation as some of the industry's most critical thinkers and leaders.
Remember to "join the cavalry" by subscribing to Devin's content here.
The post Finding Long Term Value in a Multichannel World appeared first on Your Mark On The World.