Discover more from Superpowers for Good
Leadership Lessons From—And For—the World's Great Changemakers
Over 4,000 subscribers
Financial Advisor Guides New Philanthropists
Peter Klein works with affluent families to develop estate planning to professionalize their philanthropy.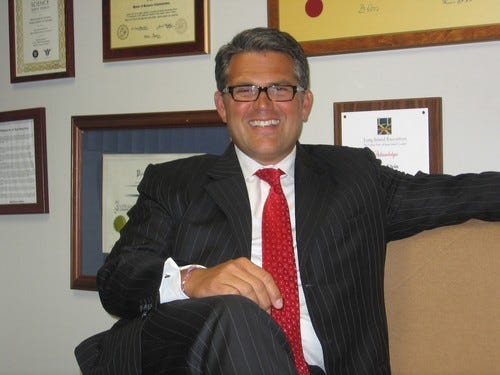 On Thursday, May 1, 2014 at 2:00 Eastern, Peter will join me for a live discussion about strategies for maximizing impact through professional philanthropy.
You can download an audio podcast here or subscribe via iTunes.
Peter's bio:
Peter joined HighTower in 2013. Previously, Peter worked at UBS, where he was recognized in the UBS Global Circle of Excellence in 2008. Peter earned a Bachelor of Science in economics from Stony Brook University and a Master in Business Administration in finance from CUNY Baruch College in New York City. He is a Certified Financial Analyst® (CFA). Peter is also the author of two well-regarded books, Getting Started in Security Analysis (Wiley, 1998, 2009) and A Passion for Giving: Tools and Inspiration for Creating a Charitable Foundation (with Angelica Berrie, Wiley, 2012).

Peter and his wife have been married more than 20 years, and they have three children. He is very active in his community, advising private foundations in a professional capacity and volunteering on various boards. He is President of The Claire Friedlander Family Foundation and sits on the boards of The Holocaust & Tolerance Center of Nassau County, The Long Island Community Foundation; The Tilles Center for Performing Arts, The Dante Foundation; Bronx High School of Science Alumni Association and Endowment Committee
About High Tower:
HighTower is an industry-leading financial services firm offering a unique platform that blends objective wealth management advice with innovative technology. Our dedication to transparency in wealth management for investors and comprehensive support for independent advisors sets us apart. See www.hightoweradvisors.com.

At HighTower's Klein Wealth Management, we are committed to providing financial insights and education to our clients. We dive deeply into questions of importance and are passionate about providing truly valuable solutions. We seek to make a meaningful impact in the lives of each of our clients. As a recognized authority in the areas of security analysis, investment management and philanthropic services, KleinWealth Management puts its extensive knowledge to work for affluent individuals, retirees, corporations and private foundations. Our commitment to providing financial insights and education gives us a distinct advantage as portfolio managers and advisors.

Klein Wealth Management provides enhanced services for charitable giving and private foundations. The accumulation of wealth quite often creates a desire to share it, to give back, often through contributions of time and resources to a foundation. Establishing a philanthropic legacy is a major accomplishment in any person's life. The greater the philanthropic vision, the greater the complexities surrounding its realization—and the more important the details become. Philanthropy is a core capability at Klein Wealth Management. We encourage the "professionalization of giving" by helping you do well by doing good. We work collaboratively to find the most effective ways to establish your legacy through charitable giving so that the people and causes that are important to you receive the greatest benefit.
The post Financial Advisor Guides New Philanthropists appeared first on Your Mark On The World.