Discover more from Superpowers for Good
Leadership Lessons From—And For—the World's Great Changemakers
Over 3,000 subscribers
Female Racecar Driver Dedicates Her Car To Terminally Ill Teen At The Ford EcoBoost 200 Race
Press Release – NASCAR Gander Outdoors Truck Series driver, Angela Ruch, will pay tribute to Eric Erdman November 15, 2019, when she races in the Ford EcoBoost 200 Race in Miami. Eric and his brother Tylor have designed the wrap for her truck, which will feature Give a Child a Voice to commemorate his efforts in paying it forward to help kids and teens break the silenceand launch his "Give a Child a Voice Fitness Center Give-A-Way."
Angela will drive Niece Motorsports No.44 at the race to help Eric Erdman carry on his legacy before he passes away.Eric is seeking the next school to be the recipients of a gym transformation with the impending months he has left through his "Give a Child a Voice Fitness Center Give-A-Way."The foundation is launching their gym transformation contest at the upcoming NASCAR Gander Outdoors Truck Series Race and students are encouraged to nominate their school and tell Eric why they their school should receive the transformation.
"I'm racing for Eric at the Ford EcoBoost 200 because it takes a village to construct a gym, and our goal is to raise $300,000 to help Eric continue tomake an impact in more children's lives. To transform another gym with the final months Eric has remaining, along with many more gyms to come, I can't think of a more worthy cause," shared Angela Ruch.
On July 13, 2016, at age 16, Eric was diagnosed with an aggressive rare form of brain cancer – Anaplastic Grade III Ependymoma. Approximately 50 teenagers are diagnosed with this form of cancer each year. Since being diagnosed Eric has dedicated his life to helping others. He created the T.E.K Foundation CC Inc., operating as Give a Child a Voice, to put an end to child abuse, bullying, as well as life-threatening childhood illnesses. The foundation does this by showing children how powerful and important their voices can be.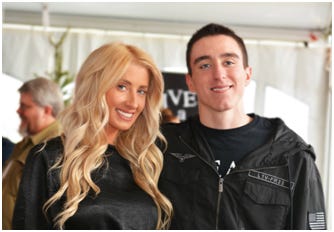 "Before I was diagnosed with a life-threatening terminal illness, I fought every day of my life to find peace and strength to face my painful past, due to being a victim of child abuse and bullying. I started to transform my mind and body by going to the gym to create and focus on the best version of me. The gym allowed me to shut out all the noise in my life which eventually led to finding my voice, from the help and support of my community," shared Eric, Founder of Give a Child a Voice.
In 2016, the Make-A-Wish Foundation contacted Eric to ask him what his wish would be. Instead of asking for something that would be an experience that only he would benefit from, Eric decided to ask for an unusual wish. He wanted to transform the gym at his high school so he could give other kids an outlet to escape their pain and build their physical and mental strength. With the leftover funds, he decided to refurbish the gym at his rival high school. And he has been paying it forward ever since.
The Construction Leadership Network, comprised of contractors across the country, have partnered with Give a Child a Voice to help transform school gyms by using local contractors within their network. The foundation is seeking gym equipment companies to donate as well as sponsors and donors to help make this a reality.
"Today, I am no longer a victim, and I did find my voice, I am the author of my story. It is my goal and mission to help children across America to be the author of their story, so they too may find their voices," he said.
"My foundation and I plan to continue to create and build resources for students, parents, educators, and communities throughout the country so children (our future leaders) may be the best version of themselves," said Eric.
Eric has always believed in viewing life as if we are all books, waiting to be written. Although he won't be able to write as many chapters as other people, he continues to work hard to ensure that the chapters he is writing are meaningful." We are the authors of our stories – not our abusers, not our bullies, and not our life-threatening illnesses. When we break the silence, we take back control," he said.
"Together, we can make Eric's last wish of building another gym for a deserving group of kids come true. We can create a safe place for them to laugh, live, and grow. When we stand together, we can help children break the silence!" said Angela Ruch.
For further information visit https://www.giveachildavoice.us
How to nominate link: https://www.giveachildavoice.us/nominate
GoFundMe link: http://bit.ly/GiveaChildaVoiceFitnessCenterGive-A-Way
About Give a Child a Voice
Give a Child a Voice works to educate children and adults about the importance of a child's voice and encourages children to speak out when faced with difficult circumstances, through community-based programs. They are working toward putting an end to bullying, child abuse, and life-threatening childhood illnesses. We must raise our voices to help the many boys and girls who suffer in silence become the author of their story. Give a Child a Voice; it will make the world a better place.
About Eric Erdman
When 16-year-old Eric Erdman learned, he had advanced brain cancer in July 2016; he had no idea all the ways his life would change. He faced medical procedures, including both brain surgery and eye surgery, he lost hearing as well as sight in one of his eyes. However, the fear and grueling procedures aren't what Eric remembers most about the months after he was diagnosed with Anaplastic Grade III Ependymoma.
He remembers the voluntary kindness of friends, families, neighbors, and even strangers showed him and how it helped him find his voice, to share his story and speak out. The coming together of so many different people, all with the same goal of showing support, transformed his perspective on life, and inspired him to pay it forward.
Today, now after four brain surgeries, three rounds of radiation, and one round of chemo, as Eric battles complications, he's more excited than ever to continue to help other struggling kids find their voice through his foundation – Give a Child a Voice.
While some children battle critical pediatric illness, others face challenges such as bullying and abuse in their schools and homes. In addition to the immediate harm it causes, these difficult experiences can cause long-term emotional suffering. Eric dreams that other kids who experience difficult situations receive the same kindness he received at one of the most vulnerable times of his life. He started the movement, "Give a Child a Voice," to engage the community and get children the help they need, so positive change is possible. His dream and movement have become a reality, thanks to work being done through his foundation.
About Angela Ruch
Angela is an American professional stock car racing driver and currently competes part-time in the NASCAR Gander Outdoors Truck Series. She drives the No. 8 Chevrolet Silverado for NEMCO Motorsports and the No. 44 Silverado for Niece Motorsports. Earlier this year, she came 8th at the Daytona NASCAR Truck Series.
Angela and her sister, Amber Cope, made NASCAR history on October 23, 2010, by being the first twins to compete in one of its top three series. That day they made their NASCAR debut in the Camping World Truck Series in Martinsville, VA. She is the third generation of Copes to enter into the world of racing and is the niece of former DAYTONA 500 Champion, Derrike Cope.
---
The post Female Racecar Driver Dedicates Her Car To Terminally Ill Teen At The Ford EcoBoost 200 Race appeared first on GoodCrowd.info.