Discover more from Superpowers for Good
Leadership Lessons From—And For—the World's Great Changemakers
Over 3,000 subscribers
Father Of Social Entrepreneurship Says 'Society Is At A Profound Turning Point'
This post was originally produced for Forbes.
Download the podcast via Apple Podcasts, Google Play or Spotify.
Bill Drayton, founder and CEO of Ashoka, literally coined the term "social entrepreneur" when he founded the nonprofit back in 1980, almost 40 years ago. He also decided that changemaker was one word and not two, something the Oxford dictionary now recognizes (though Webster's does not, to Drayton's ongoing consternation). Drayton says, "We all sense that society is at a profound, indeed historic turning point."
Before we explore the turning point he's talking about, let's briefly review the history of Ashoka and social entrepreneurship.
The kernel of the idea for Ashoka came to Drayton, he says, when he was visiting India at age 18. On this journey, he began to appreciate that an entrepreneur could make systemic changes that could have profound implications in the lives of large numbers of people. He also began to appreciate how difficult it is to make that leap at almost any point in one's life.
At the moment when a person says, I'm going to set aside my studies or my career, an uncle or aunt is likely to say, you can't possibly do that.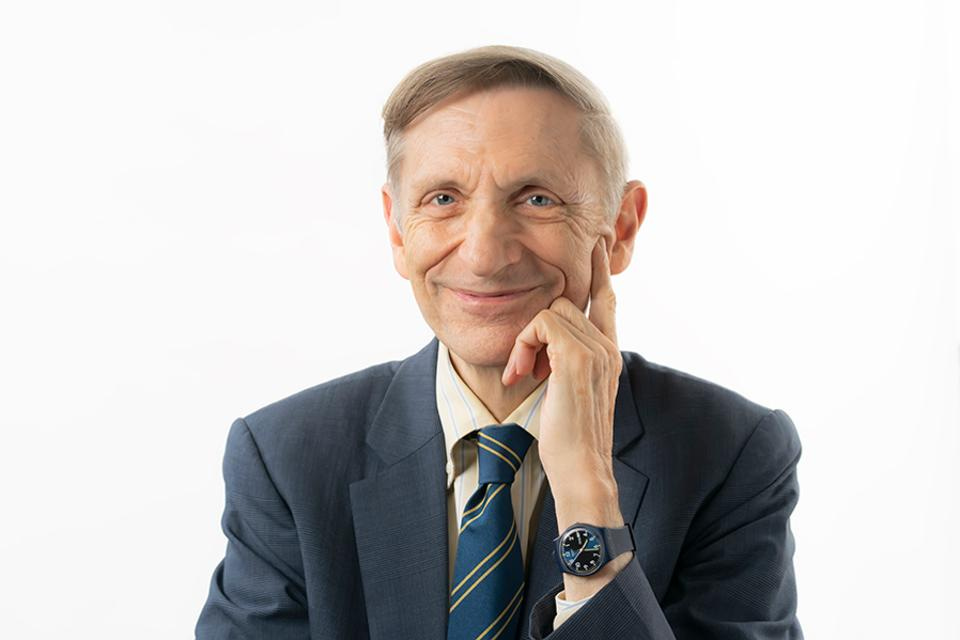 Bill Drayton CREDIT: ASHOKA
The time was right, Drayton says, to launch Ashoka in 1980. Drayton had already had an impressive career. With a Harvard undergraduate degree and a master's degree from Oxford and a law degree from Yale, he was superbly educated. He had spent 10 years at McKinsey and Company, taught at Stanford and Harvard and served as the Assistant Administrator for the EPA during the Carter administration.
At that time, he notes, the world was about three decades past the end of the colonial era and newly independent countries around the world were awaking to see their full potential. In that context, he created Ashoka to sponsor fellows, social entrepreneurs around the word who had the potential to drive systemic changes to improve the world at scale.
For five years, he could attract no support from foundations. "You know, when people tell you foundations are equivalent to venture capital, be very polite. But that's not true," he says with a smile. It took time for him to prove Ashoka was having impact that foundations would support.
Ashoka has now funded almost 4,000 different changemakers. "Over three-quarters of the Fellows have changed the patterns in their field (e.g., the environment, human rights, village resiliency) within five years of launch. Over half have changed national policy within the same five years," Drayton boasts.
Jack Forrest, a retired professor of diagnostic radiology and long-term supporter and friend of Ashoka, says, "The many fellows we have met are unanimous that Ashoka has been invaluable in the development and dissemination of their projects and ideas. Ashoka does this with what most philanthropists would consider a tiny amount of money per fellow."
One fellow, Jill Vialet, is the founder and CEO of Playworks, a national nonprofit that supports programs to integrate play into education, says, "For me, the Ashoka fellowship was life-changing – it connected me to individuals and organizations that became our partners and helped us move from an emphasis on doing good work to seeking transformative systems change."
Lisa Curtis, founder and CEO of Kuli Kuli, was recognized as an emerging innovator. "I'm still friends with many of the people I first met through the Ashoka Emerging Innovators Bootcamp and I apply those lessons every day."
Countless people who've never been an Ashoka fellow or participated directly in any programs have nonetheless been influenced by it's work. Bill Drayton is the father of social entrepreneurship.
So, the father of social entrepreneurship says we're at a turning point. What does he mean?
Drayton asks two questions:
Why are income differences getting worse everywhere—regardless of the nature of the economy or ideology?

Why is "us versus them" politics spreading across the globe?
He points out that people in countries around the world look to local factors to explain this trend, "but these facts are universal."
He notes two long-term trends:
The rate of change and the extent and degree of interconnection have been accelerating exponentially since 1700.

The demand for repetition work has been falling exponentially since 1700.
Whether you think about law firms or assembly lines, repeating the same sort of thing created efficiency in the past. Increasingly, however, anything repetitive can be automated, even in professional arenas. That created clear career paths for people who learned a trade or profession at a young age and continued that throughout a lifelong career.
"All this is dying," Drayton says.
That death is painful for society. "That's why 'us versus them' politics is fast spreading across the world. When society tells so many people, 'Go away; we don't need you; it's your fault; and, by the way, your kids don't have a future,' we are hurting them in the deepest way possible. And they respond with lasting fury."
"The new inequality in the world is between those people who are in the new game, who have the underlying very complex abilities to contribute to change, to adapt to change, to live and work in a world not of institutions, but of fluid, open, integrated teams of teams," Drayton explains.
This dichotomy is now what drives Drayton and the work he leads at Ashoka.
"Up to this generation, people could be accepted, good people, if they diligently followed the rules," Drayton says. "The rate of change and constant changing of the teams and combinations of teams means that is not an option anymore. If you try to be a good person by diligently following rules, you will hurt people will disrupt groups."
"Now, value comes from contributing to and adapting to change," Drayton says.
Ashoka is looking at the children who are coming of age in a new world that is changing faster than ever before. "The worst part of it is that hundreds of millions of kids are not getting the fundamental abilities and therefore self-confidence to be able to play in the new game now," Drayton says. "That is really criminal."
Ashoka now seeks to teach children—or the people who teach children—how to develop changemaking skills.
The essential skills can even be taught at home, Drayton says. Here's the simple model.
When a child identifies a problem, a parent can simply respond, "What could you do about that?"
The child may not be able to identify a solution the first time this question is posed but with practice, children will begin to respond. Eventually, they will proffer actions they can take.
Children are children and may not take those actions at first but after repeated interactions with a patient parent who encourages the creative thinking and who provides assurance that they can do something that matters, children will ultimately make the attempt.
Parents, Drayton says, need to resist the temptation to do the work for their children, depriving them of the key skill-building process of taking and leading action that drives change.
Drayton shared a specific example with me.
"We had a meeting of about 350 of these young people [changemakers]. I sat down at lunch in this very small young woman came and sat to my right. She introduced herself and quickly said, I'm twelve because I think she's sick of people thinking she's eight."
"So what's your venture?" Drayton asked.
"Well, my brother is autistic and all through school I would cry when he was not treated well. But now we fix that."
"How did you do that?"
"We get together whenever we see a special student who is not being treated well. Then we figure out what to do. Then we go and do it. And we're very persistent," she concluded, according to Drayton.
Drayton says, "She is a changemaker. She knows it."
Follow me on Twitter or LinkedIn. Check out my website.
---
Be a hero! Join the elite group of supporters who ensure that stories like this can continue to be shared!
Visit heroes4good.org to become a hero now.
The post Father Of Social Entrepreneurship Says 'Society Is At A Profound Turning Point' appeared first on Your Mark On The World.