Discover more from Superpowers for Good
Leadership Lessons From—And For—the World's Great Changemakers
Over 3,000 subscribers
eqpd Expands Built-for-a-Purpose Fundraising Program with SheJumps Partnership
Press Release – TWISP, Wa. (June 3, 2019) – SheJumps and eqpd ("equipped"), two entities that share a passion for environmental sustainability and the outdoors, have collaborated to create a limited-edition SheJumps LastBag, which is available with a donation of $100 or more to the organization during the month of June. SheJumps increases the participation of women and girls in outdoor activities to foster confidence, leadership, and connection to nature and community through free and low-cost outdoor education. The eqpd LastBag is a versatile, reliable, lifetime reusable bag built for the purpose of eliminating single-use bags and the environmental damage they create.
All eqpd products are made locally, start to finish, by a talented 8-person team in rural Twisp, WA, a creative arts and recreational community on the east side of the Cascade mountains. LastBags are built using the same materials found in whitewater rafts, parachutes and military backpacks and are guaranteed for life. The SheJumps LastBag is part of eqpd's Built-for-a-Purpose fundraising program, where eqpd donates 100% of the retail profit from these custom bags to organizations that support the environment, education and the arts.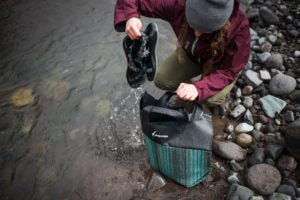 "We're thrilled to expand our Built-for-a-Purpose fundraising program and partner with SheJumps to promote the participation of women and girls in the outdoors and environmental stewardship," said Jonathan Baker, founder of eqpd. "With every SheJumps LastBag sold, we are supporting their mission while simultaneously taking single-use bags out of the waste stream and creating good habits." SheJumps will use the funds raised from the collaboration to create more opportunities and educational programs for women and girls in the outdoors.
"The SheJumps team is excited to collaborate with eqpd on this project – it really is an ideal fit," said Stephanie Bennet, Product Developer at SheJumps. "We believe in creating a culture that has a deep appreciation and connection to nature. We've recently implemented a long-term strategy to incorporate sustainability education and practices throughout our programs and business."
To buy the bag, simply donate $100 or more on the SheJumps website before July 1.
---
Are you part of the good crowd? Join GoodCrowd.school, school for changemakers today.
The post eqpd Expands Built-for-a-Purpose Fundraising Program with SheJumps Partnership appeared first on GoodCrowd.info.