Discover more from Superpowers for Good
Leadership Lessons From—And For—the World's Great Changemakers
Over 4,000 subscribers
"Each year globally, 12.7 million people learn they have cancer, and 7.6 million people die from the disease." – Centers For Disease Control And Prevention
This is a guest post by Kristin Demidovich of MentorMob.
In my lifetime, I have not met one person who has not been affected by cancer, whether it be on their own or by supporting a loved one in their own battle. There are many success stories, some which I have been lucky enough to be a part of, but still a paralyzing number of people lose their fight every year, every day, every minute.
I am no scientist, and while the strides in the treatment of and eradication of this disease have been tremendous, there is no prescription to relieve feeling helpless in a fight that is so very important to win. At least, I once thought, until I witnessed first hand the power and inspiration that can be ignited with knowledge and community.
Every time it starts, it starts the same way, with an array of questions that no one pretends to know the answers to.
What do you mean I have cancer?

What do I do next?

What type of treatment?

Will I survive?

What about my kids?

Will I lose my job?

What is my survival rate?

How do I tell my friends?

….

WHY ME?!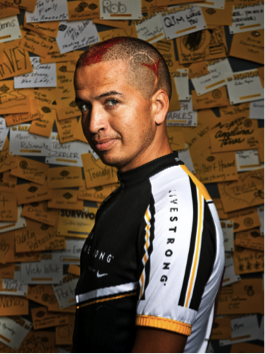 But then what? There are no easy answers, even though we scrounge search engines and forums for them. To find what you need to know in the order you need them takes time, diligence, and leads to frustration. You need to put the effort and time in because you need to plan, prepare and start treatment in the most effective manner to have the best chance at survival.
After recently joining a startup team that helps educate people through curation of the best online content, I knew our platform could make the necessary information to answer these questions more readily available to those who needed it. With my company on my side, we started researching and digging deep into which organizations help patients, family and friends navigate throughout the world of cancer, just one of the causes we hope to help make a little less painful to navigate through.
One organization clearly matched what we were looking to do was LIVESTRONG – who has helped millions cope with and conquer the disease.
"The LIVESTRONG Foundation unites, inspires and empowers people affected by cancer. We provide free support services to anyone fighting cancer today."
After a few conversations with their team and ours, we knew that it was a great opportunity to collaborate on bringing the LIVESTRONG We Can Help content to the public in another format on MentorMob. This collaboration brings together the content of LIVESTRONG into a seamless navigation experience on MentorMob – LIVESTRONG Mob.
By giving people a reliable place to collaborate and digest information on cancer, we have already created a community that is growing. A community of people who want to learn, to fight and to help anyone they can in their own battle. Join us with a simple share that can save a life.
Conversations are happening daily on Twitter @LIVESTRONG @MentorMob and on Facebook LIVESTRONG MentorMob. Come join us! You never know when you or someone you know will need the support.
The post "Each year globally, 12.7 million people learn they have cancer, and 7.6 million people die from the disease." – Centers For Disease Control And Prevention appeared first on Your Mark On The World.