Discover more from Superpowers for Good
Leadership Lessons From—And For—the World's Great Changemakers
Over 3,000 subscribers
Devices 4 the Disabled Provides Life-Changing Medical Equipment for People in Need
Press Release – Many of the 600,000 Chicagoans living with disabilities require medical equipment like wheelchairs but lack insurance or resources to cover the high costs, which greatly affects their ability to live independently or have a decent quality of life. Until a few years ago, their only option was to search a few sparsely equipped lending lockers sporadically located in church basements throughout the city. But that has changed thanks to Devices 4 the Disabled (D4D), a growing Chicago nonprofit that provides free durable, refurbished medical equipment to those in need, helping them overcome barriers and get their lives back.
D4D opens the doors of its warehouse every Wednesday and starts matching people with items such as power wheelchairs, manual wheelchairs, walkers with seats, patient lifts, shower chairs, hospital beds and canes. Those who show up on Wednesdays wait in a line that sometimes stretches down the street. But they say it's well worth it. "My new wheelchair means independence. It means being able to get around on my own," says D4D recipient Joe Zuniga.
As the season of giving approaches, including Giving Tuesday on Dec. 3, D4D is looking to help more people like Zuniga, by growing its base of support throughout the city and suburbs and making individuals and organizations aware of the many opportunities to get behind its life-changing work. "Every day we see how great the need is and that it is growing due to gaps in the system, and we want to enlist even more help so we can make a bigger impact," says Bob Shea, D4D co-founder and executive director.
Shea says D4D has launched a fundraising campaign that encourages donors to become the organization's partner by signing up for a monthly giving opportunity of 33 cents a day. "This steady support ensures that we can bring equipment to those who are most desperately in need all year long," he says. He adds that a Coleman Foundation grant is matching donations of at least $1,250 – as long as they're made before the end of Giving Tuesday on Dec. 3. This dollar-for-dollar match will enable D4D to help more people in need over the holidays.
In addition, the organization is encouraging suburban and city residents to donate used medical equipment when it is no longer needed. Shea says many families donate equipment after a relative passes away, as a lasting tribute to their loved one and a way to make a difference in his or her name. He says information for potential donors can be found at www.SupportD4D.org.
D4D has distributed more than 600 pieces of medical equipment to people in need since opening its current facility at 2701 W. 36th Place in Chicago almost two years ago. Shea says that's only the beginning. He expects the organization to grow significantly as needs in the city increase due to gaps in the system, especially for those who are uninsured, undocumented, in hospice or have a rapidly progressing condition, like MS, that requires them to frequently upgrade their wheelchair.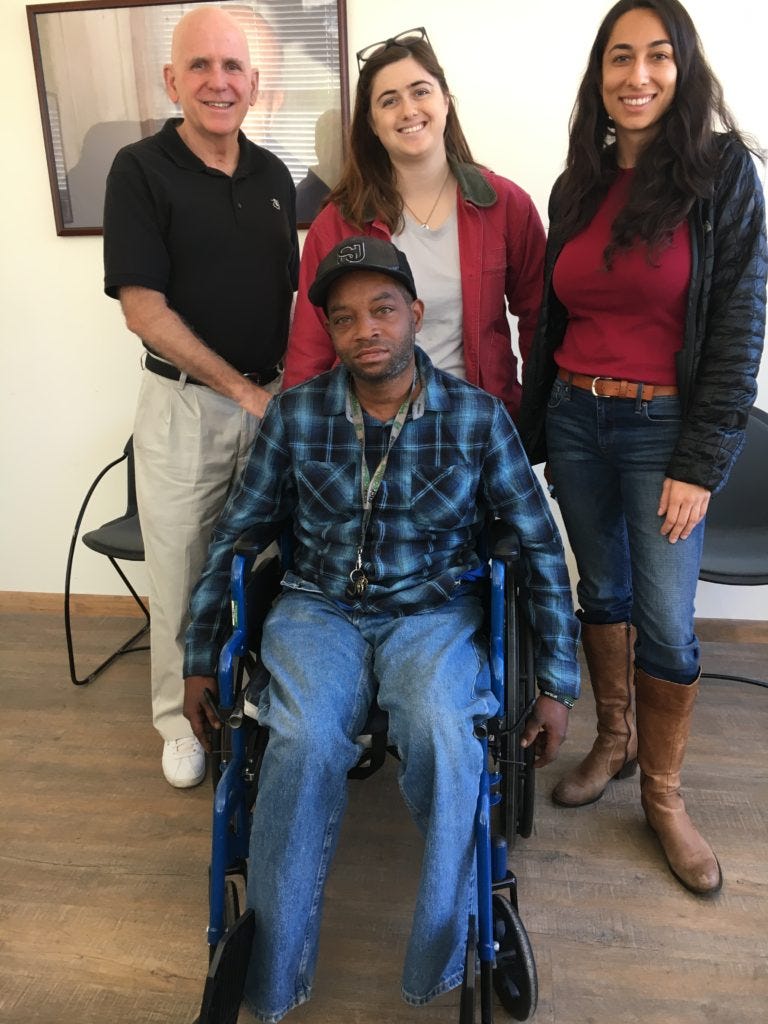 Bob Shea (left) recently helped Teddy replace his broken wheelchair with one that is fully functional, for free. Teddy is a double amputee who had been using a wheelchair that was held together in places with tape. Paula and Ryann of North Side Housing, which works with the homeless in Chicago, brought him to the D4D warehouse, and he left that day with a new wheelchair that greatly improves his mobility.
"Medicare rules often stand in the way of people getting needed equipment," according to Shea. "It can take months to get Medicare approval, and most people are only allowed one piece of equipment every five years. If a person's medical condition changes and something different is required, the wait time can be much too long, with patients sometimes immobile or in pain due to ill-fitting wheelchairs."
Shea founded D4D in 2015 along with his friend Ed Kane. Both men were affected by neurological disorders that left them wheelchair-reliant at one point, and their experience enlightened them to how difficult it is for those in need to locate and get medical equipment. They found these circumstances to be unacceptable, so they started D4D to fill some of the gaps. Initially, they stored donated equipment at several locations throughout the city.
Kane passed away from ALS in 2016, but Shea continued their mission and eventually had the opportunity to consolidate operations at the warehouse, now named the Ed Kane Center.
In addition to distributing medical equipment, the center serves as a dropoff site for people wanting to donate items they no longer need, so they can be refurbished and redistributed. Equipment can be brought in on Wednesdays, or donors can call ahead to arrange another dropoff time or a pickup.
D4D also recently started offering seating and positioning services once a week at the Ed Kane Center – the second place in Chicago to offer such help and the only one exclusively assisting those who don't have coverage or can't afford this vital service. Without proper seating and positioning, wheelchair use can lead to serious health issues.
Shea says he hopes to expand D4D by opening the center more often and helping more people in need. He encourages supporters to visit www.supportD4D.org to learn about opportunities to donate and help fuel future growth and services.
"We are giving people with disabilities a better quality of life and greater independence, lessening the responsibility of loved ones and even easing the burden on state welfare agencies," Shea says. "But we know the need is still great in Chicagoland communities, and we look forward to finding ways to change even more lives."
---
The post Devices 4 the Disabled Provides Life-Changing Medical Equipment for People in Need appeared first on GoodCrowd.info.