Discover more from Superpowers for Good
Leadership Lessons From—And For—the World's Great Changemakers
Over 3,000 subscribers
Country Music Star Tracy Lawrence Continues His Charitable Tradition With Sold Out 14th Annual Mission:Possible Turkey Fry & Concert
Join in the spirit of generosity in your own community by making donations on Giving Tuesday on December 3rd.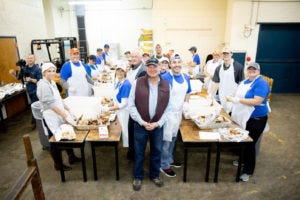 Press Release – (December 2, 2019 – Nashville, TN) On Tuesday, November 26th, Tracy Lawrence hosted his 14th annual Mission:Possible Turkey Fry & Concert benefiting Nashville Rescue Mission as they continue their work within the homeless communities of Nashville, TN.
This year's event yielded an impressive 500 fried turkeys which fed approximately 6,000 people. Participants showed up to Nashville Rescue Mission bright and early at 5:00am and started firing up their cookers. The day was spent frying the hundreds of donated turkeys for those in need in Metro Nashville and across Middle Tennessee. Lawrence was joined by numerous volunteers to provide a warm, hearty meal for individuals and families who may be struggling this holiday season – showing how when a community comes together to help one another, what an immense impact it can have.
"I can't begin to express my gratitude to Nashville Rescue Mission, the staff and all of the volunteers who spent many selfless hours giving of themselves for those less fortunate," says Tracy. He continues, "I know we were all exhausted when it was over but also very inspired by the love and generosity in everyone's heart. My wish is that we all can keep Charity in our hearts thru out the entire holiday season."
14th Annual Mission:Possible Turkey Fry and Concert Sizzle
Mission:Possible has been a resounding success in the Nashville community for the past 14 years. By utilizing this outstanding momentum, the Mission:Possible event has been able to expand in markets such as Louisville and Dallas – with a goal of reaching out even further! This year's combined events helped raise over $150,000 – pushing Mission:Possible's overall contributions to over $700,000 since its inception and were able to prepare approximately 9,000 meals (Dallas fried 150 turkeys and 100 in Louisville).
To date, Mission:Possible has fried over 6,500 turkeys and prepared over 93,000 meals.
Following the day a food preparation, Lawrence was joined by fellow artists Justin Moore, Rhett Akins, Clay Walker, and Halfway to Hazard, at Nashville's Wildhorse Saloon for a sold out concert experience. All proceeds from the concert's ticket sales went to support Nashville Rescue Mission and their work.
In 2016, Tracy was honored by the Nashville chapter of AFP (Association of Fundraising Professionals) with "Philanthropist of The Year" for his nationally recognized annual MISSION:POSSIBLE Turkey Fry and Concert. His dedication to helping those in need is a drive that has long lived within Tracy. This year, he made a donation on behalf of Mission:Possible to Helping the Hungry in Memphis, TN following the cancellation of a fundraising event. His generous contribution ensured the community was still served and warm meals provided to all.
Earlier this year, Lawrence released his first original studio album in six years, Made In America, which is available now on all download and streaming platforms. He can currently be seen on the road with his "Made In America" tour with stops throughout the U.S.
Lawrence will also be joining fellow Arkansas native and Mission:Possible performer, Justin Moore, as a co-headliner on their "Late Nights And Longnecks Tour" kicking off in January 2020.
For additional information on Tracy and upcoming tour stops, please visit:
ABOUT "MISSION:POSSIBLE TURKEY FRY & CONCERT":
To create, promote and implement the Mission:Possible Turkey Fry to feed homeless men, women and children and raise awareness to the plight of the homeless.
ABOUT THE NASHVILLE RESCUE MISSION:
Nashville Rescue Mission is a Christ-centered community committed to helping the hungry, homeless, and hurting by providing programs and services that focus on a person's entire life—physical, mental, spiritual, emotional, and social.
ABOUT TRACY LAWRENCE:
One of country music's truest traditionalists, Tracy Lawrence has sold more than THIRTEEN MILLION albums and has charted EIGHTEEN No. 1 songs. He has garnered numerous CMA and ACM awards and nominations, as well as a Grammy nomination. Recently, Lawrence released his brand new album, MADE IN AMERICA. The album is a milestone for Lawrence – penning 8 of the 12 tracks featured.
Lawrence's last studio album, 2017's critically acclaimed, GOOD OLE DAYS, hit the #1 position on the iTunes Country Chart. In addition to his chart-topping success, Lawrence hosts the Award-Nominated nationally syndicated radio show "Honky Tonkin' With Tracy Lawrence," for which he has received two ACM nominations for National On-Air Personality of the Year. The show features music from the 80's, 90's and 2000's and is heard on more 90 affiliates. Tracy is also the co-creator of STORMING HEAVEN: THE MUSICAL, a production based on the novel Storming Heaven. Tracy, along with others, helped to develop the storyline of the musical and also composed songs for the drama. He was honored by the Nashville chapter of AFP (Association of Fundraising Professionals) with "Philanthropist of The Year" for his nationally recognized annual MISSION:POSSIBLE Turkey Fry and Concert, which has raised over $700,000 for the homeless and hungry in Dallas, Louisville and Nashville, and served more than 84,000 meals. MISSION:POSSIBLE is poised to make an even larger impact in the future, as the 501 ( C ) (3) organization expands into more markets across the country in 2019.
---
The post Country Music Star Tracy Lawrence Continues His Charitable Tradition With Sold Out 14th Annual Mission:Possible Turkey Fry & Concert appeared first on GoodCrowd.info.