Discover more from Superpowers for Good
Leadership Lessons From—And For—the World's Great Changemakers
Over 4,000 subscribers
Chef Ed McFarland Wins City Harvest's Inaugural Skip Rope Event To Help Feed Hungry NYC Children This Summer
Press Release – On Tuesday, May 14th, Chef Ed McFarland of Ed's Lobster Bar claimed victory as the winner of City Harvest's inaugural Skip Rope competition to help feed hungry NYC children this summer. The Skip Rope event was part of City Harvest's Skip Lunch Fight Hunger campaign, which began on May 13 and runs through May 17.
Chef Michael Chernow hosted the event at his restaurant Seamore's, and was joined by other local chefs including Eden Grinshpan, Dan Churchill, Hong Thaimee and Suzanne Cupps, who participated in the competition.
The competition began with opening remarks about the importance of Skip Lunch Fight Hunger from Jilly Stephens, CEO of City Harvest, Dana Cowin, the campaign's founder and former Food & Wine magazine editor, and Michael Chernow, City Harvest Food Council member and co-captain of City Harvest's 2019 NYC Marathon team. Skip Lunch Fight Hunger challenges New Yorkers to raise $1.1 million to help fill the gap for the one in five children across the five boroughs that don't always know where their next meal is coming from.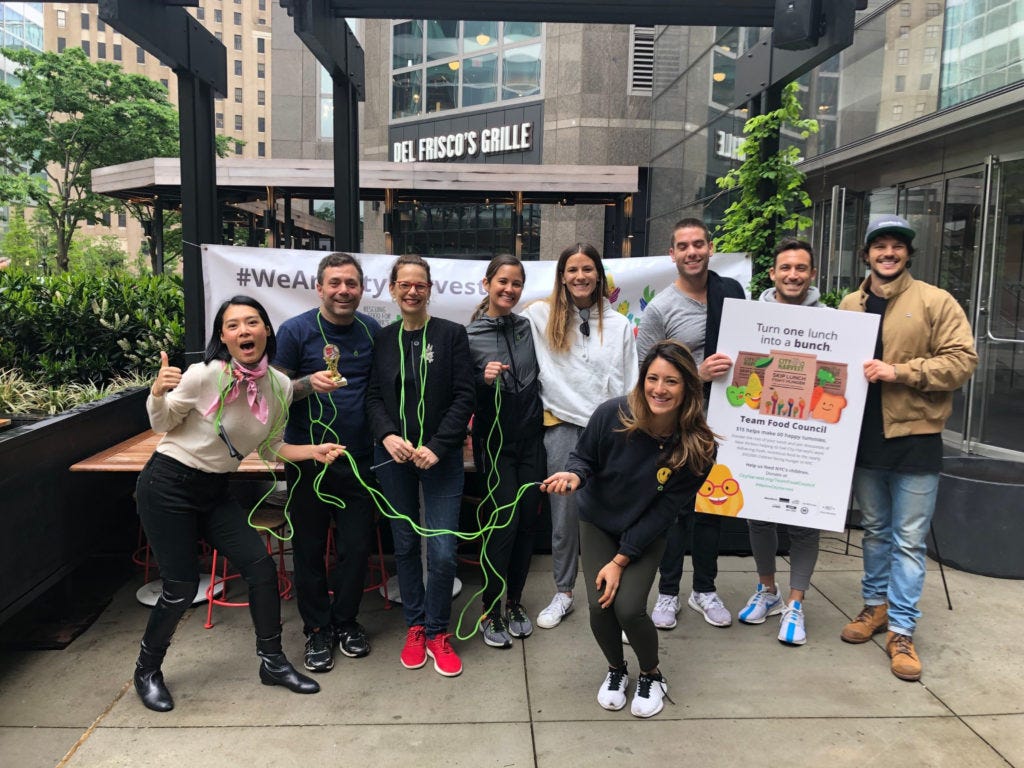 The competition split the chefs into two groups and had them navigate three rounds of jump rope challenges including jumping rope backwards, jumping rope with their eyes closed and jumping rope while answering trivia questions about City Harvest.
The Skip Lunch Fight Hunger campaign was founded in 2002 by former Food & Wine magazine editor Dana Cowin. The campaign works to encourage people to take the amount of money they would normally spend on buying lunch and donate it to help City Harvest provide nutritious foods to NYC children who depend on free school breakfasts and lunches as the only healthy meals they eat during the day, but whose families struggle to provide these meals when school is out for the summer. Chef Marc Murphy (Food Network's Chopped) is this year's Campaign co-chair.
Restaurants are teaming up with City Harvest to show their support for Skip Lunch Fight Hunger. Seamore's will donate one dollar from each specialty cocktail sold to the campaign. The cocktail will be a Spring Spritz, comprised of Schonauer Apple liquor, Campari, Cava and orange bitters. Pret A Manger will rename its signature Harvest Cookie to the City Harvest Cookie during Skip Lunch Fight Hunger week, and 100% of proceeds from sales that week will be donated to City Harvest.
Individuals can visit www.cityharvest.org/skiplunch to join or lead a team, and to make donations online. Funds raised from the campaign will directly support City Harvest's efforts to rescue 61 million pounds of nutritious food that would otherwise go to waste and deliver it to hundreds of soup kitchens and food pantries across the five boroughs that serve families in need year round.
About City Harvest
City Harvest is New York City's largest food rescue organization, helping to feed the more than 1.2 million New Yorkers who are struggling to put meals on their tables. We will rescue 61 million pounds of food this year and deliver it, free of charge, to hundreds of food pantries, soup kitchens and other community partners across the five boroughs. Our programs help food-insecure New Yorkers access nutritious food that fits their needs and desires; increase our partners' capacity; and strengthen the local food system, building a path to a food-secure future for all New Yorkers. To learn more about our work, visit CityHarvest.org.
---
Are you part of the good crowd? Join GoodCrowd.school, school for changemakers today.
The post Chef Ed McFarland Wins City Harvest's Inaugural Skip Rope Event To Help Feed Hungry NYC Children This Summer appeared first on GoodCrowd.info.