Discover more from Superpowers for Good
Leadership Lessons From—And For—the World's Great Changemakers
Over 3,000 subscribers
Can A Music Streaming Service That Pays Artists And Listeners In Bitcoin Help Fight Climate Change?
6-year-old music streaming service Feedbands has built a new music economy on top of Bitcoin that pays artists more per stream than Spotify, pays the listener for streaming and sharing music they love, and plants trees as members listen.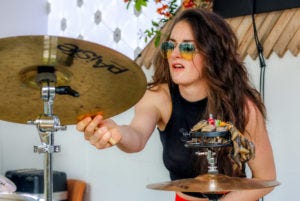 Press Release – AUSTIN, TX (March 14, 2019) – Over the last decade, Bitcoin has seen incredible adoption as a store of value. More and more merchants are accepting Bitcoin, but due to the speculative nature of Bitcoin as a currency, few customers spend it. There are very few ways to acquire Bitcoin aside from purchasing it directly from unfamiliar exchanges. Beyond a store of value for crypto enthusiasts or profit-driven traders, use cases for Bitcoin are lacking.
Feedbands has created an innovative way for musicians and music fans to earn Bitcoin just by using the site. Feedbands' new platform is the first of its kind to pay artists a streaming royalty in Bitcoin, at a fixed rate over twice what Spotify pays per stream. Feedbands also pays members in Bitcoin for streaming and sharing the music they love.
In addition to the pay per stream feature, both artists and listeners can earn Bitcoin by scouting other artists and listeners using a unique link embedded with a referral code. When someone signs up with this link, the user accrues Bitcoin on every qualified stream for the lifetime of the scouted account, thus passively earning Bitcoin just for inviting others onto the platform.
Currently Feedbands is paying out Bitcoin at thresholds set by the user, but they are beta testing the Lightning Network to make instant payments to users and artists. "We're just now experimenting with the Lightning Network, which will allow us to make streaming royalty payments instantly and at near-zero cost," says Feedbands founder and CEO Graham Langdon. "The Lightning Network is ideally suited for allowing Bitcoin to power economies that need to make instant micropayments. It really is perfect payment technology for the music streaming industry."
Since its launch in 2013, Feedbands has worked exclusively with independent artists. Musicians can upload their music to the streaming platform for free, and once they're in the system they have the chance to be pressed to vinyl in a member-driven voting process each month. Vinyl artists are paid in records and cash, and retain full rights to their music.
Feedbands' goal has always been to support emerging artists by giving them an audience eager to discover new music, even if they do not have a record label or substantial financial backing. Says Langdon, "Spotify is where you go to listen to music you already know and love. Feedbands is the platform where you go to discover artists you don't know yet."
The new platform, a product of six years of experimentation in crowd curation, is user-driven and democratic. Votes from users determine the tracks that are included in streaming stations and how often they appear. User votes determine the monthly vinyl release that is pressed and sent to subscribers.
Subscription options include a digital + vinyl record subscription of the monthly release for $25 per month, or a digital-only option that still unlocks all the features of the site, including the Bitcoin features, for $9.99 per month. Feedbands has offered the same vinyl and digital subscriptions to music lovers for years, the only difference is that now everyone is earning Bitcoin.
Fighting Climate Change
Feedbands partnered with Trees for the Future to plant one tree for every 100 qualified user streams, and offers a verification link so users can ensure that their choice to stream on Feedbands directly translates into more trees planted each month.
"There is a common misconception that Bitcoin is environmentally unfriendly," says Langdon. "A recent study showed that nearly 80% of Bitcoin's energy comes from renewable resources. We want to create a working use case not only for Bitcoin to power the economic underpinnings of an entire industry like music streaming, but also to demonstrate that it can help improve the environment by making it simple for users to have a positive impact. We're past the point where any company can look the other way on climate change. We've built our entire platform as a mechanism to fight it in the way that we can, utilizing Bitcoin as a powerful economic incentive."
For now, Feedbands is excited to offer its artists and listeners a way to start earning Bitcoin. It's free for artists to submit their music to Feedbands and start earning, and members simply need to link a Bitcoin wallet to their accounts to start accruing Bitcoin by streaming and sharing.
Since launching the new platform, Feedbands has already planted over 2000 trees, with another tree planted for every 100 streams. Feedbands hopes their big idea is received as a coveted triple win: Bitcoin and blockchain technology get a seamless new use case, artists and fans are economically incentivized to stream and share, and the planets get more trees every day.
Relevant Links:
Recent study finds that nearly 80% of Bitcoin's power is coming from renewable energy:
New Report Finds 80% of Bitcoin Mining Running on Renewable Energy
Despite Record Revenues, Spotify's Payouts to Artists and Labels Continue to Decline:
Despite Record Revenues, Spotify's Payouts to Artists and Labels Continue to Decline
Massive restoration of world's forests would cancel out a decade of CO2 emissions, analysis suggests
https://www.independent.co.uk/environment/forests-climate-change-co2-greenhouse-gases-trilli on-trees-global-warming-a8782071.html
---
Are you part of the good crowd? Join GoodCrowd.school, school for changemakers today.
The post Can A Music Streaming Service That Pays Artists And Listeners In Bitcoin Help Fight Climate Change? appeared first on GoodCrowd.info.