Discover more from Superpowers for Good
Leadership Lessons From—And For—the World's Great Changemakers
Over 4,000 subscribers
Bonfire Launches Exclusive Tools For Nonprofits To Bolster Their Apparel Fundraising
Custom apparel platform introduces features to increase the funds raised by nonprofits
Press Release – RICHMOND, Va. – August 13, 2019 – Thousands of nonprofits have used Bonfire, a platform for designing and selling custom shirts, to raise funds for the causes they support. To continue serving their needs, today Bonfire announced the launch of an exclusive set of tools designed to increase funds raised for nonprofits.
The features will help nonprofits increase buyer trust, increase the amount of funds raised, and serve as an acquisition tool for them to identify new donors as well as track current donors. The features include:
Verified nonprofit badge – This badge lets potential supporters know that a campaign is associated with a nonprofit. The badge appears on every campaign the nonprofit launches through their Bonfire account.

No platform fee on donations – In addition to selling custom apparel, campaigns on Bonfire can opt-in to collect donations through their campaigns. The standard platform fee of 8% on individual donations is reduced to 3.5% to cover processing fees.

Downloadable supporter list – Nonprofits can download a CSV file of all of the supporters who purchased or donated to their campaign. This lets nonprofits use Bonfire as an acquisition tool to identify and engage with new donors as well as track their current ones.
"Bonfire started with a commitment to simplify apparel fundraising. We make it easy for anyone to raise funds, so they can focus on the causes and communities they care about," said Brian Marks, CEO of Bonfire. "Our new nonprofit features are our next step in supporting and listening to the needs of our nonprofit partners."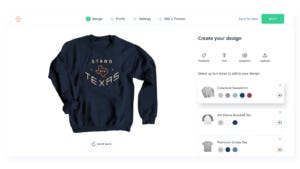 Applying For The Features
The application process follows a simple, two-step process. First, nonprofits create a Bonfire account using an email associated with their organization. Then, they simply fill out the application form.
Bonfire will review their application, and send an email confirmation letting the organization know if they've been approved or denied.
Availability
These tools are available today to approved nonprofits. To learn more and apply, visit https://www.bonfire.com/fundraising/nonprofits/
---
Are you part of the good crowd? Join GoodCrowd.school, school for changemakers today.
The post Bonfire Launches Exclusive Tools For Nonprofits To Bolster Their Apparel Fundraising appeared first on GoodCrowd.info.