Discover more from Superpowers for Good
Leadership Lessons From—And For—the World's Great Changemakers
Over 4,000 subscribers
Bill Gates Is Both Chief Funder And Fundraiser In Polio Fight
This post was originally produced for Forbes.
The Bill and Melinda Gates Foundation in partnership with His Highness Sheikh Mohamed bin Zayed Al Nahyan, Crown Prince of Abu Dhabi convened the "Reaching The Last Mile Forum" in Abu Dhabi today with a host of world leaders and philanthropists to announce total pledges of $2.6 billion to fight polio. Following the announcement, I spoke with Bill Gates about his dual role as chief funder and fundraiser for this effort.
Gates is recognized around the globe as one of the greatest entrepreneurs in history. Since jointly taking the helm of the Foundation with Melinda Gates, they have proven to be among the world's great social entrepreneurs, actively leading efforts to solve some of our most intractable problems.
"As the largest donor, there's a certain responsibility to, when it comes time to do the fundraising, to go out and explain why you're committed and what the benefits are," Gates explained by phone from the event.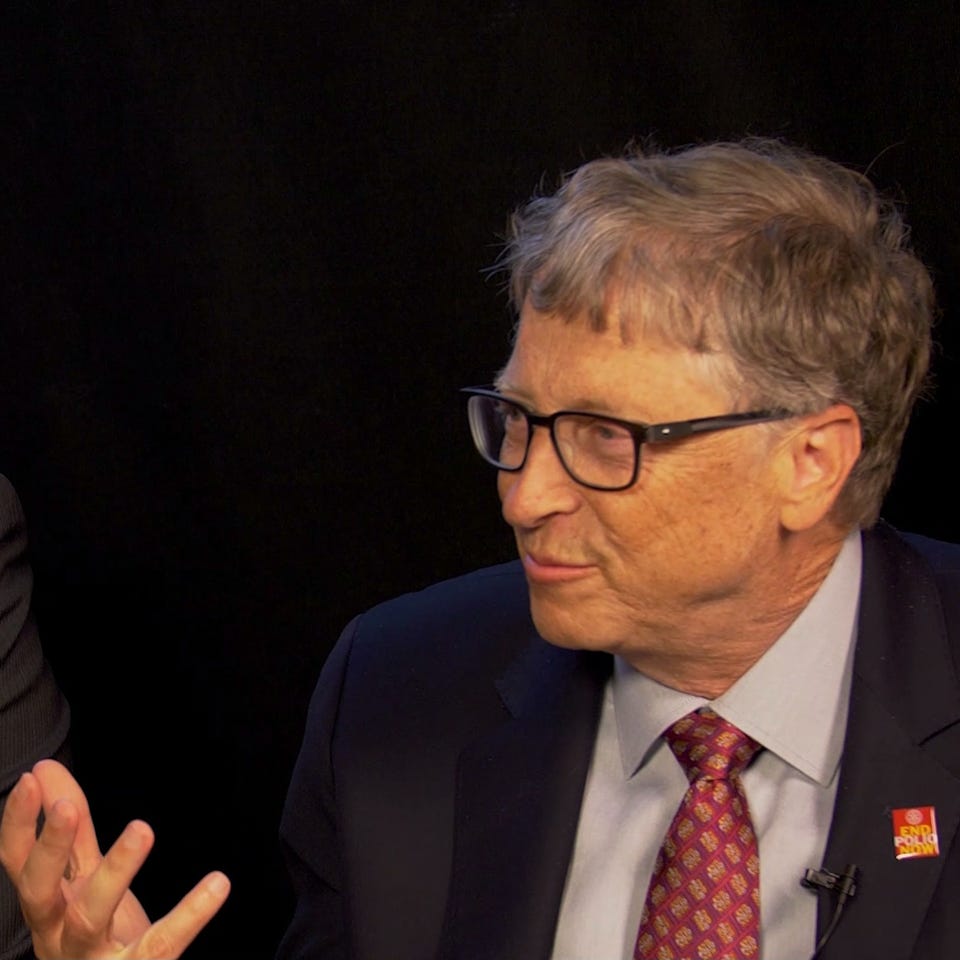 Bill Gates CREDIT: MATT SLOTEMAKER
Still, Gates Credits Rotary International for leading the effort at fundraising internationally. "In almost every country, Rotary has members. And that's very, very helpful to us. Those members have this commitment that goes all the way back to 1988, well before the Gates Foundation had any involvement in the polio fight." [Disclosure: I have a pending business relationship with Rotary.]
Rotarians in India, Pakistan, Australia, Canada, United States and the United Kingdom especially have been effective in writing to and showing up to speak to their political leaders, Gates says. "And in those first few years, of course, things went really well and people thought we were getting close. So, it's great they've stuck to it, even as it's proven to take longer than we first expected."
The $2.6 billion pledged today came from a long list of governments, the Global Polio Eradication Initiative partners and philanthropists. The Gates Foundation led the way with $1.08 billion. Another $160 million was pledged by host Crown Prince Mohamed bin Zayed Al Nahyan of Abu Dhabi.
"I think the Crown Prince's commitment to this goes back to his father's commitment to disease in general. His father travelled to Africa and got involved in Onchocerciasis," Gates said. "So, they have a tradition of giving even before they were as wealthy as they are today."
Countries pledged much of the $2.6 billion, including$514.8 million from the United Kingdom, $215.92 million from the United States, $160 million from Pakistan, $105.5 million from Germany, $84.17 million from Nigeria, $10.83 million from Norway, $10.29 million from Australia, $7.4 million from Japan, $2.2 million from Luxembourg, $1.34 million from New Zealand, $116,000 from Spain and $10,000 from Liechtenstein.
Rotary pledged another $150 million. Other philanthropic support came from a variety of donors, including $50 million from Bloomberg Philanthropies, $25 million from Dalio Philanthropies, $15 million from the Tahir Foundation, $6.4 million from the United Nations Foundation, $2 million from Alwaleed Philanthropies, $1 million from the Charina Endowment Fund, and $1 million from Ningxia Yanbao Charity Foundation; and the private sector, including $1 million from Ahmed Al Abdulla Group, $1 million from Al Ansari Exchange, and $340,000 from Kasta Technologies.
"We are proud to host the GPEI pledging moment in Abu Dhabi and thank all the attendees for their continued commitment to the eradication of polio," Her Excellency Reem Al Hashimy, UAE Cabinet Member and Minister of State for International Cooperation said in a statement. "Since launching in 2014, the Emirates Polio Campaign has delivered more than 430 million polio vaccines in some of the most remote areas of Pakistan. We remain firm in our mission to reach every last child and believe together we can consign polio to the pages of history."
Gates himself is playing a strategic role beyond funding and fundraising. He personally championed the development of a new vaccine beginning eight years ago, committing funds to the effort. The new vaccine, which is undergoing final testing, could be available next year.
The primary vaccine being used today is the Sabine attenuated poliovirus vaccine, which can—and does—in rare cases revert to active polio. These vaccine-derived cases slightly outnumber (106 to 102) the cases of wild polio virus.
"When you and I talked last, I think it was still just in Nigeria, maybe a little bit D.R.C. So, it was only in a few locations," Gates said, referring to our conversation in May. "Unfortunately, it spread to a number of countries in Africa."
The new vaccine can, like the Sabine vaccine, be delivered via drops, which are painless and easy to administer but it won't revert to active polio, making it more effective in the final stages of polio eradication.
"It's kind of an insurance policy we started investing in, I think seven or eight years ago because it's been a while and now may turn out to be very important to do this cleanup," Gates said.
While there are lots of variables remaining in the fight to eradicate polio, money isn't one of them Gates says. "That is the most certain thing." Of the $3.27 billion budget through 2023–intended to complete eradication–the $2.6 billion pledged today leaves the team with clarity on where to find the remaining funds.
Not only is the Gates Foundation the largest funder in the fight to eradicate polio, it's funding commitment to polio has been the largest financial the Foundation has made in recent years. In that time, Gates himself has become a passionate spokesperson and fundraiser for the cause.
Follow me on Twitter or LinkedIn. Check out my website.
---
The post Bill Gates Is Both Chief Funder And Fundraiser In Polio Fight appeared first on Your Mark On The World.