Discover more from Superpowers for Good
Leadership Lessons From—And For—the World's Great Changemakers
Over 4,000 subscribers
Amway One by One: Losing Control
This is a guest post from Jesse Hertstein of Amway.
We were no longer in control … but were we supposed to be?
I often travel for work, and this year all of my travel was crammed into a few weeks. First, I found myself in Russia to participate in the launch of a new charitable foundation. Next was a whirlwind trip to South Africa, where we documented an education program supported by Europeans.
Whether from the travel or the short time in each country, I became overwhelmed by the momentum and complexity of projects that Amway regional leaders were supporting. I also realized that we, Amway Corporate, were no longer controlling the initiatives at the local level. They had developed a life of their own.
In Russia, where many companies struggle to ignite western-style volunteering and fundraising, Amway Russia had moved into advanced corporate social responsibility. The launch of an Amway foundation didn't include a ribbon cutting. Instead, an expert panel discussed parenting, cultural norms and child protection. Our local communications teams had developed sophisticated partnerships with nonprofits, government groups and academia. They were using PR agencies not to promote the good works of Amway, but positive parenting techniques and child crisis hotlines. This was cutting-edge social investing, and it was completely driven by local leaders.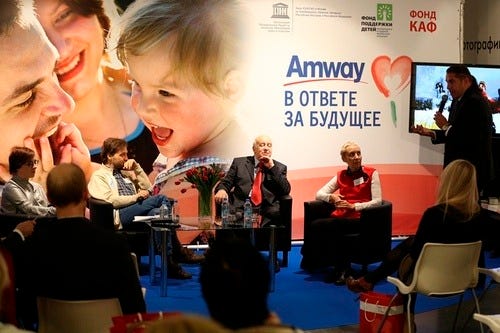 Two weeks later in South Africa, I found myself standing next to the eldest daughter of Archbishop Desmond Tutu as we delivered portable desks to students in remote coastal plains. We were capturing the story of a program that our local staff found and introduced to leaders in Amway Europe. Those leaders decided to rally their peers across the continent, which means Amway Business Owners from 28 countries were now raising money for "Tutudesks."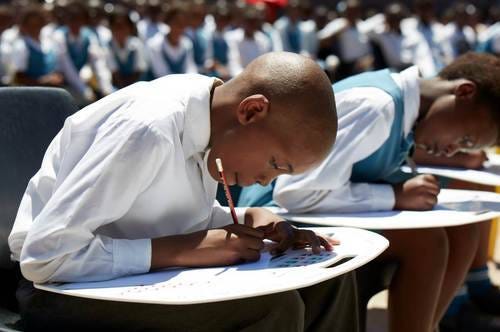 The program attacks a complicated social issue – the lack of classroom space and difficulty students faced in performing work at school and at home. Shane Immelman, a South African social entrepreneur, created a low-tech innovation called a lap desk, which was easy to produce and durable enough to last a lifetime. It worked so well, he now consults for Harvard and MIT, and Desmond Tutu has lent his personal endorsement – the desks are now called "Tutudesks." Amway is raising funds for thousands of desks and participating in the delivery.
Our local leaders had moved way beyond us. And yes, this was a good thing.
We launched the Amway One by One Campaign for Children ten years ago as a challenge. We were trying to focus the generosity of more than 3 million business owners and employees on a single cause. But we encouraged them to find the most important local issues that drove their passions. Ten years later, we count 10 million children whose lives have been touched through the campaign. On November 20, we held our first global volunteer day to celebrate our anniversary, and 15,000 people responded in 57 countries.
And it's beyond our control.
It's a movement. So we learn to channel the enthusiasm. We learn to ensure that any investments of hours and donations are making a real difference. We tell lots of local stories and use them to paint a global mosaic of what our company is all about.
And we are surprised, every day, at what becomes possible when you lose control, and let others lead.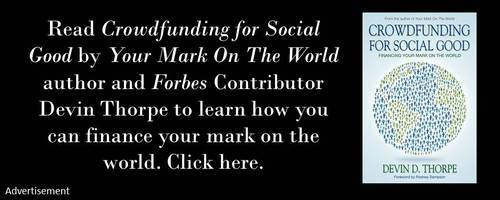 Jesse Hertstein is Senior Corporate Citizenship Specialist at Amway. His primary focus is communication and strategy for the Amway One by One Campaign for Children, which concentrates the generosity of the company, employees and business owners on helping children in need.
The post Amway One by One: Losing Control appeared first on Your Mark On The World.