Discover more from Superpowers for Good
Leadership Lessons From—And For—the World's Great Changemakers
Over 4,000 subscribers
Advocating for a Small Population Cancer at BCAN – the Bladder Cancer Advocacy Network
Guest post from Monica Smith, Executive Director of BCAN.
I've spent 20 years working in the non-profit world including 13 in the cancer community. I've always been amazed by the strength of cancer survivors and passion of their loved ones. Much of my tenure was spent working at a major breast cancer organization, where pink is much more than a color – it's a movement. Because of the openness of survivors – who share their stories, provide support for one another, and advocate for change – there have been many advances in a disease that can have a devastating outcome. Through sharing their struggles, tragedies, and triumphs, many individuals have become one large powerful voice to provide hope for a cure.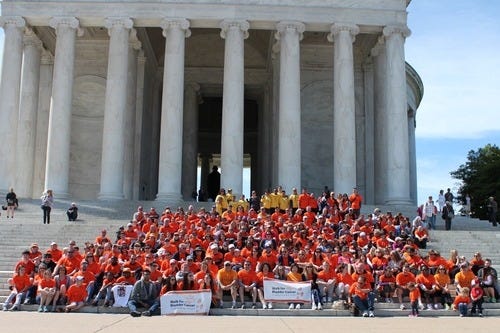 When my father was diagnosed with bladder cancer in 2011, I was surprised. Despite my cancer knowledge and experience, I knew very little about the disease. In stark contrast to breast cancer, public awareness remains at a shockingly low level. With invasive diagnostic tests, high recurrence rates and few treatment options, bladder cancer survivors are faced with a difficult journey. For many survivors, treatment can have a devastating impact on their quality of life.
In 2005, Diane and John Quale started their own movement. They created the Bladder Cancer Advocacy Network (BCAN) to build awareness of the dangers of bladder cancer and the need for more funding and research to discover treatments and a cure. Most importantly, BCAN provides a voice for bladder cancer patients and their loved ones.
I recently joined the BCAN team and I am energized and inspired by the incredible individuals – survivors, activists, doctors, and researchers – who are working together to increase awareness. The bladder cancer community is a tight knit group, with members generously reaching out to one another and providing hope. There are over 500,000 bladder cancer survivors in the U.S. Their voices may be softer, but the message is strong. We need to listen.
The dialogue starts now. Here are four things you need to know about bladder cancer:
73,000 people will be diagnosed with bladder cancer this year. 15,000 will die.

Though it is more prevalent in men, studies have shown that women are more likely to present advanced tumors and have a worse prognosis than men at almost every stage of the disease.

While the symptoms are easily recognized, many are unaware of the threat of bladder cancer, and diagnosis is often delayed.

Smoking is the number one risk factor for bladder cancer and people who smoke have a risk four times greater than someone who does not smoke. Smoking is estimated to cause approximately half of all bladder cancer cases in both men and women.
Learn more and get involved at www.bcan.org or follow us on Facebook at https://www.facebook.com/BladderCancer.
I am happy to tell you that my father was diagnosed early and is doing well. However, as with all bladder cancer survivors, his journey is not complete. Frequent doctor visits and invasive tests are needed to remain vigilant against a recurrence and stay healthy.
The post Advocating for a Small Population Cancer at BCAN – the Bladder Cancer Advocacy Network appeared first on Your Mark On The World.