Discover more from Superpowers for Good
Leadership Lessons From—And For—the World's Great Changemakers
Over 3,000 subscribers
5 Tips For Hiring The Best Freelancers On Upwork
This post was originally produced for Forbes.
Human resources, that is the human beings who work for your business, are critically important for your business. Increasingly, that includes freelancers found on platforms like Upwork—there are now over 12 million freelancers on that one platform. Here are five tips for hiring the best people on the platform.
Caveat: if you are running a social enterprise to improve employment opportunities in your own community, Upwork may not be the right resource for you. Many Upwork freelancers live in countries scattered around the world. For my business, about 90% of the contractors we've hired were based outside the U.S., scattered around the globe on every inhabited continent. Instead, you may want to use Craigslist or a local job board to find contractors, interns and volunteers.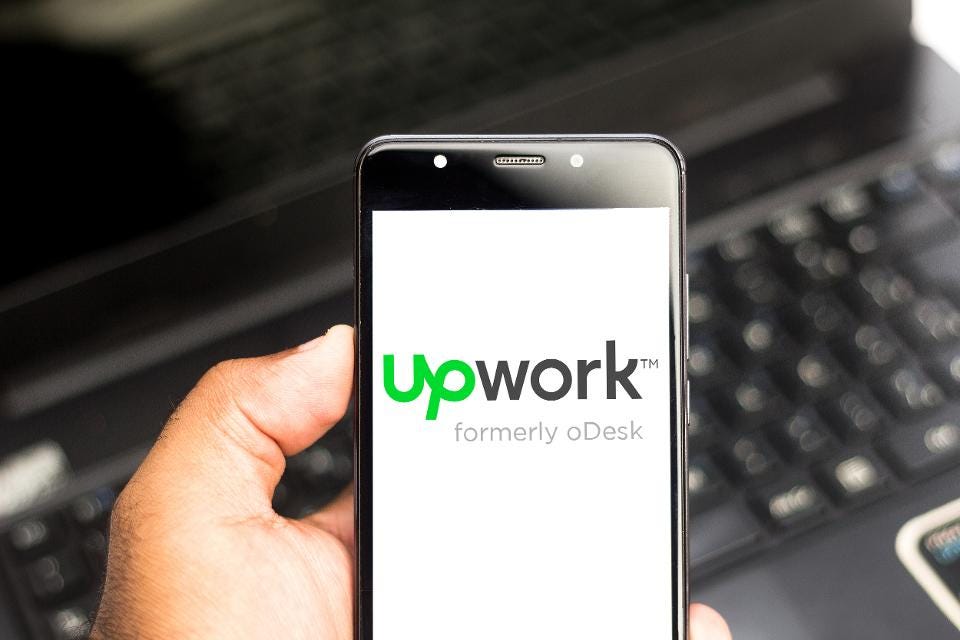 Upwork SOPA IMAGES/LIGHTROCKET VIA GETTY IMAGES
Tip 1: Write a good job description
Whether you are looking for someone to do permanent, part-time work or a quick project, the job description should be clear and accurate. You may be tempted to be brief but remember, most contractors will know nothing about you, your company, your project, your mission or anything else about your business. A good description will include or at least link to all that important background information. For social enterprises, mission may be paramount.
Tip 2: Use specific screening questions
Upwork provides the ability to ask applicants any question you want. Ask good questions! If mission is important, ask applicants to explain how they feel about your mission. Not only will this help you find likeminded team members, it will also give you a chance to check their reading comprehension and English skills. Ask specific questions about their work experience or training as it relates to your specific project—something that isn't likely to be answered in their cover letter and proposal templates.
Tip 3: Invite contractors to apply
Once you have posted your position, you can search for contractors who may qualify for the position. Upwork provides a simple button to invite the candidates who look qualified to apply for your posting. Most will not apply, so be sure to invite several.
Tip 4: Interview top candidates
Upwork provides some easy tools for sifting and sorting applicants. You can ask follow-up questions via the platform to gauge their enthusiasm and English skills. Once you have narrowed the field appropriately, invite some finalists to conduct a video interview with you. If you, like me, are finding applicants from around the world, be reasonable about accommodating their time zones when setting up the calls. You can use the Upwork video conference platform, Skype, Zoom or any other platform that they may be able to access on their end.
The video conference will not only test their language skills, other job skills and their enthusiasm, it will also test their basic tech savviness and their internet connection. If the video chat doesn't go well, it may be due to their connection. If a good internet connection is required for the job, that is important to know.
Tip 5: Give two or three finalists paid test projects
One of my Upwork hiring secret weapons is the use of test projects. Usually, I can find something I'd like to have done that can be done within a few hours and I offer candidates a fair fixed fee and then compare results and pick the best. This is helpful for comparing proposals at dramatically different rates. You may find that a newbie bills at a low enough rate to allow them to learn on the job and deliver the results you want more efficiently than a pro who bills at a higher rate—sometimes not. The test project set at a fixed fee may allow you to see that.
Bonus Tip: Use Fiverr for the quickest, shortest projects
My experience with dozens of contractors over eight years, some of whom worked for me for just a few hours and others who have worked for me for years, earning tens of thousands of dollars along the way, suggests that Fiverr is a better platform for the smallest, quickest projects. Conversely, as implied by this article, positions that look more like part-time jobs over a span of weeks or months are much better on Upwork than Fiverr.
Of course, there are other freelancing sites you can use, and they make work better for you than Upwork. The fact is, however, I couldn't run my business without it.
Follow me on Twitter or LinkedIn. Check out my website.
---
The post 5 Tips For Hiring The Best Freelancers On Upwork appeared first on Your Mark On The World.